Sand
Nick Gill
The Other Room
The Other Room
–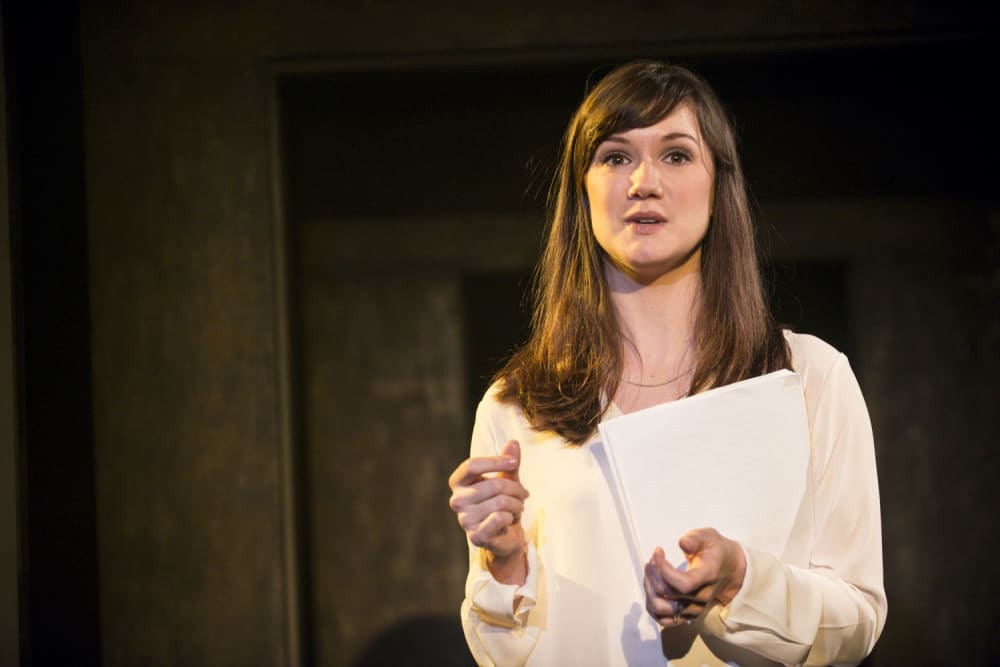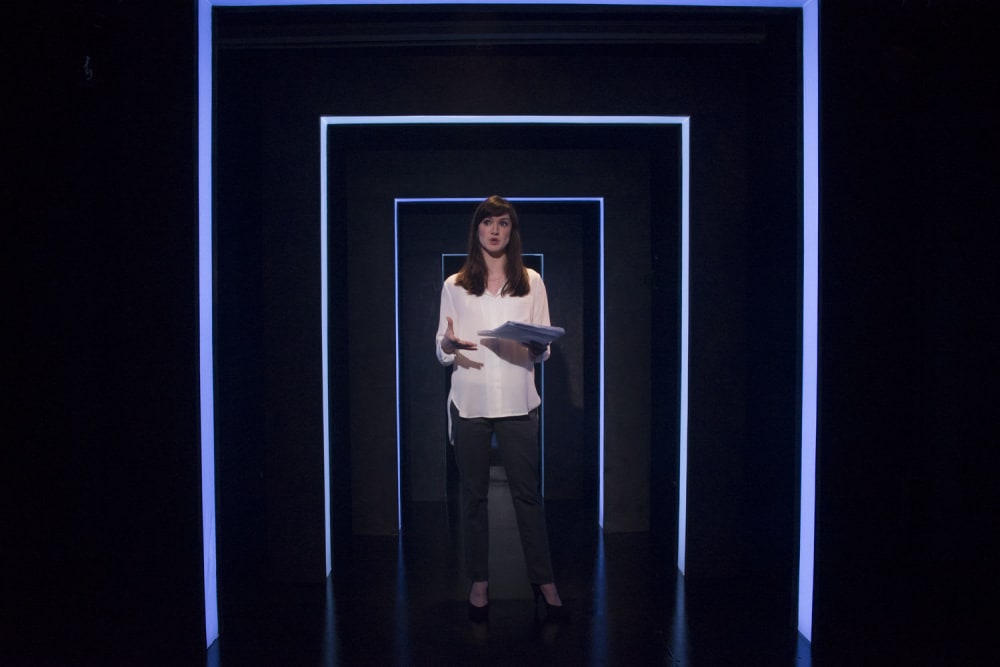 A year on from providing the soundtrack to the debut production from The Other Room—Sarah Kane's Blasted—Nick Gill returns, with his own war-themed play, Sand, first performed at London's Royal Court Theatre in 2013.
As director Kate Wasserberg explains on-stage, there has been a very late cast change, due to unforeseen circumstances. Thus, on press night, the unnamed protagonist of this dramatic monologue is played by Sara Lloyd-Gregory with script in hand, although, at first, she barely refers to it.
As seems customary with this venue, the performance space has been miraculously transformed. Amy Jane Cook's set seems to comprise a network of corridors, perhaps evoking a bunker, from which the central character emerges to address the audience.
Her story begins with a small boy playing on a swing, oblivious to the disaster which is about to befall him; we then move to a conference-room in the 1940s where she is delivering, in a coldly business-like manner, a presentation about the successful testing of a nuclear device on a populated area. Her lecture is interrupted by some bad news about her own family.
Gill's precise, rigorous text momentarily takes us back to World War One, then forward to 2011, as we appear to experience snapshots from the lives of various women, but always returns to the 1940s as the full horror of the disaster she has helped to unleash takes its toll on our nuclear scientist.
The tone is enhanced by Sam Jones's sound design, which evolves from tranquility and birdsong as the piece commences, via escalating ambient dread, to cacophonous droning intensity as things go badly wrong. Katy Morison's clever lighting design illuminates the framing to emphasis telling moments; also providing a sun into which characters can stare, hopelessly.
Sara Lloyd-Gregory initially plays against her apparent vulnerability, the narrator's almost jokey callousness deeply chilling. As the narrative proceeds, becoming increasingly mangled as, at the climax, it starts to shift perspective from moment to moment, she and director Wasserberg resist the temptation to descend into complete hysteria. With the dialogue intentionally abandoning coherence, this is the only point at which the physical presence of the script starts to impede emotional connection with the audience.
If the play has a problem, it is in the obviousness of its message. Gill conveys with great skill and elegance his belief that atomic bombs are a bad thing (the title refers to what is left of both people and buildings in the aftermath of an explosion) and his fear that the nuclear threat remains current. This is by no means a minority viewpoint, however; and those few who disagree would probably tend not to be regular theatre-goers.
Nevertheless, this is a powerful production, with a gripping central performance. It is well up to the high standards constantly being set by this important young company.
Reviewer: Othniel Smith