Satyagraha
Philip Glass, Book and vocal text by Constance deJong (adapted from the "Bhagavad Gita")
Met Opera on Demand
Metropolitan Opera House, New York
–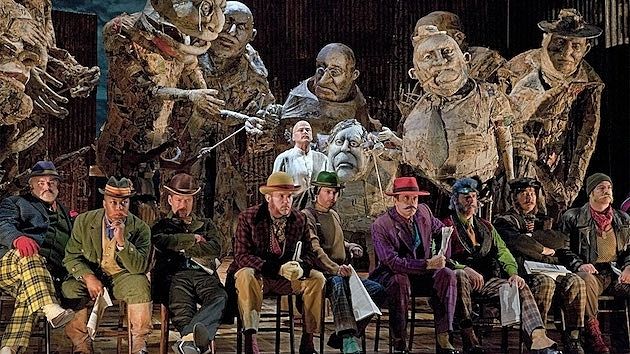 For no very obvious reason, the Met chose to programme this second opera in Philip Glass's "Portrait" Trilogy the day after the final opera, Akhnaten.
Once again, the creative team for this production, first seen in 2008 and recorded three years later, is led by Improbable Theatre's auteur Phelim McDermott, supported on this occasion by his long-time colleague, associate director and designer Julian Crouch.
Satyagraha is a word drawn from the Bhagavad-Gita, which means the force of truth.
Rendered entirely in Sanskrit, thankfully with subtitles, while the underlying story might have mythological roots, its key figure is M K (Mahatma) Gandhi, calmly played by tenor Richard Croft.
In three acts, depicting past, present and future, which intertwine, he is joined in by Russian novelist Leo Tolstoy, Indian poet Rabindranath Tagore and American activist Martin Luther King.
The primary purpose is to explore the philosophy of non-confrontational protest, which ultimately resulted in the civil rights movement and, as we see today, Black Lives Matter.
This creative team has always relied as much on the physical aspects of a staging as the underlying subject matter, and a stream of amazing images help to embroider and illuminate what can be a complex and, at times, impenetrable web of issues.
From the opening scene in which Indian gods Arjuna and Krishna take centre-stage, the latter boldly blue, the supporting cast make great use of symbolic newspapers that become so much more, forming into puppets that must be 20 feet high and will have taken the breath away in live performance.
At the end of the opening in which Gandhi is still smartly clad as a barrister in South Africa, shoes are symbolically removed as a statement of what is to come, garments following.
After watching a colourful, eccentric group of men having their shoes shined and the advent of a series of grotesque, giant cartoon-like puppets, Gandhi gradually morphs through the second act into the man who uses passive protest to better the lot of millions of Indians.
The final act, which sees Martin Luther King declaiming in the background, at one point illuminated by telling shadows depicting atrocities against his supporters, is painfully slow, although the use of Sellotape to create an almost invisible wall is a thoughtful device.
Viewers will have enjoyed the singing led by Croft and a trio of characters, none of whom is fully defined: dominating soprano Rachelle Durkin as Miss Schlesen, baritone Kim Josephson playing Mr. Kallenbach and Alfred Walker with his bold bass playing Parsi Rustomji.
They are supported by a large chorus and disciplined orchestra conducted by Dante Anzolini.
At the end of around 2¾ hours, many viewers will have learned a little about the philosophy of Gandhi but often be baffled, while enjoying a generous dose of Philip Glass minimalism and some unforgettable images.
Reviewer: Philip Fisher