Seanmhair
Hywel John
The Other Room
The Other Room at Porters, Cardiff
–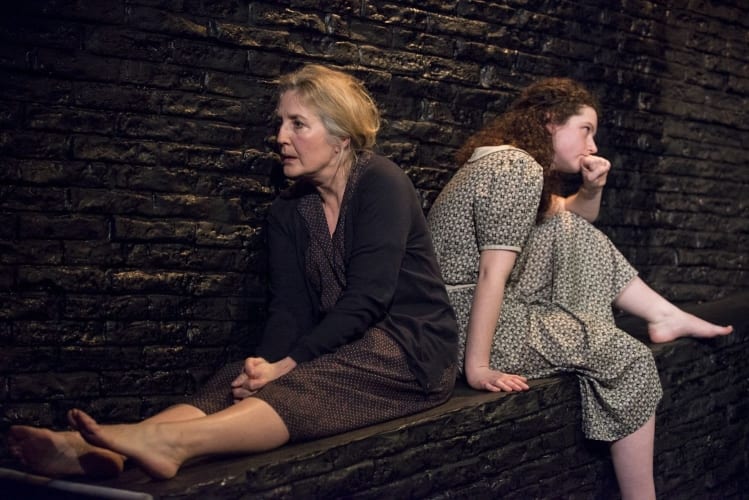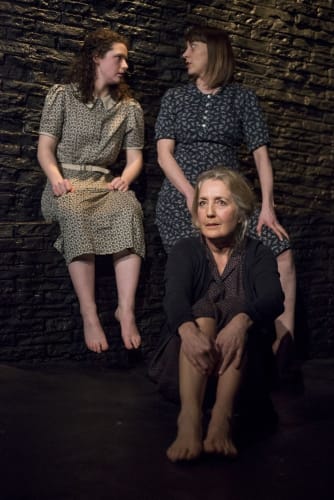 The second play in the Outliers season at The Other Room, following on from the Ruth Ellis-themed Sinners Club, is Hywel John's Seanmhair, another worrisome tale rooted in obsessive love.
The piece begins, startlingly, with a woman reminiscing about her life with her husband, hinting at violence and abuse. The truth, however, is more complex than it appears.
We find ourselves, via Mark Bailey's set design, faced with a grim, grey dungeon illuminated by nightmarishly flickering strip-lights—lighting design by Katy Morison. It quickly becomes clear, however, that this prison is a figurative one.
Three women, barefoot in house dresses, populate the arena, all playing iterations of the same character: Jenny, daughter of a middle-class Scots-English family, brought up in a well-to-do Edinburgh suburb around 1950.
Sian Howard is the older Jenny, bemoaning the fact that her husband of many years has had his vitality, as well as his brutality, sapped by cancer—once a proud carnivore, he now pecks at vegetables, like a tame bird.
In the guise of Molly Vevers, the young Jenny recalls her first encounters with her life partner, Tommy, a boy whose abrasive forwardness entrances her. He is also captivated, immediately staking a claim, despite their both being ten years of age.
The title—pronounced "Shenavar"—means "grandmother" in Scots Gaelic, and it is Jenny's banker father's slightly earthier mother who takes control when the young lovers' physical expression of affection has predictable but disturbing consequences.
Since the narrative focuses on the early and late phases in Jenny's life, Hannah McPake largely plays her only when the three are acting as one. All cast members take on additional roles, however, McPake being especially effective as the uncouth young Tommy, as well as his hard-faced but loving widowed mother.
Under Kate Wasserberg's imaginative direction, the story unfolds fluently, with occasional outbreaks of song and dance (movement direction by Laura Jeffs), and Dyfan Jones's soundtrack cleverly underscoring every moment.
John's text combines lowbrow humour with dark mysticism, mercilessly painting a picture of lives completely defined, for good and ill, by rash actions undertaken at a ridiculously early age with little consciousness of their significance.
The performances are excellent—Vevers particularly convincing as the naïve, impetuous young Jenny, and highly amusing when re-enacting a four-way conversation with fellow schoolgirls. And Howard is affecting both as the ageing, cynical heroine, and the grandmother whose wisdom is rooted in unpleasant secrets from her own past.
There are points at which the script's supernatural elements obscure its universal themes, but this is, on the whole, a powerful tale which easily maintains its grip over ninety occasionally gruelling minutes.
Reviewer: Othniel Smith