See How They Run
Philip King
Duchess Theatre
(2006)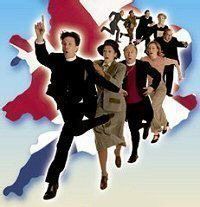 Douglas Hodge, who has made his name as a versatile actor playing everything from Pinter, through comedies to Guys and Dolls and at the moment Titus Andronicus at the Globe, now aspires to be a director. For his West End debut, he has chosen (or had thrust upon him) the touring version of a wartime farce.
He does a good job, ensuring that the laughs rarely stop for just over two hours in Philip King's popular 1942 story of mad clergymen in a Noël Coward setting, courtesy of designer Tim Shortall.
The plot is intricate and of little importance. It involves multiple mistaken identities with at various stages, four vicars and a bishop, an uppity maid, her pretty former-actress mistress and the nosy town frump, who eventually gets "squiffy" to general delight.
Being wartime, there are also some soldiers, one of whom is an escaped "Jerry" in a uniform that looks as if it was borrowed from a fancy dress emporium. Otherwise, the atmosphere is well realised not only on stage but also throughout the theatre with sandbags in the foyer and ushers looking just like Tommies in uniforms including, even on the hottest of nights, helmets.
The tall, awkward Reverend Toop (Nicholas Rowe) seems an unlikely husband for Nancy Carroll's worldly-wise Penelope. He also suffers dreadfully from twin banes, Julie Legrand as the awful Miss Skillon, born with a scowl on her face, and irritating Ida, Natalie Grady playing a stereotypical cockney-ish maid of the period.
All might have been well had Pen's old acting chum (and possibly something more amorous) played by Jo Stone Fewings not rolled into town and been persuaded to dress as a vicar - don't ask why.
That is the start of the fun and the early arrivals of both Tim Pigott Smith as a rather sniffy bishop-Uncle complete with gaiters and Nicholas Blane as another vicar ensure high speed chaos in the second and third acts. As if that were not enough, there is Adrian Fear as the manic escaped prisoner with an accent as bad as the hostess's singing.
With trousers flying and multiple occupants of cupboards, spare rooms and the garden, Hodge, his cast and audience can all share in the fun that culminates with a well played revelation scene.
Hodge ensures that the comic timing is always spot on and there are some lovely little touches, best exemplified by a great sight gag involving a masterly Nicholas Blane and invisible drinks.
The cast, led by Nancy Carroll and the delightfully pratfalling Julie Legrand, is both talented and well-drilled. Their acting styles are not entirely coherent with Joe Stone-Fewings, in particular, wildly over the top while several of his colleagues play much more naturalistically. In a play of this type though, most viewers would regard such observation as of secondary importance to the laughs.
This high-quality example of the genre should prove popular with farce fans but also those who are still nostalgic for the days when Vera Lynn and George Formby could be heard on the wireless every night.
John Thaxter reviewed the touring production in Richmond and Peter Lathan did so in Newcastle
Visit our sponsor 1st 4 London Theatre to book tickets for See How They Run
Reviewer: Philip Fisher