Seminar
Theresa Rebeck
Hampstead Theatre
–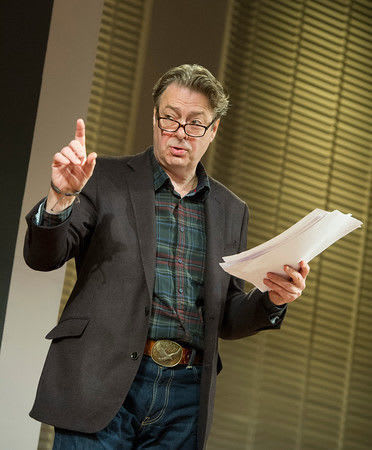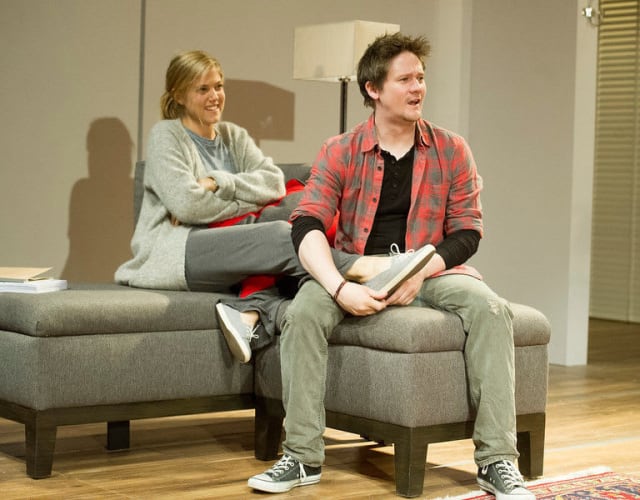 More often than not, when contemporary plays from New York are re-staged with English casts, the result is a pale shadow of the original. This can either be due to a loss of a kind of intrinsic American quality during the trip across the Atlantic or simply a lack of resource to match the original.
Pleasingly, Terry Johnson's British version of Seminar by popular playwright Theresa Rebeck both compliments and complements Sam Gold's original Broadway production.
That featured a cast headed by Alan Rickman when seen by this reviewer and subsequently Jeff Goldblum took over this actor's dream of a role.
Those are hard shoes to fill, but, if anyone was going to, Roger Allam seemed a good bet. He plays Leonard, a novelist who hit the big-time early but then was brought down by a scandal, subsequently becoming an editor and private tutor to wannabe literary stars of the future.
The first half of this acerbic comedy observes the effect that the ultra-cynical tutor has on a carefully selected group of New Yorkers occupying a luxurious, rent-controlled Upper Westside apartment belonging to Charity Wakefield's Kate.
She is a bundle of insecurities that are hardly helped by Leonard's dismissive opinion on her literary baby, nor her failures in the passion stakes. Smug preppy Douglas played by Oliver Hembrough fares little better.
Just when you think that Leonard's modus operandum features cruelty as its sole weapon, he takes a shine to the efforts of vacuous but stunning Izzy, Rebecca Grant's character, seemingly succeeding more because of her sexual enthusiasm than creativity on the page.
The most interesting of the students is probably Bryan Dick's Martin, a would-be novelist so fearful of Leonard's acidic tongue that he will not even share his writing.
Sadly, Martin finds himself unwittingly sharing his bed mate long before what promises to be a dramatic showdown with every chance of a mental breakdown to follow.
This is all light relief compared to what comes after the interval in an evening that just about tops the two hour mark.
The enduring value of Seminar lies in two speeches that Leonard delivers in the second half of the play as the character begins to attain much greater depth and humanity.
The first painfully delineates the quasi-tragedy of a career that spends far longer in descent than its brief meteoric rise.
Having garnered sympathy with a blow-by-blow account of a long journey to failure, he subsequently encapsulates the obsession that makes people write in a search for perfection that could as easily apply to golfers, cake-makers or gym addicts.
Thus, Seminar begins to take on far wider connotations than its surface vision of the pleasures and pains of creating perfectly formed novels.
Terry Johnson has cast carefully in this highly recommended production, ensuring that Roger Allam does not overwhelm his colleagues in a delightfully challenging evening that can either put viewers off writing for life or even inspire some to embark on a new career as a novelist.
Reviewer: Philip Fisher