Serenade / Carmina Burana
Choreography George Balanchine / David Bintley
Birmingham Royal Ballet
London Coliseum
–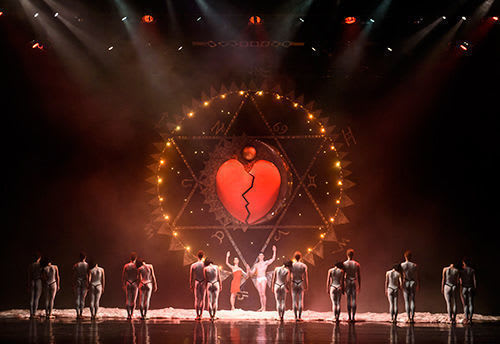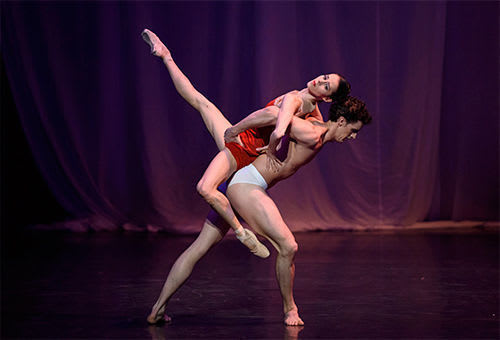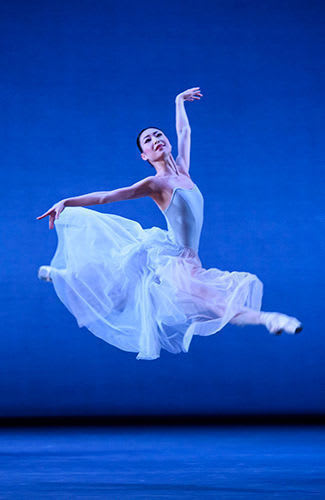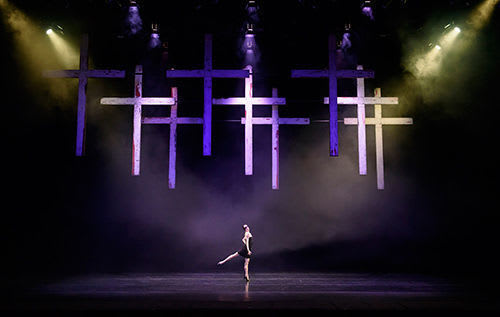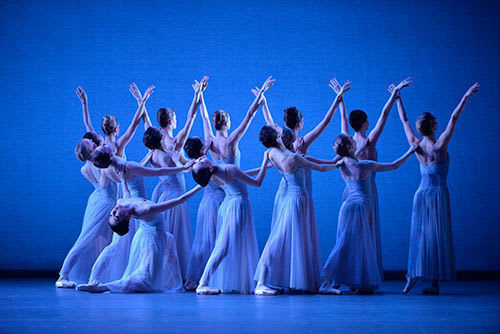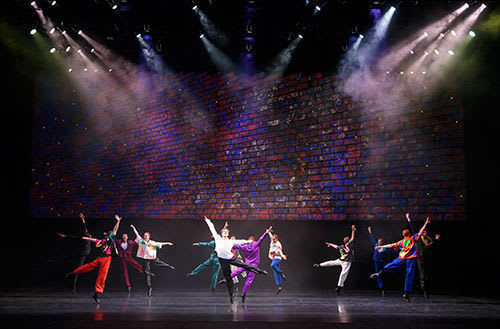 What is the link between the two completely different pieces that Birmingham Royal Ballet brings to the Coliseum for its annual London showcase?
Is it that Serenade was Balanchine's first creation for Lincoln Kirstein who enticed him to New York away from Diaghilev's Ballets Russes, and Carmina Burana was David Bintley's first splashy number for BRB when he took over the reins of the company some twenty years ago?
Is it that Serenade was created in 1934, and Carl Orff composed his major opus in 1935/36—a linking of creative dates? Tchaikovsky's Serenade for Strings versus Orff's Russian-tinged Carmina Burana, in which Stravinsky's influence is loud and clear?
Maybe there is no link at all, simply the joy of contrasts between the serenely neo-classical and the riotous 'Bob Fosse' set pieces in the tongue-in-cheek episodic modern morality tale that Bintley has made of Orff's work.
Balanchine serenades his ballerinas in the blue moonlight with a stage full of beautiful female forms in pale blue bodices and blue gossamer skirts tinged with pink. Neat heads, beautiful arms, perfect placement, classical poses and mathematical formations in harmony with the music.
For Balanchine, it is always about reverencing the music. Thirty-four minutes of flowing movement to Tchaikovsky's four movements: the Mozartian first followed by a waltz, an elegy and an andante-allegro finale (tema russo) in which the girls let their hair down.
All ballet's essential steps incorporated in solos and pas de deux, trio and ensemble. Cascading dance, classical allusions: are those the five graces embracing in a ring posy, is that Apollo and his muses, or is that Orpheus and Eurydice?
Chi Cao and Tyrone Singleton partner aloof goddesses and seductive nymphs, Elisha Willis, Céline Gittens and Momoko Hirata, with noble intent
No noble intent in David Bintley's saucy Carmina Burana. And is there anything more seductive and disruptive than the Goddess Fortuna? The Seminarians don't stand a chance when they throw their dog collars off and fall sway to temptation—and under the spell of Philip Prowse's startling astrological designs.
Fortuna—Samara Downs in black cocktail dress and heels—holds centre stage on a black set as Orff's cantata blasts out from Birmingham's Royal Ballet Sinfonia and the Ex Cathedra choral ensemble.
Suddenly, bloodstained wooden crosses fall from the heavens and seven seminarians dance their fervency to God. I'm already incongruously thinking Seven Brides for Seven Brothers and Russ Tamblyn.
Spring follows with its fecundity, its pregnant ladies in bobbed black wigs and gossamer thin clothes, and their teasing of a 'naïve boy' (Jamie Bond). Not The Rite of Spring, but Les Noces…
A brick wall and boys in florid shirts, wiggling their hips, slicking their hair back, V signs to the world, pony-tailed girls giving boys the eye—what does that remind you of, Jerome Robbins, perhaps?
Rows of chairs in a dance hall pickup place—I count twenty-six young people sitting on them—Pina Bausch's Kontakthof? A chair as motorbike—Bintley is nothing if not a crowd pleaser and a storyteller with a strong sense of humour.
Taking the libretto literally, Bintley delights in its picaresque nature. A Weimar cabaret show is the poor Roast Swan's (Jenna Roberts as tasty dish) grande bouffe scenario. To be eaten by five monstrously fat gourmandizing men in gross George Grosz masks, what a fate. Brecht and Rabelais anyone?
Sweet Charity, Chicago and Kurt Weill's Seven Deadly Sins line up in the brothel run by Madame Fortune. Another seminarian bites the dust. Iain Mackay loses not just his faith but his clothes to lust. Led astray by the woman in red, Fortuna.
And the wheel turns, as the sheets billow. Primal urges give way to blood red crosses dripping blood, or is that the ashes of lost souls consumed in the ring of fire?
Musical comedy, music hall and Weimar cabaret not at all what one expects to 'the most widely played classical music in the last 75 years'. And what does one make of the men in black uniform—the music's unfortunate fascist associations?
What would the medieval monks who wrote the poems that inspired Orff make of this sixty-five-minute brazen show?
They might commend the singing, especially from soprano Madeleine Pierard, tenor Jeremy Budd, and baritone William Dazeley.
Reviewer: Vera Liber