Serenade / Sweet Violets / DGV: Danse à grande vitesse
Choreography by George Balanchine, Liam Scarlett, Christopher Wheeldon
Royal Ballet
Royal Opera House
–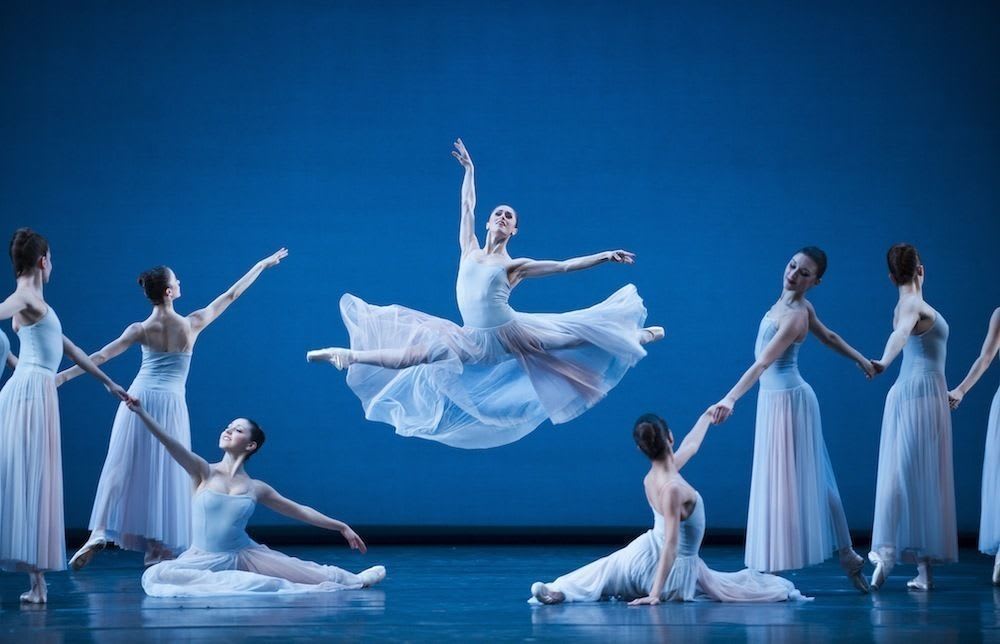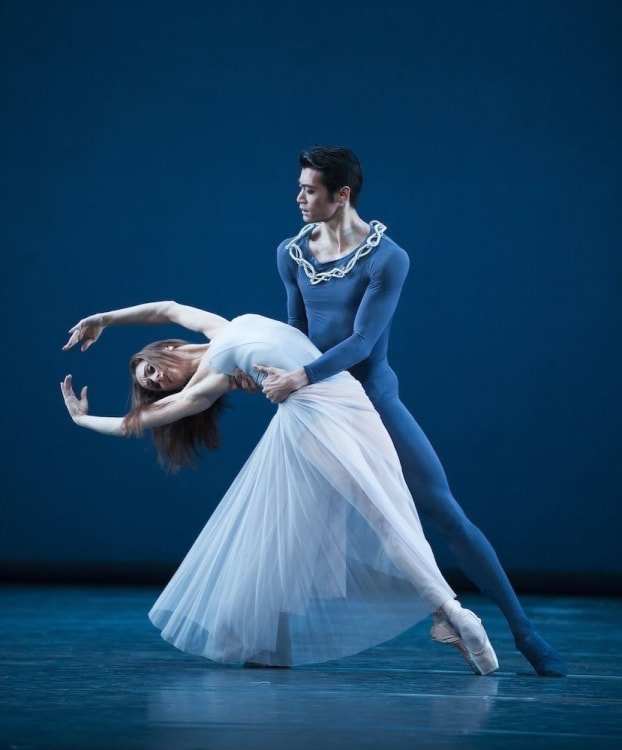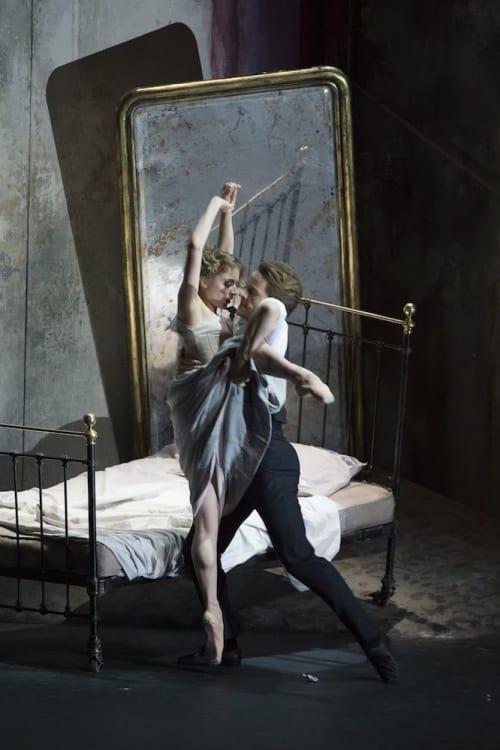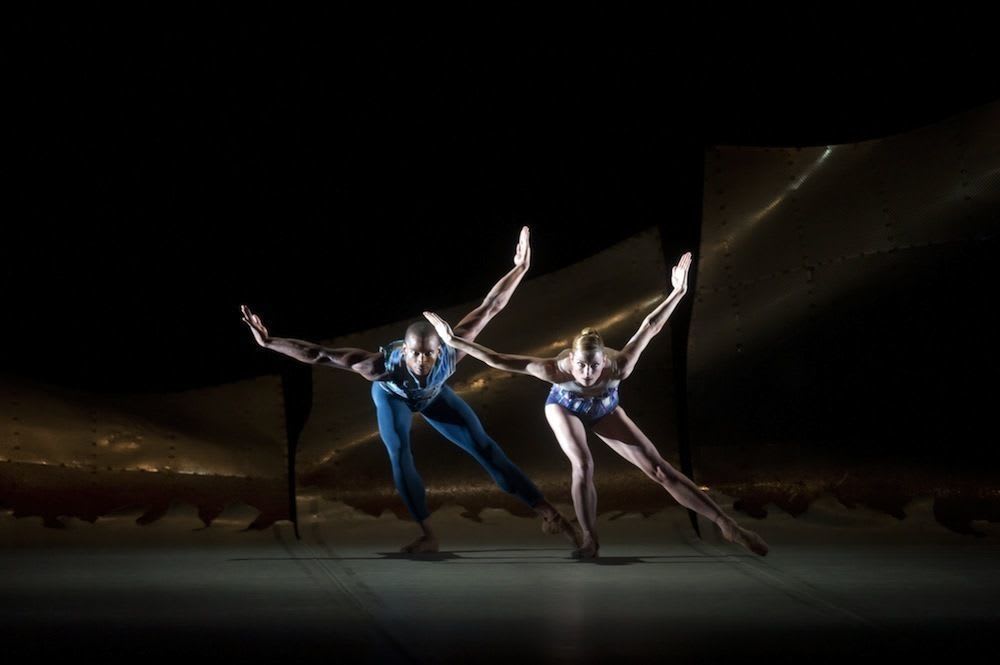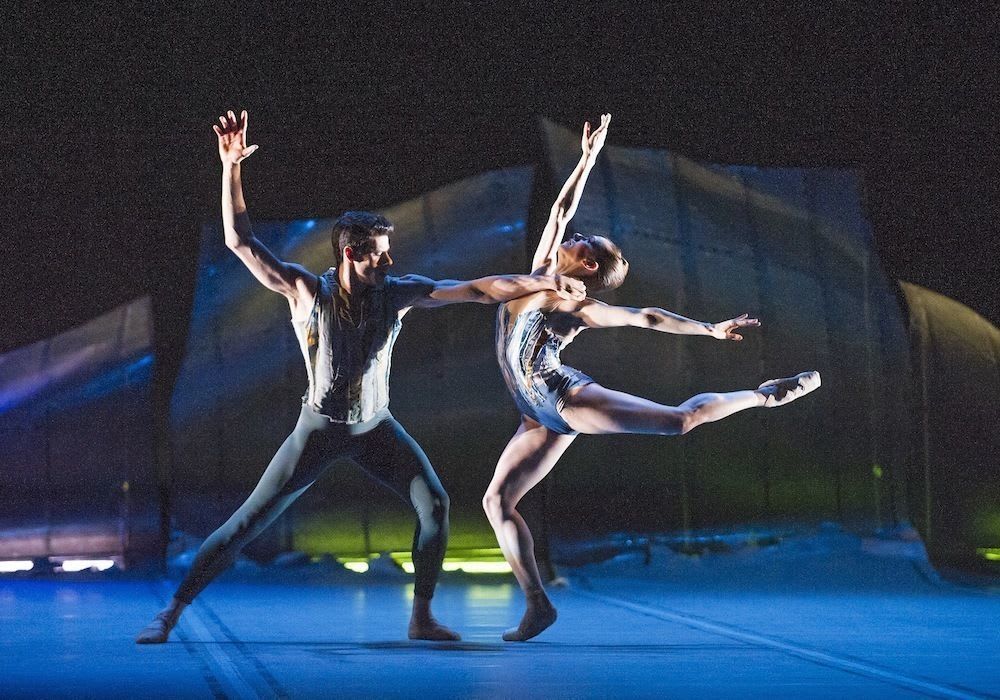 Three young men showing off their choreographic talents: George Balanchine, twenty-seven-year-old Royal Ballet Artist-in-Residence Liam Scarlett, and forty-one-year-old Artistic Associate Christopher Wheeldon.
I say three young men, for Balanchine was only thirty when he choreographed the opening ballet, Serenade, in 1934, his first ballet in the US, a non-narrative dance piece to Tchaikovsky's Serenade for Strings.
It evolved from a dance class in stage technique, intrusions and incidentals incorporated into the choreography. And, as he describes in his Balanchine's Festival of Ballet book, Serenade underwent several adaptations over the years, but "the only story is the music's story, a serenade, a dance, if you like, in the light of the moon".
In pale blue bodices and long chiffon skirts, against a blue backcloth, seventeen dancers in serried rows fill the stage—Terpsichorean muses and Grecian goddesses in simple balletic poses.
'See the music, hear the dance' is another of Balanchine's aphorisms, one of many, and what I see is his Imperial Russian Ballet training. I see Balanchine continuing Petipa's line, and I see Tchaikovsky at a Russian ball.
I see Lauren Cuthbertson as Tolstoy's fresh young Natasha Rostova at her first ball; Marianela Nuñez and Matthew Golding as the unattainable dazzling show-stopping regal couple; Ryoichi Hirano as an ardent admirer. I see Kitty from Anna Karenina in Melissa Hamilton's sweet solo.
Beautiful women were Balanchine's muses, and it is on a pedestal of three men that woman is born aloft in triumph. But in Victorian / Edwardian turn of the century England women are down in the murk.
They don't have a great time of it in Scarlett's dark Sweet Violets: used, abused, cast away, and murdered in a melodrama based on lurid speculation about artist Walter Sickert's involvement in the unsolved 1907 murder of prostitute Emily Dimmock in a Camden bedsit.
Sickert's gritty Camden Town Murder paintings are brought to life on John MacFarlane's stunning set: iron bedstead, faded mirror, blood-streaked peeling wallpaper seedy room; Sickert's studio, and backstage at the Old Bedford Music Hall, where Degas's petits rats in red dresses are easy pickings as models and tarts.
Conspiracy, insanity, sex in back alleys, an illegitimate heir to the throne: Prince Eddy, Queen Victoria's grandson, is implicated, Prime Minister Lord Salisbury (Christopher Saunders imperious and cruel) is sent to clear up the mess, and yes, resort to murder.
Royalty was associated with the Jack the Ripper tale, too, and Jack haunts the uneasy mood. Is this an artist getting under the skin of reality, or is Jack Sickert's alter ego, Hyde to his Jekyll? Is Sickert a sick man, a split personality? Nothing has been proved, though thriller writer Patricia Cornwell has spent millions trying.
Steven McRae gives us his creepy Sandman from Scarlett's paedophiliac Hansel and Gretel, a Nosferatu lurking in shadows, slipping into the scenario from behind the bed, stalking, leering and leaning over his prey.
Sickert's friend, Robert Wood (Thomas Whitehead), may be the suspect for the murder of Emily (Meaghan Grace Hinkis), but Scarlett unequivocally sets up his stall from the start—the deed is seen to be done in a vicious pas de deux of daring MacMillanesque eroticism.
In a muddle of scenes and a large cast, a theatrical drama with lots of pas de deux to pick from, Laura Morera, reminding me of MacMillan's Anastasia, shines as working girl Annie E Crook, driven insane by her liaison with Prince Eddy (Federico Bonelli).
Reprising the opening murder duet, Sarah Lamb is a willing nude model, who puts her life on the line in a dance with Wood, said to have sat for the incriminating painting. Lauren Cuthbertson is an impassioned Mary-Jane Kelly in angry duet with her employer Sickert (Thiago Soares), and Yuhui Choe, cast against type, is a sexy Little Dot, music hall gal.
But it is the playing of Rachmaninoff's 1894 Trio élégiaque (written when he was only twenty-one on the death of his beloved Tchaikovsky), led by Robert Clark on piano, Vasko Vassilev on violin and Christopher Vanderspar on cello that lifts the overlong fifty-minute Sweet Violets from its penny dreadful lower depths.
Wheeldon's DGV breath of fresh air blows all that away on Michael Nyman's breezy score—energetic, compulsive, propulsive, can't stop, can't stop.
Thirty minutes of high octane dance: four couples backed by a huge corps swaying, moving, forming lines, rhythmic motion, angular bodies in flight, dynamite. TGV, DGV and MGV—train, dance and music, all at grande vitesse, time and motion.
Movement and tempi fit beautifully: layers of dance on layers of sound. I see echoes of Wayne McGregor's Infra, and hear quotes from Philip Glass's 1987 Dance Pieces.
Zenaida Yanowsky (all legs and arched back) and Eric Underwood are outstanding and deservedly receive a loud ovation; Natalia Osipova partnered by a protective Edward Watson is out of her comfort zone, but that is why she is at the Royal Ballet, and she gives it her speedy best.
Marianela Nuñez dances as strongly as ever with husband Thiago Soares, symbols of flight and winged lifts, and Laura Morera spins like a top with Valeri Hristov. Drum rolls and dynamic physical mechanisms.
Six performances only of this triple bill in which the Royal Ballet shows off, unobtrusively, new additions to the company, and its dancers' range, putting them to a musical test, which they pass with flying colours.
Reviewer: Vera Liber