Sergei Polunin: Fraudulent Smile, Paradox and Sacré
Choreography Ross Freddie Ray, Yuka Oishi, music Kroke, Stravinsky, Chopin
Polunin Ink
London Palladium
–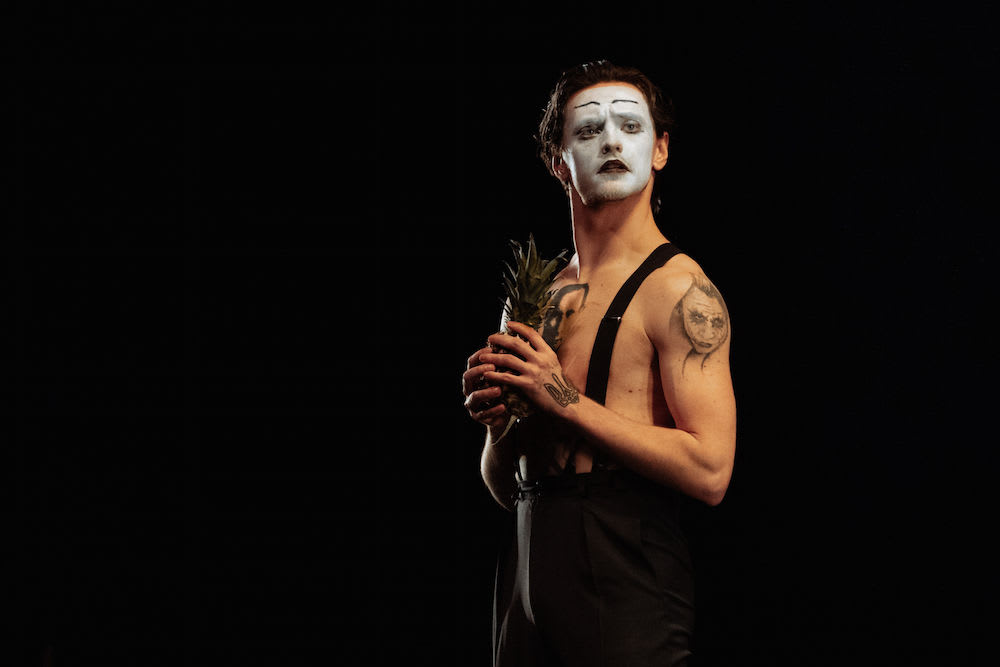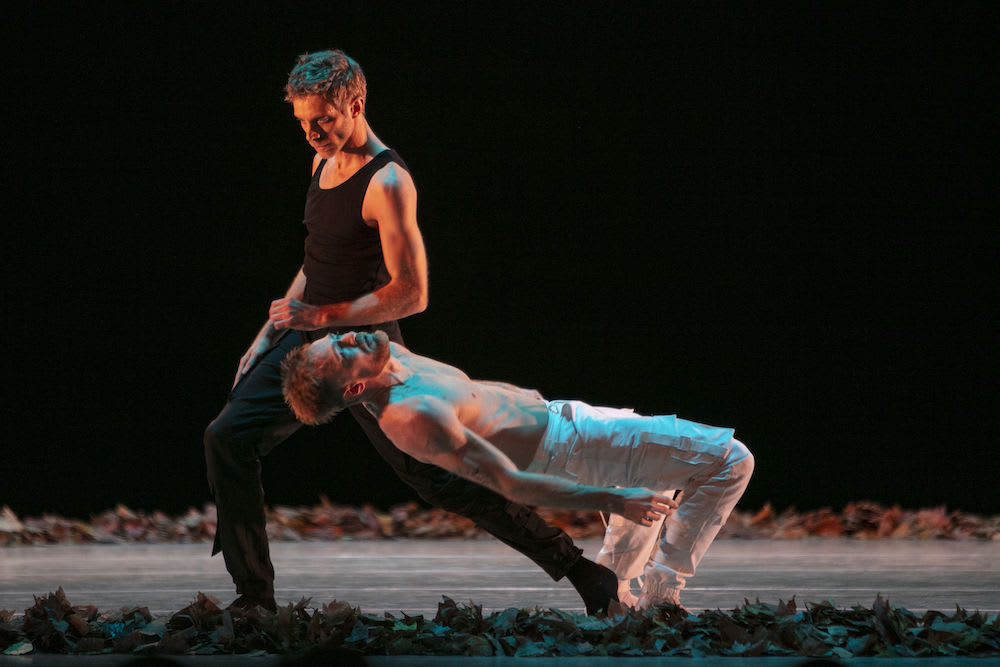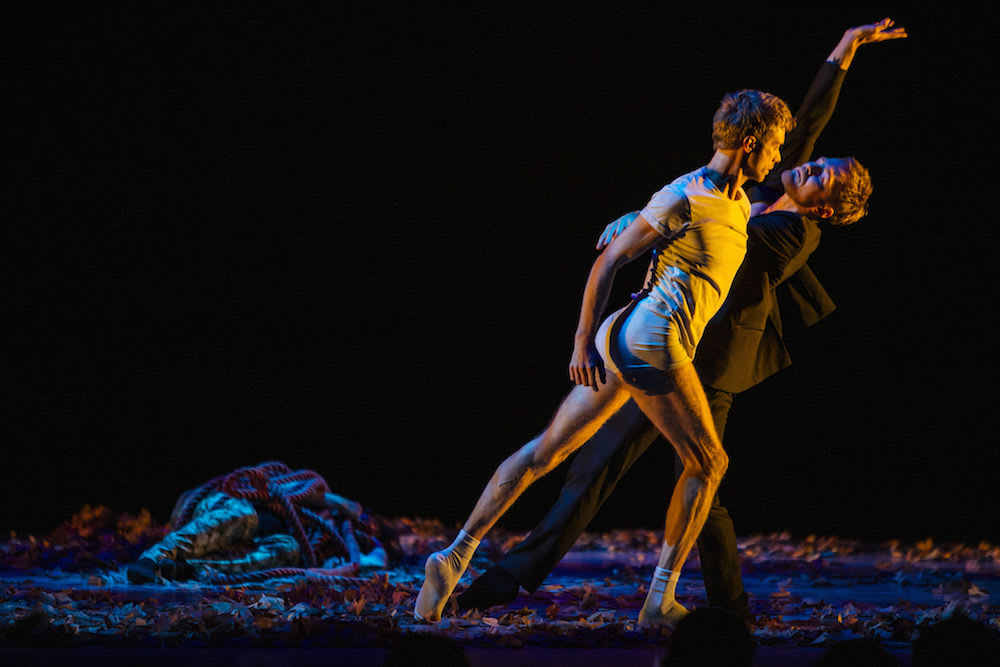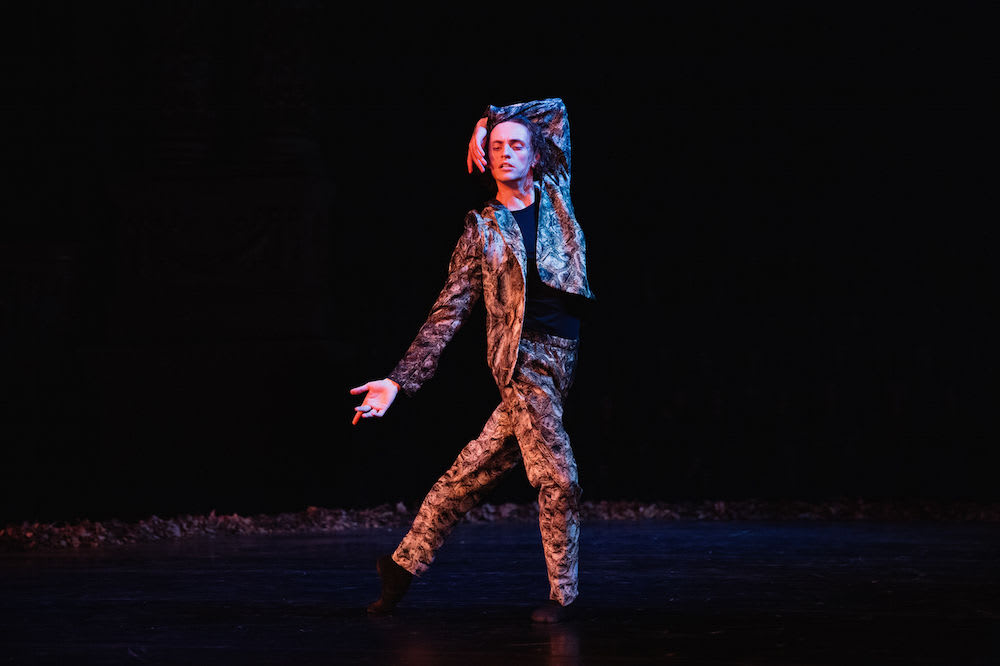 Sergei Polunin of the immature homophobic tweets and Putin tattoo centre chest, ostracised by theatre ticket agency London Direct, dropped by Paris Opéra Ballet, is back in town with his own production company. Former partner and Royal Ballet star Natalia Osipova thinks he is being misjudged (according to an article in The Evening Standard).
He is back with an interesting if overblown triple bill. In actual fact, more of a double bill, as Paradox and Sacré should be performed in tandem, being conjoined dance pieces exploring Nijinsky's madness and creativity. All three new pieces are in the dramatic (and does actor / dancer Polunin like to emote) tanztheater ballpark.
Fraudulent Smile by Ross Freddie Ray to infectious klezmer music by KROKE has Johan Kobborg as a sort of Joel Grey MC figure from the 1972 film Cabaret—more malevolent than Grey, he seems to have stepped out of an E T A Hoffman gothic fantasy crossed with the decadent Weimar era. Ray admits to the film's influence.
In white mime face, braces over bare torsos, five men and two comatose girls in skimpy period undies are manipulated by malevolent pimp Kobborg. Polunin is the good sad clown, his girlfriend seduced away from him. It ends with him in a frantic solo, his face a picture of madness (not unlike the Joker tattoo on his shoulder).
It's good to see Kobborg back on stage—he was a fine actor-dancer at the Royal Ballet in his time—and Ray's choreography with its mix of the macabre and the jaunty is good. Polunin seems to be baring his soul: "why does a good man do bad things" stands as Fraudulent Smile's epigraph.
Madness fascinates Japanese dancer and choreographer Yuka Oishi in her Siamese twins Paradox and Sacré. Moved by Nijinsky's drawings of circles (as was Russell Maliphant in his AfterLight) she tackles an uneasy subject.
Paradox to Stravinsky's Soldier's Tale and Chopin—the yin and yang, the storm and the calm in the mind perhaps—has two men (Alexey Lyubimov and Dejan Kolarov) represent the schizophrenic, the split personality, one in white the other in black. Enclosed in a circle of autumn leaves they enact a confused scenario. Nijinsky motifs appear—from his L'Après-midi d'un faune, and later in Sacré from Le Spectre de la rose. Are these two figures the demonic and the angelic he has to do battle with in his mind?
Sacré Oishi says sounds like circle in French, and here we have Stravinsky's The Rite of Spring played out by a solitary Polunin in battle fatigues trapped in that circle of leaves. A long emotional solo, is he a soldier suffering from PTSD? Is this a nod to the victims of war in Eastern Ukraine? Stravinsky's pagan folk rhythms coupled with Konstantin Binkin's lighting, now fiery red, now becalmed dark blue, easily conjure the warring Scythians.
A very troubled man, flinching at the alarming blasts of sound (music all recorded), hands shaking, Polunin races, crawls, flies round the stage, fights unseen enemies, a mix of aggression and meekness. He finds a red rope in the leaves: it becomes his burden, his cross to bear, his tangled guts, his muddled thoughts. Under the heavyweight of these metaphors he collapses.
The end, of course... We applaud, people stand, but there is a coda. The Paradox men return, dance, and raise him up. Redeem him? Or take him off to their sanatorium? Oishi says she was inspired by Nijinsky's demand for a "feeling, not thinking Human", by outsider art, by rebellion. A suitable vehicle for Polunin then, who gives it his all—and it is a long, exhausting piece, too long and uneven.
The Russian-heavy audience loves him, cheering him mid performance—his double twisting turns. What is more he will be performing in Kobborg's Romeo and Juliet with Alina Cojocaru in Verona in August. That I'd like to see.
Oishi has also choreographed Rasputin for him in this short London Palladium season, exploring "the life of the Russian mystic and self-proclaimed holy man who befriended the family of Tsar Nicholas II". With "a new score by Russia's most prominent representative of the neoclassical music scene, Kirill Richter"... Will this be a revisionist re-evaluation of Rasputin, I wonder?
Thank goodness, Polunin has decided not to throw away his God-given talent for ballet. Choreographic choices are another matter. But, his earnestness is not in doubt.
Reviewer: Vera Liber