Serpent / Fallen / Young Men (excerpt)
Choreography by Liam Scarlett, Russell Maliphant, Iván Pérez
BalletBoyz® the Talent
Roundhouse London
–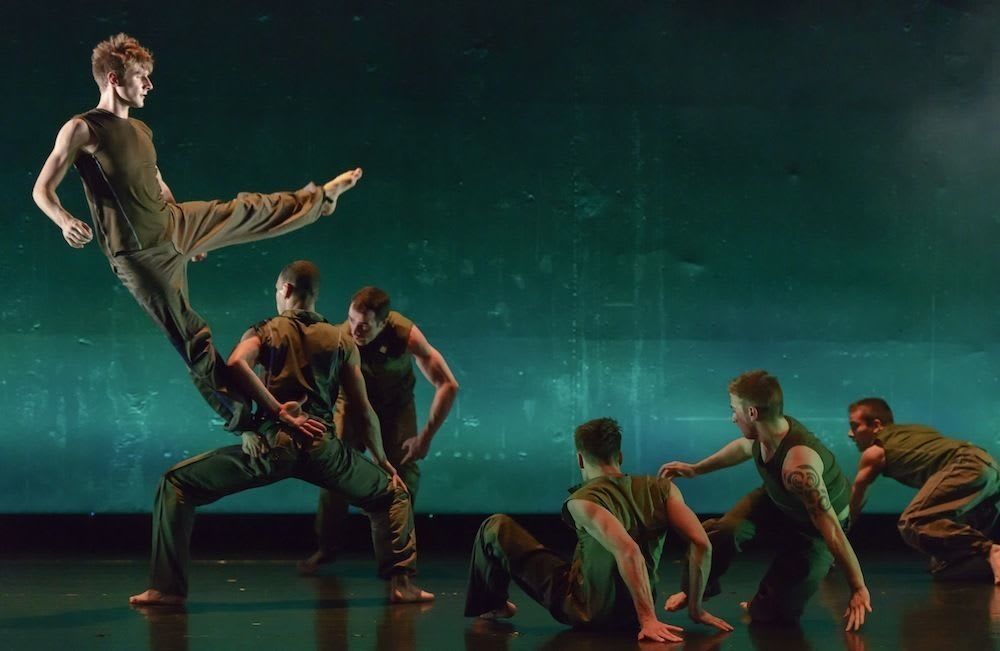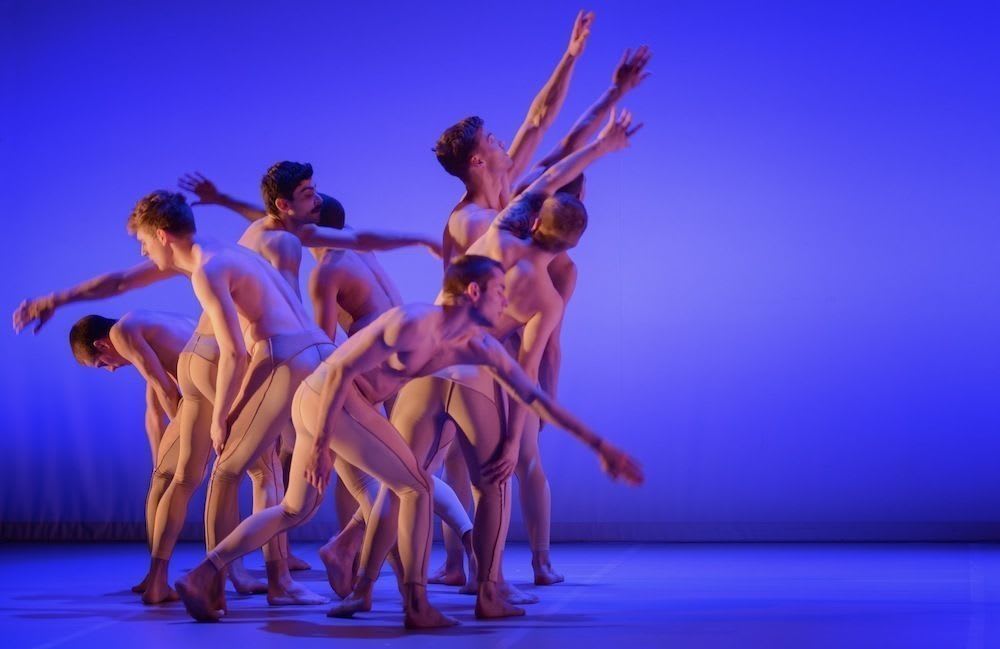 Out with the old and in with the new: the BalletBoyz ten-strong Talent are dancing the last performances of Liam Scarlett's Serpent and Russell Maliphant's National Dance Awards 2013 Best Modern Choreography garlanded Fallen, and tantalising us with a short excerpt from their new show, Iván Pérez's Young Men, which will open in January 2015 at Sadler's Wells.
Their 'Final London Season' goes out with a bang. Only two performances at the Roundhouse as part of its Summer Sessions festival, and the place is buzzing. The vibe is good.
The Main Space parterre is converted into a table-seated cabaret arena, and the former railway engine turntable shed sparkles with occasion and anticipation. A live orchestra, too, behind a gauze scrim—production values are high.
What do male choreographers create for a commando squad, a Foreign Legion of ten young men? Play to their strengths and work with their different skill sets, as Maliphant puts it.
In typical BalletBoyz behind the scenes video projections Scarlett and Maliphant set out their intentions, and we see the 'eclectic bunch' of boys rehearsing the new piece.
So, it is 'supple with death attack underneath' testosterone, male bonding, macho posturing, and great physicality—back to the 'beauty of the male physique', the ancient Greek male ideal.
Initially Serpent, in its fluidity reminds me more of Matthew Bourne's swans than the cobras Scarlett has in mind. Arms unfurl like swan's necks, swaying in unison to Max Richter's strings and piano. Elbows look like wings.
But then they metamorphose into Greek wrestlers, Homeric heroes. Naked Spartans (nude-look tights), backs to the audience, they form a many-headed Hydra, before splintering away into solos, pas de deux, de quatre, and six, shoulder ripples and chest bump confrontations.
Couples spar, the music crescendos, the tempo speeds up, the fights become more urgent, heads butt and arms form snake hoods. And then a harpsichord plays, and which century are we in? The collective reassembles, male solidarity holds fast.
Maliphant's regular collaborator Michael Hulls lights both Serpent and Fallen, which bookend Young Men, in his trademark shadowy spots. Fallen's sound track is by French film composer Armand Amar, and for this the scrim lifts—we see the BBC Concert Orchestra in all its splendour.
Maliphant, who had never worked with such a large number before, seems to me to have been inspired by Ohad Naharin's Batsheva Dance and/or Greek male folk dance. Star-shaped outer circle framing a tight knit inner circle, men in combat khaki split into two equal groups.
The percussive beats loud and heavy, the light grim green, Gustave Doré's and Van Gogh's Prisoners Exercising also come to mind. Middle Eastern melodies insinuate themselves. Martial moves, shoulder lifts, contact work, knee squats and rolls, acrobatic kung fu kicks.
Perpetual circling motion, on alert, hyped up, ready for anything, and always rough and tumble for the Boyz. But combat gives way to supportive formations, cooperation and mutual benefit—this has to be learned in military drill.
From the twenty-minute excerpt of Iván Pérez's Young Men, 'which explores the theme of war and the bond that forms between the men who train and fight together', it looks inevitably like more of the same.
Against Op Art black and white back projection, Goya tree stumps, and darkening clouds, stage lit by Tanja Rühl, to an original score, analogue and digital, composed and conducted by Keaton Henson, ten men in collarless shirts of dull green, deep purple and charcoal grey, black trousers tucked into boots, strut like young fascistic vitteloni.
A fight breaks out, a strangle hold, sides are taken, gun finger points out and then into mouth, murder and suicide, abuses of war. Exhausted, damaged men lie down in serried row.
English National Ballet's Lest We Forget programme at the Barbican in April kicked off the WW1 theme in ballet this commemorative year. Scarlett and Maliphant were called upon then, as now.
Post-show drown your sorrows, let off steam, at the packed Beach (yes, sand and all in Camden). As well as BalletBoyz, the multi-arts Summer Sessions festival offers live music, cinema, poetry slam, cabaret, and much much more, a heady mix after the replicated battles on stage.
Reviewer: Vera Liber