Shoot/Get Treasure/Repeat - 1
Mark Ravenhill
A Gate Theatre, National Theatre, Out of Joint, Paines Plough and the Royal Court co-production
Various locations
(2008)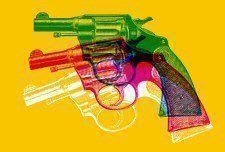 Crime and Punishment
RNT Cottesloe Theatre
Maria Aberg directs a play that must have seemed very familiar in Edinburgh, where the favourite topic of the last couple of years has been American soldiers behaving badly in the Gulf.
This two-hander features Craig Gallivan, with a heavy Welsh lilt to his American accent, interrogating a widow of five days, Thusitha Jayasundera, already cynically used by US TV as part of a prime-time exhibition of love for the vanquishing invaders.
In addition to her husband, this poor soul has also lost her son and is desperate to return to the hospital where her mother-in-law is dangerously ill.
Instead, she has been chosen to bolster this soldier-boy's paper thin self-confidence. Like his nation, the trooper wants to be loved and he eventually becomes a rather heavy-handed symbol for a country that is bottom of everybody's Christmas (or Eidh/Diwali) card list.
His search for love, which he tries to buy with the mantra "Freedom/Democracy/History", is unavailing and the terrified woman's refusal to humour him eventually proves a tragic mistake.
This is a powerful, if now familiar drama, which allows both actors to impress with their commitment.
Intolerance
RNT Cottesloe Theatre
Who'd have thought it? An enfant terrible of the 1990s In-Yer-Face movement creating what could easily pass itself off as an Alan Bennett Talking Head.
Harriet Walter is Helen, a trendy earth mother devoted to macrobiotic yoghurt and vitamin tablets having been led to this diet by a mysterious pain in her stomach.
As she cheerily tells us about an ultra-normal life of serene happiness, Helen looks exactly like the kind of woman you could see on the High Street in Islington or Hampstead on any day of the week.
Depth is injected into her tale of quack medicos when we discover a couple of possible Freudian sources of the stomach ache.
The anti-Semite, whose husband symbolically takes a shower offstage throughout, is the granddaughter of a concentration camp victim.
As well as carrying the burden of that guilt, Helen must also live with the knowledge that her country is responsible for a War on Terror that has brought bombs to her own city.
Even so, this is a slight piece, primarily distinguished by a strong, naturalistic performance by Miss Walter under the direction of Anna Mackmin.
Reviewer: Philip Fisher