Shoot/Get Treasure/Repeat - 2
Mark Ravenhill
A Gate Theatre, National Theatre, Out of Joint, Paines Plough and the Royal Court co-production
Various locations
(2008)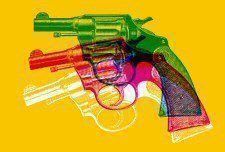 The Mikado
RNT Lyttelton Theatre
The audience is welcomed by the tuneful overture to the G & S operetta of the same title. Except for a short rendition of Three Little Maids by Peter (Philip Voss) and the setting in a Japanese Garden, the connection apparently stopped there.
Directed by Gordon Anderson, Peter and his long-time partner Alan, played by David Bamber, are observed on a park bench chatting like two characters from an Armistead Maupin novel.
Life is not good, as Peter's terminal illness, seemingly at bay, has returned "aggressively". Its nature is something of a surprise in the circumstances but the consequences are the same whichever illness kills you.
This seemingly contented, if rather prissy couple, bicker but seem mutually supportive. However, Alan eventually pries just a little too far and lifts the lid off a volcano of anger.
Then Peter expresses remarkable schadenfreude and we are perhaps meant to feel some kind of insight into an angry, nihilistic mind-set that might just be a paradigm for that of a suicide bomber.
The Odyssey
RNT Lyttelton Theatre
By far the best of the Shoot/Get Treasure/Repeat plays at the National is The Odyssey, a fully-realised drama with a cast some two dozen strong. There is a degree of irony in that the (highly appropriate) set is that for The Hour We Knew Nothing of Each Other.
That play was wordless, where this one, jointly directed by Tom Cairns and the playwright, thrives on language.
Jason Thorpe plays an army commander in a war zone, presumably in Iraq. The good news for his troops is that at long last, they are about to return to their badly-missed families. The locals are told that they should be happy too as one day soon, thanks to the British hegemony, they will enjoy all of the benefits of Western materialism.
The occupation force has one last gift to offer to the brain-washed populous whom they have "saved". In a travesty of Stalinist proportions, they force the former dictator (Danny Sapani) to make a speech that they have scripted, parroting hollow apologies for his sins.
Just when one begins to feel that the British troops might have brought humanity and democracy to a benighted country, they round on the ruler and cruelly beat him to death in the name of freedom. As the Commander had earlier suggested that "Our core values are humanity's core values", the hypocrisy becomes all too apparent.
All that is left is the men's departure, after which the innocent country, symbolised by a little girl played by Ruby Bentall, will be plunged into civil war. Just to add to the irony, a last-minute change of plan sends them to the next war zone where presumably, they will once again till the natives in the name of humanity's core values.
Ravenhill's message comes over loud and clear. There is little merit in dethroning a tinpot dictator, if you leave the people in a worse state than they had been in before you invaded, promising the earth. George Dubya - are you listening?
Reviewer: Philip Fisher