Shoot/Get Treasure/Repeat - 3
Mark Ravenhill
A Gate Theatre, National Theatre, Out of Joint, Paines Plough and the Royal Court co-production
Various locations
(2008)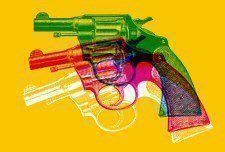 The Mother is a classic demonstration that good plays do not need to be long. This fully realised piece lasts a mere 20 minutes but packs in drama, comedy, pathos and even a fight.
Co-Directors Max Stafford Clark and Clare Lizzimore for Out Of Joint have been lucky enough to get Lesley Manville to play the central role. She is magnificent, giving the kind of performance that is usually saved for the Greek tragic heroines.
Both she and we know that the appearance of two squaddies can only mean one thing when your beloved son is in the army in a warzone.
In no time at all, this rough, slovenly London mother moves on from loud, coarse, comic denial in which her visitors cannot get a word in beyond the constantly repeated and cut off "Mrs Morrison". She then successively gets into aggression, madness that manifests itself in the imitation of a dog, which bites the corporal's nose and finally acceptance and grief at the loss of Darren.
Everything is perfectly judged and Miss Manville has an opportunity to prove that she really is one of the best actresses of her generation, although following a string of starring roles at the National, that ought to have been public knowledge already.
Given limited opportunities, John Dagleish and Rachael Chisolm both provide excellent support, each getting their fifteen seconds of fame in brief flashes of anger.
By the end, The Mother proves to be as moving as many plays five times the length, which is a tribute to all involved in the project.
The Royal Court has been well blessed by its first pair of Ravenhills. Following the outstanding Lesley Manville in The Mother, four fine actors perform beautifully together in a 25-minute work that owes something to both Harold Pinter and Wallace Shawn.
Birth of a Nation starts with the acting quartet applauding the audience. The reason becomes apparent as we discover that the paying public in Sloane Square have been re-cast as the inhabitants of an Eastern city with a cultural history second to none but now razed to the ground, presumably Beirut or Baghdad.
The shtick, once we get to it, is that the onstage visitors are art therapists sent across to heal a nation and aid its re-birth.
They are a real comedy of errors, an ex-mining dancer played by the lugubriously hilarious Pearce Quigley; an abused painter, Monica Dolan; an obsessional specialist in "performance art installation bonkers thing", Toby Jones; and an American playwright (ironically under-written), Megan Dodds.
They perfectly symbolise their own nation's patronising attitudes to the war-dispossessed, instantly more interested in relating their own relatively minor problems than considering their hosts' plight, represented by a horribly mutilated woman unable to tell her own tale.
Deftly Mark Ravenhill makes his point, in a clever playlet very well directed by Ramin Gray, who presumably had virtually no time to rehearse his talented cast who looked as if they had been working together for ages.
Reviewer: Philip Fisher