Shoot/Get Treasure/Repeat - 5
Mark Ravenhill
A Gate Theatre, National Theatre, Out of Joint, Paines Plough and the Royal Court co-production
Various locations
(2008)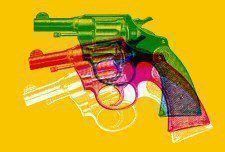 Paradise Lost
Paines Plough at Village Underground
Paradise Lost superbly opens the Paines Plough quintet at Village Underground in combative style. This is the kind of searing theatre that one expects from Roxanna Silbert's excellent theatre company.
Michelle Fairley plays Liz, what is now known as a flight attendant. She is suffering from sleepless nights, caused by eerie screams from downstairs.
Driven to desperation, the pyjama-clad neighbour makes a late-night visit to Maria, whom she has never previously met. Raquel Cassidy has victim written all over her in the latter role and immediately garners sympathy from both visitor and audience.
Her quivering terror becomes explicable when a massive burn is revealed on her arm. Liz starts off showing great concern but soon enough begins to wonder whether this might be a case of self harm, in which case outrage might be more the order of the day.
Still, Maria has not uttered a word and before she does, two thugs played by Luke Norris and Edward Dede materialise. They appear to be pimps and first threaten and then assault Maria, even getting out a hammer to make their point.
Ravenhill cleverly toys with our perceptions when the lads explain that Maria is a fundamentalist responsible for several deaths on what must have been 7/7.
The play, which showcases both actresses to good effect, then develops in a most unexpected but highly logical progression to a chilling ending that leaves its audience with some very tricky moral questions to debate.
Love (But I Won't Do That)
Paines Plough at Village Underground
This two-hander set in a kitchen, explores the unconventional relationship between a well-to-do businesswoman, Deborah Findley's Marion, and a young squaddie, played by Luke Norris.
The pair have been thrown together by war and develop a mutual dependency that is equally unsatisfactory to both.
Marion is not used to mixing with this sort and cannot help but flaunt her superiority. However, in difficult times, power shifts with incredible rapidity.
The young Soldier has been billeted with the family to offer them protection, following the death of Marion's husband to that old favourite of politicians, friendly fire.
While his middle-aged hostess wntas protection, the Soldier simply wants Marion to become his personal porn movie as reward for his efforts.
The worrying thing is that in today's society, one can believe that women around the world really are faced with dilemmas of this kind and eventually discover that they have no way out.
Reviewer: Philip Fisher