Shoot/Get Treasure/Repeat - 7
Mark Ravenhill
A Gate Theatre, National Theatre, Out of Joint, Paines Plough and the Royal Court co-production
Various locations
(2008)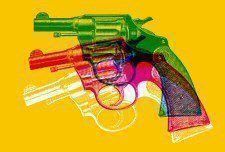 Armageddon
Gate Theatre: reviewed from the text
Since the production of Armageddon by Carrie Cracknell and Natalie Abrahami from the Gate took place in a motel room before a combined audience of only 30 over its three night run, this play, together with Women in Love, is reviewed from the text.
This two-hander is a deceptively simple tale that brings the War on Terror down to a human level.
Emma and Honor are fundamentalist Christians, perhaps Mormons but certainly Americans or so they seemed in the Edinburgh production by John Clancy, featuring Nancy Walsh and Matt Oberg.
Emma is a middle-aged mother whose need for religion stems from an addictive personality that has allowed her to see more than her fair share of stimulants and men.
The much younger Honor is a colleague from her dead-end job but also a surrogate for her son, who has disowned Emma and is now fighting for his country.
The play consists of the attempts of the couple to resist temptation with the aid of the Lord, or at least their conception of him.
It develops into something rather darker as Emma's son makes it on to her motel room TV, having become yet another martyr amongst so many in the US forces. This is the kind of news that both cools off passion and throws the unconventional pair back to their faith.
Armageddon is painted on a miniature scale but serves to show experiences that must be all too common in smalltown America in the first decade of the current century.
Women in Love
Gate Theatre: reviewed from the text
The joint artistic directors of the Gate, Carrie Cracknell and Natalie Abrahami apparently set the play that shares its title with a D. H. Lawrence novel in a West London garden. That is what we hear from one of the thirty people were lucky enough to see it over its short run.
Sadly, BTG could not find a free night, due to a busy week but also programming that saw this play and Armageddon clashing with another pairing at the Royal Court. Since the script is published, we can at least give a flavour of the experience.
In this little sliver of (ending) life Anna and Dan are not quite what they seem. He is a seriously ill cancer patient and she the devoted wife who visits him in hospital and remains for fifteen hours a day.
There, they exchange sweet nothings and conjure up images that have become common to those reading or seeing all of the plays in the cycle. While Anna tries to protect Dan from the damaging effects that news of war in the desert can have to his fragile mental state, it is far too prevalent to sidestep.
The medium is Nurse Rusty whose gay lover is in the Gulf, thus indirectly bringing the battle into the hospital room. As it happens, this is the final play that BTG covered and it means that an epic cycle with many memorable highlights finished with something of an anti-climax.
Even so, Mark Ravenhill's achievement with Shoot/Get Treasure/Repeat is impressive. Each play has had something to offer in its own right and, together, they combine to present a coherent picture of life today and the way in which the Anglo-American War on Terror impacts on all of us.
If you were not able to see or hear these plays in performance, Methuen Drama have published the text, which should still be available from the performance venues at the knockdown price of £5. This is a splendid read and is well worth the investment.
Yesterday an Incident Occurred
Radio 3
The final performance of the Shoot/Get Treasure/Repeat cycle took place first, before a live audience in Liverpool for Radio 3. In order to fill the shortest slot for a Sunday night play, it was extended from the standard twenty or so minutes to almost an hour, and also rewritten to acknowledge the new medium.
This has done the piece few favours, as Kate Rowland's radio version has far less impetus than the stage text. Worse, the broadcast somehow lacked seriousness as it tried rather too hard to satirise its own medium in addition to telling the story.
The original version must have hit home very effectively in Edinburgh, as a breakfast time audience was told with suitable drama that the previous day one of the actors had been assaulted by an audience member and was at that time critically ill.
On the radio, the audience heard that close circuit cameras had seen an assault on a local - not the same thing at all.
The issues that are raised relate to the conflict between security and freedom. Ravenhill asks through his characters whether we are happy to accept widespread surveillance as a price for safety.
He then mischievously considers the lengths to which we will go in order to uncover terrorists. Is it acceptable to punish those witnesses to terrorist outrages who remain quiet? Many conservatives might answer yes until they discover that the proposed punishment is branding.
What started as a slight theatrical piece with an important message becomes overblown when its length is more than doubled.
It is also a pity that Radio 3 didn't take many more of the Shoot/Get Treasure/Repeat series or even broadcast the full sequence over two or three weeks. Listeners will not appreciate the richness and sheer quality of the whole project from this single, unrepresentative sample.
Reviewer: Philip Fisher