SHOW: The Entrance / Clowns / Exit
Choreography and music by Hofesh Shechter
Shechter II
Lyric Hammersmith
–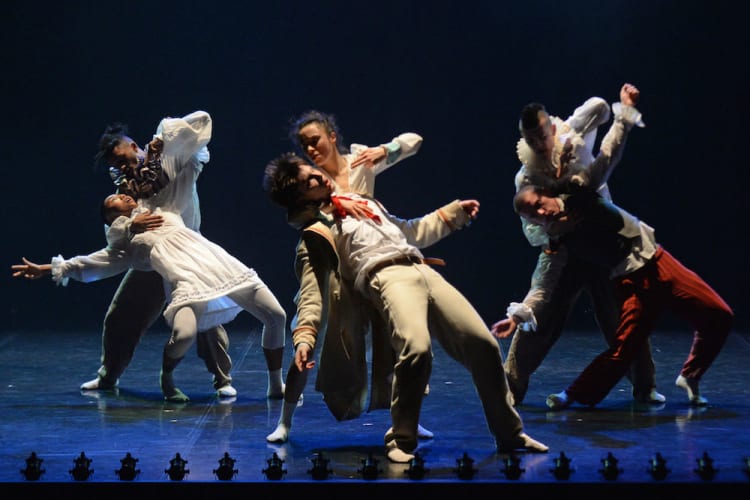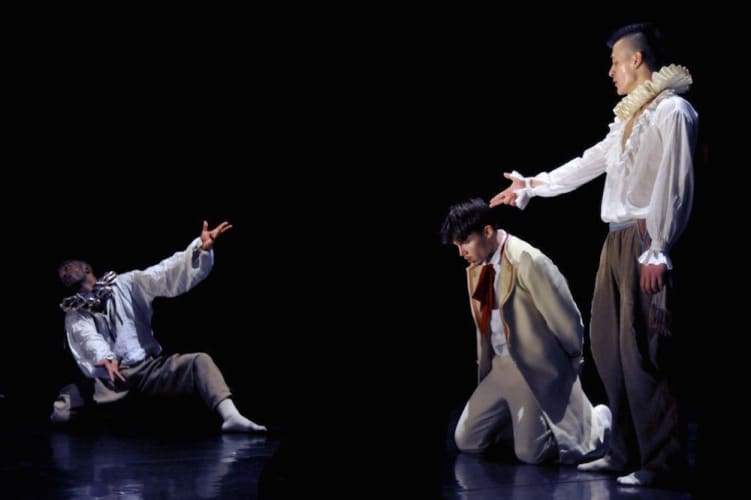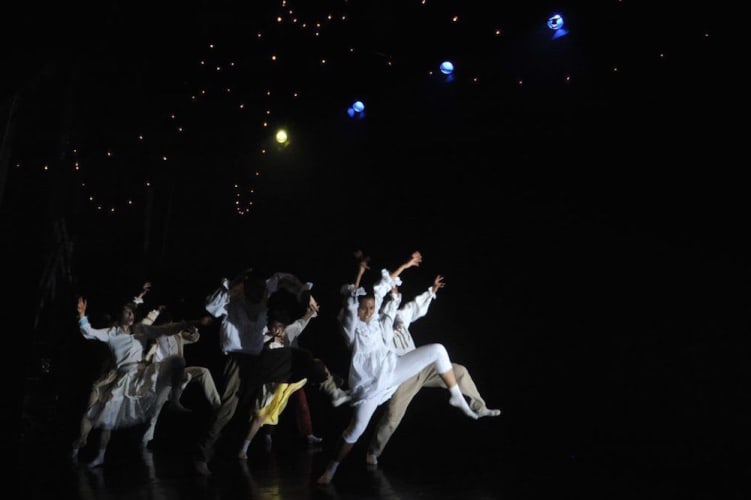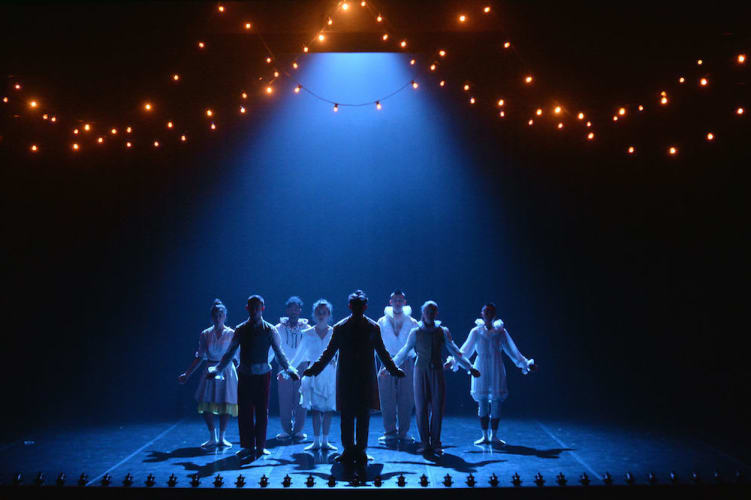 The first time you see a Hofesh Shechter production it blows your socks off, as my young teenage companion finds. He thinks the 55-minute SHOW is brilliant ("love it, love it") and so does the audience in the far-from-full (two nights after press night) 550-seater, proscenium arch, late Victorian Lyric theatre. A standing ovation no less—more of this later...
I guess I must be a jaded old soul, but I find Shechter's now too-familiar vocabulary and signature style—the hunched lolloping run, the tribal swaying folk arms, the forward thrusting hips, the ungainly flailing limbs—is beginning to pall. I may have reached Shechter saturation point. I can admire his work intellectually, but the gut response is gone—same old same old. Still, don't mind me.
Is Shechter channelling Goya crossed with the Chapman brothers in his eight-strong travelling troupe of clowns, sinister commedia dell'arte charlatans, schizophrenic Jekyll and Hyde personalities? Have the lunatics taken over the asylum? Or is it a comment on the present state of the world? Are they Hamlet's players holding up a mirror to nature with their dumb show?
Is SHOW's three-act The Entrance / Clowns / Exit a riff on As You Like It: "All the world's a stage, And all the men and women merely players; They have their exits and their entrances"? Or is this a bacchanalia just for the fun of it, a fancy dress party with costumes out of a dressing-up box, a boutique of illusions, a make-believe revolution?
Is his irresistible percussive score the heartbeat that propels our lives, and the top layer hum the sighing over our lot, a keening for all the murderous actions of his eight protagonists, who execute one another time after time? They crumple; they rise. What other choice is there? But I miss a live band on stage to pack Shechter's usual gig punch—where are his strolling minstrels?
A macabre Jacobean tragedy, a Victorian penny dreadful, a surreal drama, the medieval dance of death from Ingmar Bergman's Seventh Seal, SHOW transcends the ages. Malevolent marionettes with wobbly heads and wayward arms, but who is pulling the strings?
On and on life's dance leads them. Will it ever end? We are being played—we are constantly being played if only we knew it—what is going on? Blackouts and snapshot, staged scenes, group poses: a camera shutter cuts the light in the blink of an eye? The tedium of life amplified?
My mind scrambles through its mental film catalogue… For some strange reason I think of the Futuristic Victory Over the Sun (1913)—that can't be right, but it could be in a similar ballpark. And The Dead of Night (1945) with its evil ventriloquist dummy. A French film, a masquerade I can't quite access, Fellini, Carné, Cocteau?
Lee Curran and Richard Godin's lighting cutting through a haze, backlighting, side-lighting, fairly lights dangle as if at a fair or a circus, but don't be fooled by Corelli's Concerto grosso in G Minor, these polite beings dancing the minuet are deceptive, the primitive under a veneer of charm will be unleashed without provocation.
There's a false end, too—how the audience applauds—but it's not a choreographed curtain call. It's Exit being demonstrated with wily wit. It feels like an encore, but we've been hoodwinked—there's more, sit down.
All sorts of exits—the many ways to get off the stage—and this last act is the best part of the evening. One look over their shoulders and they're gone, just as they arrived, back into the imaginary mists of time. The audience on the alert now, on its toes, finally rises to its feet again. A triumph.
A triumph for the eight apprentices comprising Shechter II (ages 18 to 25) chosen out of hundreds: Emma Farnell-Watson and Riley Wolf (UK), Juliette Valerio and Robinson Cassarino (France), Zunnur Sazali (Singapore), Adam Khazhmuradov (Belgium), Natalia Gabrielczyk (Poland) and Neal Maxwell (Switzerland).
Commissioned by and debuting at Nederlands Dans Theater in 2016, these vagabond Clowns, these 'kings of shreds and patches' have, appropriately, toured in Italy, France and Luxembourg and will travel to Belfast, Ipswich, Kent, Manchester and Southampton.
And Shechter II dancers will also take part in the company's East Wall at the Tower of London in July. I can see SHOW doing well at festivals.
Reviewer: Vera Liber