Silent Lines
Choreography Russell Maliphant, video projection design Panagiotis Tomaras
Russell Maliphant Dance Company
Sadler's Wells
–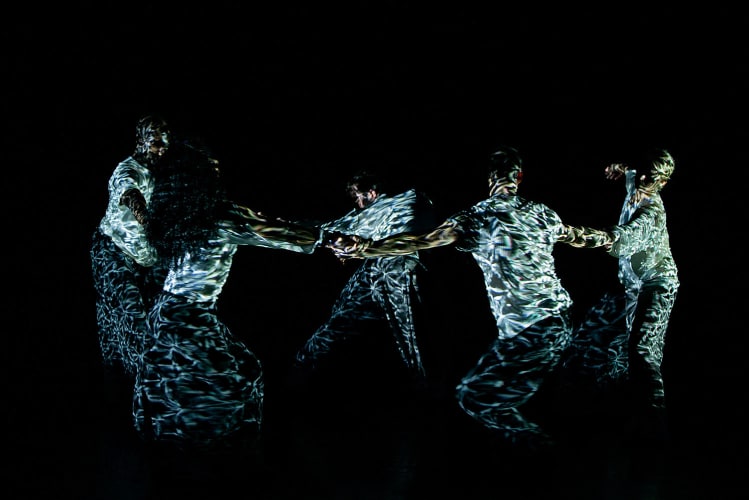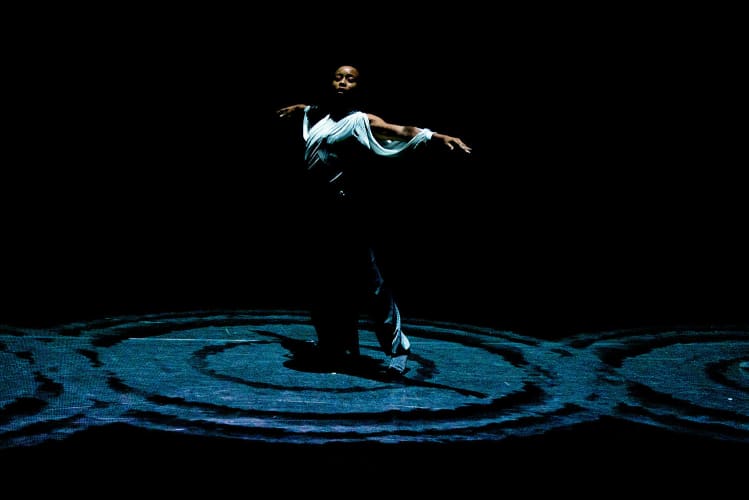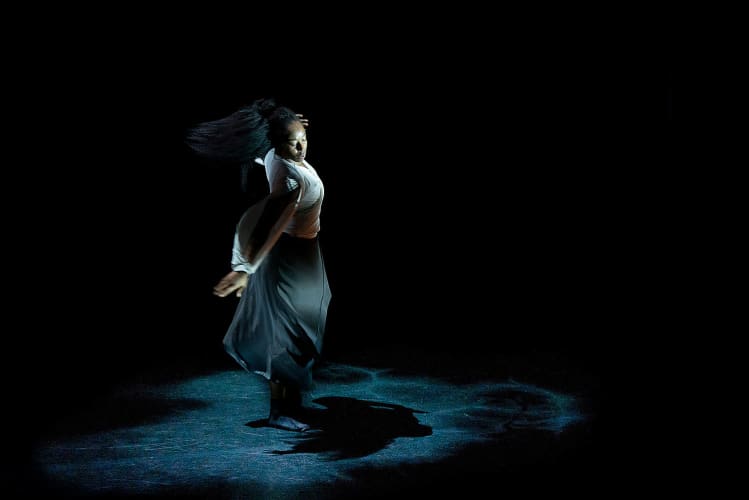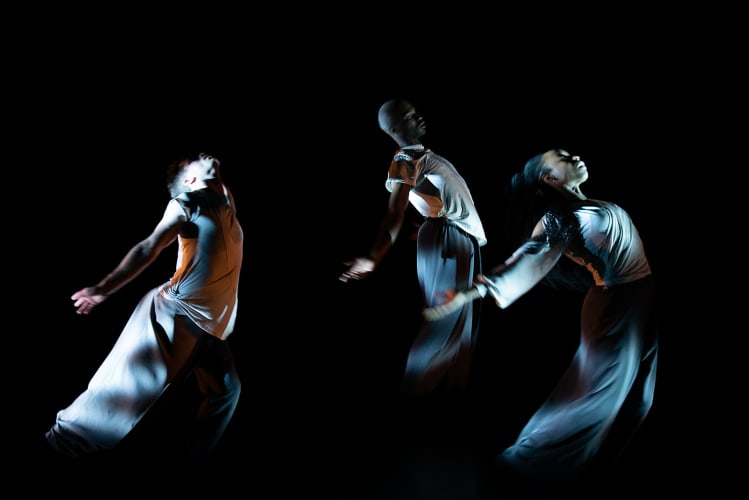 Russell Maliphant takes his serious preoccupation with the human body to another level in Silent Lines. "For his new work, he delves into his research and studies in anatomy and biomechanics… Maliphant and his company of dancers explore the poetry of connections between our internal and external worlds, and how they affect the very act of movement."
Not having read the above in advance—as many won't have—and be that as it may, I am relying on my eyes and gut reaction, and what I see is beautiful. Liquid movement flowing ceaselessly for an uninterrupted hour of mindfulness—or it would have been if Sadler's Wells in its wisdom had not allowed a latecomer to take his seat using his phone torch. Momentarily the spell is broken.
And it is a spell that Maliphant weaves and casts. His choreographic work has long been edging into the visual art world—AfterLight one example—here it has arrived. Video artist Bill Viola is an obvious influence, the body as air and water, The Tempest's Ariel, but Maliphant also references Mark Rothko's expressionistic paintings, their luminous colours shimmering and vibrating against each other as do his five dancers (Alethia Antonia, Edd Arnold, Grace Jabbari, Moronfoluwa Odimayo, Will Thompson) together and in turn, in monochrome.
Eyes take time to adjust to these dancers in the dark, floaters on the retina. Some light spills here and there, pools and dances on the bodies, delineates the bodies, illusory, magical. Panagiotis Tomaras's video projection plays on moving canvases, turning them into supernatural beings. Camouflaged ethereal creatures in a dank forest, Midsummer Night's Dream…
Maliphant shares credit for the lighting design with Tomaras, and to his credit Silent Lines is alchemical, transcendent, transubstantial even. Bewitching cobras, organic life unfolding, paintbrushes, calligraphy, cursive script, and kinetic sculptures—I see that memorial to Iwo Jima in the opening tableau, others will see something else, Rodin perhaps.
A collage of scenes, bodies, cellular and instinctive, measuring the architecture of space. Blending his graceful signature martial arts style with classical arms—and arms matter as they cut light-refracting arcs in the air—his remarkable dancers spin like dervishes, bend like acrobats, capoeira battle, t'ai chi serene to Dana Fouras's soundtrack mix. So captivating that one is enticed into their midst, dancing and breathing with them.
The soundtrack, graduating from Benjamin Godard's Berceuse de Jocelyn to Chopin's Second Piano Concerto, ambient, emotional, manipulative, takes us with it into the heart of the matter. Physical reactions to stimuli… How does that rich double bass thrum or the lullaby or the piano affect the pulse?
Androgynous forms in Stevie Stewart's pale loose shapeless tops and wide trousers, mythological gods, temple dancers, show off in solos, duets and ensemble, appear and disappear, melt into thin air. Caught in a trance, dancing in the dark as if no one is watching, is it all a mirage?
I am reminded of the Tate's 2018 State of Light exhibition. Too short a programme for an evening out, perhaps, but in a gallery now that would be something. Or maybe Silent Lines could take its rightful place in a mixed bill at the Royal Opera House...
Reviewer: Vera Liber