Singin' in the Rain
Screenplay by Betty Comden and Adolph Green, songs by Nacio Herb Brown and Arthur Freed
Chichester Festival Theatre and Stage Entertainment
Sadler's Wells
–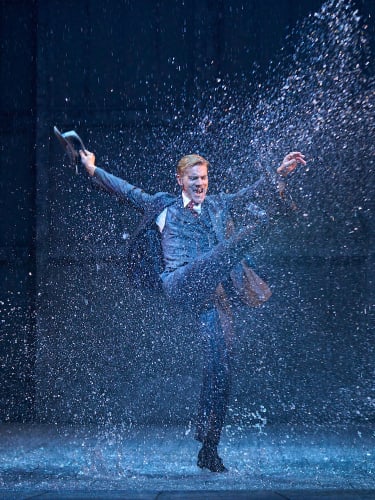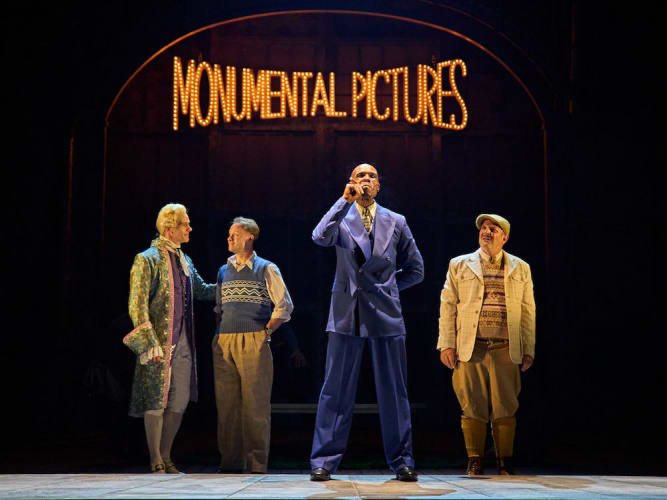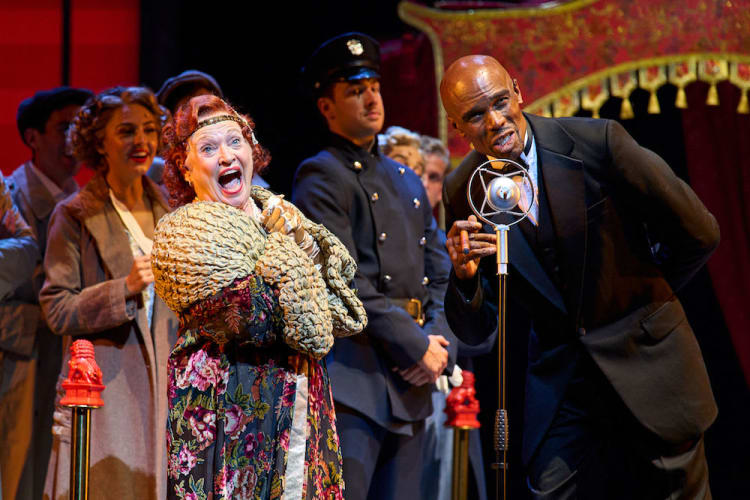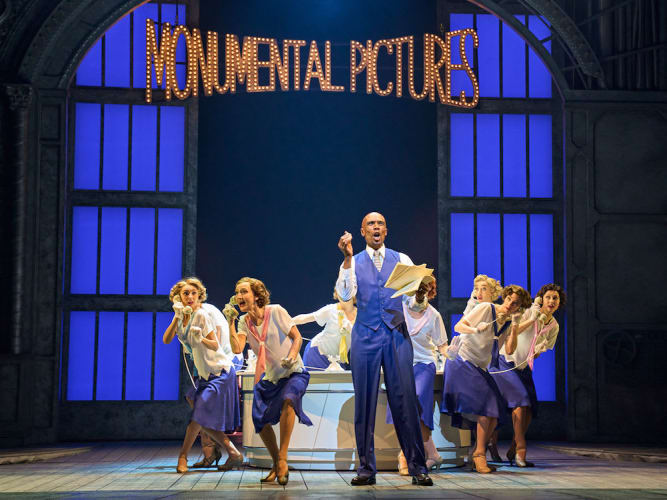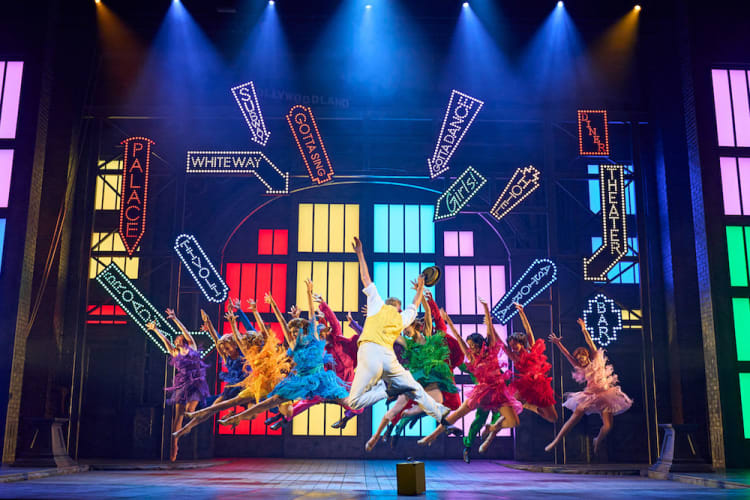 Raining outside, raining inside, but not raining in our hearts—Jonathan Church's stage remake of the iconic 1952 Hollywood movie, Singin' in the Rain, brings joy, laughter and smiles (not that one can see them behind our masks) to an audience gagging for its gags. The theatre is packed, no social distancing though an announcement requests we all wear masks, not that all comply.
Cheers, whistles, applause after each number and complete immersion in the tender love story and Hollywood studio system shenanigans from a packed house, a mixed demographic—many oldies reliving a favourite film, I guess, and I even saw a very small person, a four-year-old (another guess), the baton being passed on? This show has run and run and will continue to do so—it is failsafe.
I particularly like the "Good Morning" number with its crisscrossing telephone cords—a nod to Busby Berkeley. And of course, the tongue-twisting "Moses Supposes" is terrific in any form. But we all have our favourites, though there's not a dud anywhere. Fabulous.
And what a cast, but who gets the loudest and longest applause but the baddie, Lina Lamont. Faye Tozer sings marvellously out of tune, as only a talented singer can, and she does that screechy voice with aplomb. And Strictly's Kevin Clifton in the vaudevillian Donald O'Connor role of Cosmo Brown is a great all-round dynamo—what can't he do…?
They are a tremendous contrast to the two lovebirds: Adam Cooper in the Gene Kelly / Don Lockwood role and Charlotte Gooch as the sweet Debbie Reynolds / Kathy Selden. I remember seeing Cooper here at Sadler's Wells so many moons ago as the first ever Swan in Matthew Bourne's then iconoclastic Swan Lake—in fact I couldn't get enough of him in 1995, seeing him four times.
But he is no hyperactive Gene Kelly, probably not as big a taskmaster as Kelly if one believes all one reads. Poor Reynolds, only nineteen at the time, had bleeding feet. Kelly was forty; Cooper a decade older is gentler and sweeter and a perfect match for slender Gooch, an elegant pair.
Sandra Dickinson looks to be enjoying her twin role of Dora Bailey (based on gossip columnist Louella Parsons) and dialect coach; Michael Matus is the stressed director of The Duelling / Dancing Cavalier (here I must mention video designer Ian Galloway); and Cavin Cornwall a lanky R F Simpson, head of the studio, around whom 'dumb' Lina Lamont runs rings.
The ensemble is fantastic, true hoofers all—the stamina required is that of athletes—pounding out Andrew Wright's choreography with pizzazz and big smiles, and whoever danced the Cyd Charisse jazz ballet deserves the wild cheers and more. Nacio Herb Brown and Arthur Reed's sharp and witty songs are musical theatre classics—one has to resist joining in. 23 numbers if one includes the reprises, and the thirteen-strong band plays us out into the night, the music drifting after us as we leave.
The rivalry between screen and stage is nicely played, especially as we now have both versions, and when Kathy storms out down the aisle, we see how theatre has the upper hand, proving her case. The auditorium is involved. But don't sit close to the stage, as you'll be in for a drenching. Cooper does not hold back from sending voluminous streams of water from his feet to the front stalls, and they squeal with delight (I assume) as they are thus annointed. Over 14,000 litres of water on stage every night we are told. I watch the mopping up in the interval.
As in the film, the dubbing scenes are hilarious (loud cheers punctuate throughout), and one reads that Reynolds, the one ostensibly doing the dubbing in the film, was dubbed herself. Ah, the tricks of the trade… many on the stage here, too. What more can I tell you that you don't know already about this award-laden film and stage show, acclaimed in its 2011 first outing in Chichester and subsequently in London.
Set in 1927 the end of the silent movie era and the tentative beginnings of the talkies, Simon Higlett's Technicolor set and costumes are just so. Those were the days, days after the war when people needed cheering up—which Hollywood musicals did with such abundant charm—as do we after our long pandemic ordeal. According to Wikipedia, François Truffaut and Alain Resnais loved Singin' in the Rain… what's not to love? It certainly chases the clouds away…
A slick production and all the backroom creatives deserve a metaphorical bow, as well as an uncredited Nicholas Le Prevost in a talkie demonstration—see if you can spot him.
Reviewer: Vera Liber