Sleighed to Death
Peter Gordon
Tabs Productions and Theatre Royal Nottingham
Theatre Royal Nottingham
–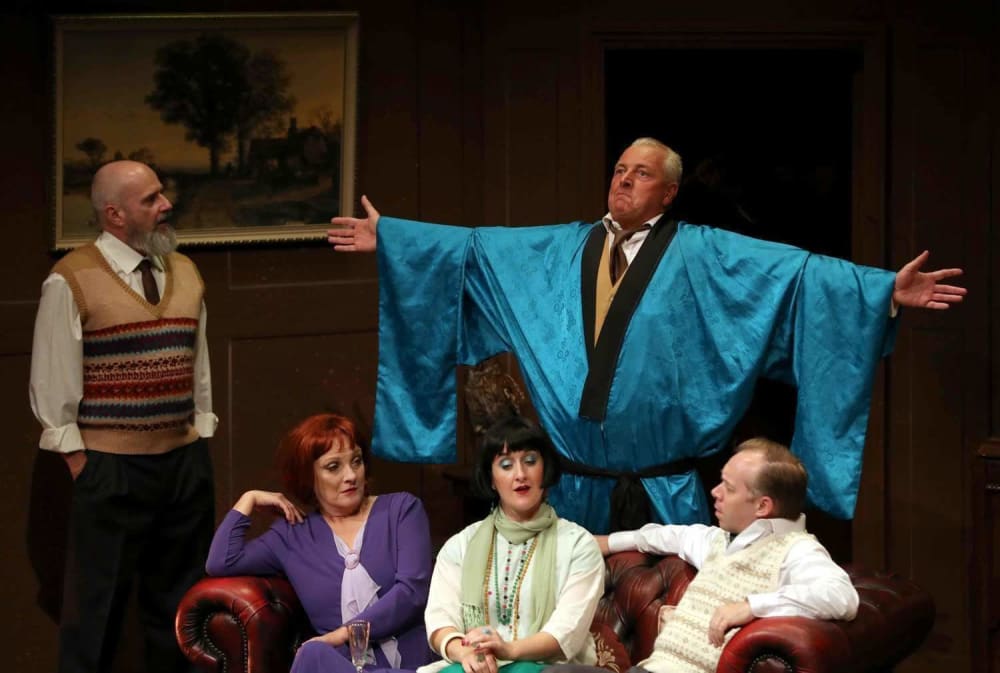 The Colin McIntyre Classic Thriller Season is celebrating its 30th anniversary by producing its customary four plays over four weeks and proving that rep is as popular as ever in Nottingham.
Tabs Productions inherited the season in 2012 after McIntyre's death and has stuck to a formula which goes down well with audiences: clever thrillers that keep you on the edge of your seat, a dastardly crime that needs to be solved and plots that leave you guessing as to who could be the criminal. And of course a spot of humour goes down well too.
For the 2018 season, there's the usual offering from master storyteller Francis Durbridge and a couple of newer plays, Louise Page's adaptation of The Scarlet Pimpernel and John Goodrum's take on an Arthur Conan Doyle short story, The Nightmare Room.
Oh, and of course there's the opening play, Peter Gordon's Sleighed to Death, which shows that Tabs has got its tongue very firmly in its cheek.
Gordon, who was in the audience on press night, would be the first to admit that his play could hardly be described as a classic. But it has wit, humour and physical comedy which Classic Thriller Season audiences seem to love.
Sleighed to Death is a prequel to Gordon's trilogy of spoofs of Agatha Christie whodunnits Murdered to Death, featured in the thriller season in 2010, Secondary Cause of Death and Death by Fatal Murder, which featured David Callister as Inspector George Algernon Pratt.
Pratt bungles his way through cases which are solved purely by accident. Sleighed to Death takes us back to Pratt's first murder case when he was a sergeant.
What could be more engaging on a hot summer's evening than watching a play set on Christmas Eve with a large tree as part of the set and the appearance of Santa Claus?
Callister again gives a commendable performance as the inept detective who plummets the depths of his stupidity. A scene in which he claims to be a magician and shows he can make more tricks go wrong than Tommy Cooper is hilarious. Callister inhabits the character to great effect.
Callister, Karen Henson, and Susan Earnshaw talk about the season in the British Theatre Guide podcast, pointing out that actors have to come with their own ideas about the plays because of the short rehearsal time. The characters are stereotypes but most are presented in a slightly over-the-top way which Gordon's script demands.
Hugely experienced Andrew Fettes makes the most of his role as bumbling, chortling aristocrat Sir Walton Gates while Henson delightfully exaggerates as his bitchy wife Grace who married him for his money.
Emma Vickery, in her second outing for Tabs, impresses as Emma Gates, Sir Walton's dim daughter from his first marriage, as does David Martin as big-headed, amorous lothario James Washington.
Earnshaw is an ideal foil for Pratt, initially reserved as Constable Potter but coming into her own, especially when forced to sing and giving a cringeworthy rendition of "I Do Like to be Beside the Seaside".
Jeremy Lloyd Thomas catches the eye as Sir Walton's brother Archie who was packed off to Australia in disgrace and Jacqueline Gilbride puts her own stamp on the character of Morag McKay, the aristocrat's dour, exploited secretary.
Director Goodrum pulls everything together in a style that will appeal to any thriller season regular.
Sleighed to Death takes a while to get going and some of the comedy which borders on slapstick may not be to everyone's taste. But for a Nottingham Theatre Royal summer audience, it's a guaranteed winner.
Reviewer: Steve Orme