Smile Upon Us, Lord
Grigory Kanovich adapted by Rimas Tuminas
Vakhtangov State Academic Theatre of Russia
Barbican Theatre
–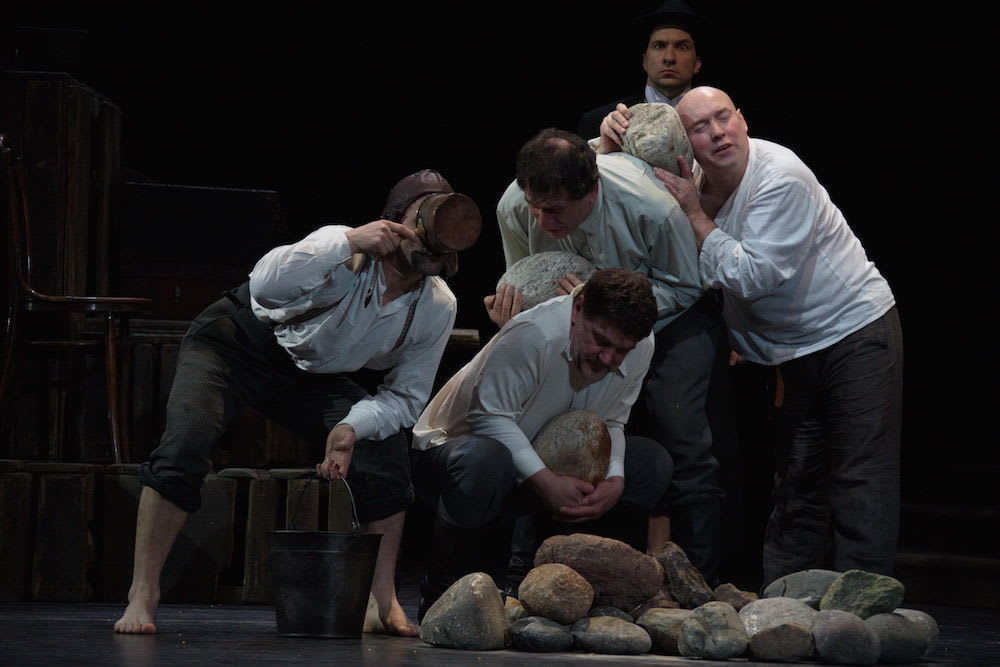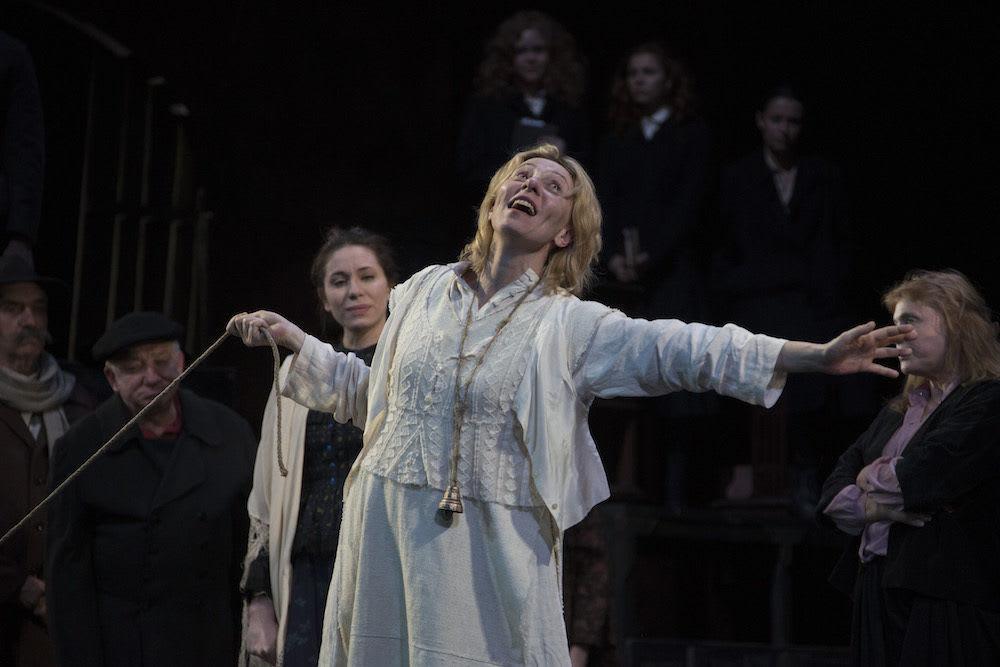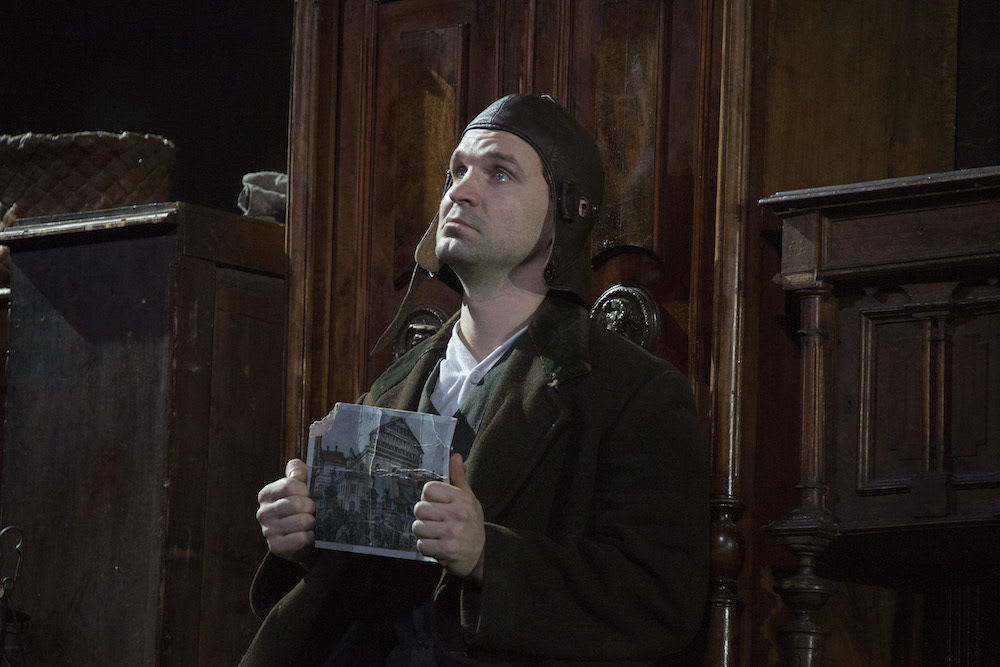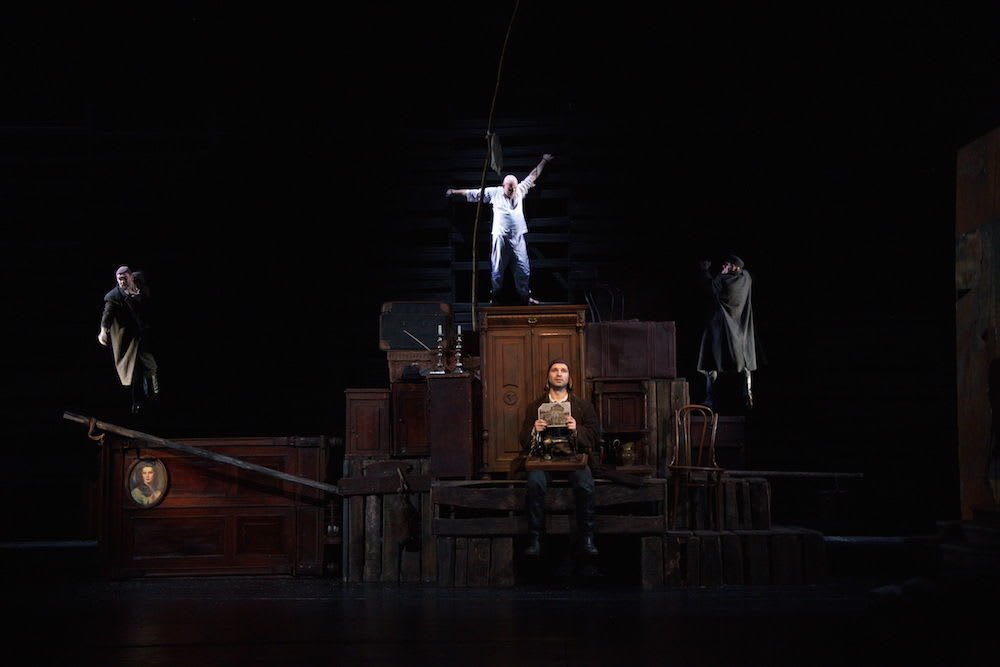 Smile Upon Us, Lord is an adaptation of two novels by Lithuanian born (1929) Grigory Kanovich. From a traditional Jewish family, who escaped the Nazi invasion to Russia, since 1993 residing in Israel, he is a writer unknown to me. For me the draw is the renowned Vakhtangov State Academic Theatre of Russia, last seen at the Barbican in 2015 (Eugene Onegin) and in 2012 at the Noël Coward Theatre (a mind-blowing Uncle Vanya).
Inspired by real-life stories, pogroms, rabbis, there's an air of magical realism, of Chagall, of folk tales, of Bruno Schultz, of Complicite's Street of Crocodiles production in this sepia-coloured stage picture (design Adomas Jacovskis). "Did they exist? Is any of it true? Is it all a dream?"
Kanovich's witty mordant lines, his homilies about God and life's journey, and by extension the shameful twentieth century story of European Jewry, are animated by director Rimas Tuminas with warmth, with Faustas Latenas's cacophony of clamouring sound, with ebullient klezmer-tinged music, and Vakhtangov State Academic Theatre's impressive ensemble acting.
A forty-strong ensemble it may be, but most of the action dwells on the three friends, Efraim the stonecutter, Schmule the water-carrier, and shopkeeper turned beggar after his shop burned down Avner, making an epic journey from their shtetl across the forests of Lithuania ("Jews are not forest people") to Vilnius, "the Lithuanian Jerusalem", to come to the assistance of Efraim's son, who is in gaol for shooting the governor of Vilnius.
In and on a cart made of old brown furniture, wardrobes, cupboards, plank beds, suitcases, anything to hand—the mare is a wardrobe with a female portrait hanging off it—they resemble dispossessed refugees carrying all their worldly goods, or Mother Courage. The cart never moves, rather others move past it in comic physical theatre style.
Stanislavskian, Brechtian, little happens but everything happens to these three old Jews and their old mare. They chat, split hairs, spin their tales—and Smile Upon Us, Lord is so spun out, three hours twenty minutes with interval, it feels eternal—talk of family, life and death, pick up a couple of people on the way (a man running away to the real Jerusalem and a shape-shifting tailor), are attacked by wolves, Schmule's old nag loses a shoe, is stolen by the gypsies, and in a chilling coda upon reaching the promised land they are stripped of coats and dignity, sprayed like vermin with DDT by people in protective white overalls and masks. They, who treat their animals with anthropomorphised love and care, are demeaned by human animals.
That's where our life's journey takes us, to certain death, but fleas are more scary than death, "death only bites once". There is no promised land, but there is family and friends, and chewing the cud, milking the goat (Yulia Rutberg in white dress, one foot in white sock other in black court shoe giving her an ungainly gait), railing at God, philosophising, fantasising.
How they philosophise: Efraim intends to live to a hundred—he's paid God in advance. Schmule talks of imaginary peas tasting better than real ones—that's poverty for you and the power of the imagination; and multilingual Avner wants to be a tree. No beggars amongst the trees and the birds… He even tries to hang himself off a tree. "If I were the tsar, I'd turn all the people in the world into Jews."
Not a pack of fun, yet it is sweetly comical, this comédie humaine—laughter to ward off tears. Parents are the most unhappy people: children betray you by leaving, some to fabled America with its gold watches and big cars, some to the big city and acts of terrorism. "What do you think of the government? Same way as I think of my wife, I love her, I fear her, I want to change her."
The old way of life against the puzzling new: "too late for me to drink foreign water". "We shot no one." Efraim remembers being belted for killing a fly: "people are treated like flies now". "It's not right to kill people, let them buzz." "Better a thought like a bullet than a bullet." His son's mistake is to want to make the world perfect: "we Jews must learn to live in shadows". But also to appreciate the light and not block it from others.
Efraim's droll zest for living in the midst of hardship is life affirming; he and his friends go towards their destiny with open hearts and simple faith. Inevitably in this rambling amalgam of stories and wealth of wise witticisms there are longueurs, but the performances are superlative. Smile Upon Us, Lord has been playing in rep in Moscow for some five years now with alternating casts.
I am thrilled to see Sergey Makhovetskiy (a memorable Uncle Vanya, now Efraim) again. Laureate Evgeny Knyazev (Schmule) gives an acting master class, whilst Viktor Sukhorukov as talkative beggar Avner is a bald bundle of comic energy. Victor Dobronravov is a physically dynamic Khoyne-Genekh the blindman turned tailor—his party piece is jumping both feet into a small bucket—and Grigory Antipenko's posturing in black fedora and long black coat is surely homage to Vsevolod Meyerhold.
Expressionistic physical theatre of the highest order and lines that land and zing, Smile Upon Us, Lord is poignantly self-aware, self-mocking even ("maybe God is a stepfather"), but ultimately compassionate. The journey is the thing for all of us, "rough hew (it) how we may".
Reviewer: Vera Liber