Sochi 2014
Tess Berry-Hart
The Hope Theatre
–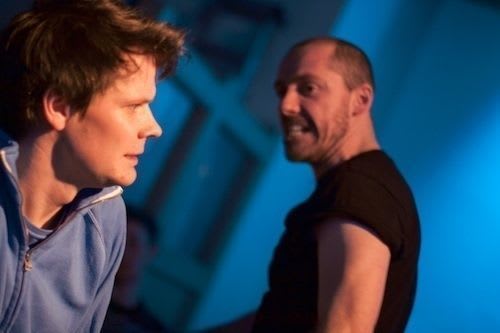 In the months leading up to the 22nd Winter Olympic Games in Sochi, there have been countless controversies surrounding LGBT rights, freedom of speech, feminism as well as financial and state corruption—the list is seemingly never-ending.
Tess Berry-Hart's verbatim piece on the treatment of the LGBT community in Russia continues in the same vein as other protest plays of recent times: the outstanding Protest Song and Blurred Lines at The Shed as well as Bryony Kimmings's masterful Credible Likeable Superstar Role Model.
Commissioned by the King's Head Theatre in August 2013, David Mercatali's production is full of heart-breaking accounts detailing that hate, violence and bigotry that LGBT Russians face. Furthermore, with the press night coinciding with the opening ceremony of the Games the evening had a certain urgency and poignancy.
In researching this important project, Berry-Hart interviewed a cross section of LGBT people who grew up in the Soviet Union to present how the laws forbidding gay 'propaganda' have affected their lives and standing in society.
The cast of five—each wearing a tracksuit in a colour of the Olympic Rings—works together brilliantly to bring each vignette to life, with Stephanie Beattie's (Yellow tracksuit) emotional turn as journalist Masha Gessen being a personal highlight.
There is no doubt that this is vital theatre and Mercatali ensures it's done to a high standard. Christopher Hone's moveable podium blocks are used effectively whilst Seth Rook Williams's lighting design utilises the Pride Rainbow colours perfectly.
I feel that there should be more satirising of the International Olympic Committee, which so often promulgates how everyone must have the possibility of practising sport without discrimination of any kind.
Moreover, a larger effort should have been put into mocking anti-gay arguments; after all, they're hilarious. Anyone who believes that LGBT equality can affect the weather deserves to be mocked.
There are the expected comparisons to Nazi Germany and similar discourse certainly seems to be emerging in Russia. However, it needs to be careful not to verge on hyperbolic to lose its power. Strangely, there was no mention of cruelties committed by other nations such as the use of Conversion Therapy in the USA and the UK or the fact that homosexuality is considered illegal (and sometimes punishable by death) in over 80 countries.
The West needs to be careful not to place itself on a moral pedestal.
Stephen Fry's desire to get the Winter Olympics moved is admirable but ultimately futile. Which nation can truly claim to have 'a tolerant society'? The Games would never take place.
The UK, for one, has a rather shady history of homophobic legislation and I am not convinced we're as tolerant as we affirm. This can be highlighted by the recent complaints over a gay kiss on EastEnders, the homophobic slurs used on social media and the small, but significant, protest against the Marriage (Same Sex Couples) Act 2013.
A true test would be to take Sochi 2014 on a tour of secondary schools to gauge the reaction from students, parents and teachers.
On a separate note, I don't remember there being such high-profile protests at other international events: human rights at the Beijing Olympics, female oppression at the Delhi Commonwealth Games, capital punishment at the Salt Lake City Winter Olympics. I should think that social media is perhaps the answer here.
I digress, Sochi 2014 is a powerful and important protest piece that needs to be seen.
Reviewer: Sean Brooks