Soho Cinders
Book & lyrics by Anthony Drewe, music by George Stiles, additional book by Elliot Davis
Soho Theatre
–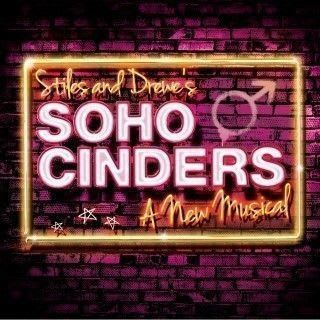 Cinderella has never been so hot. Soho Cinders explodes with great energy, a significant nod to British pantomime, and tremendous performances onto the trendy Soho Theatre stage.
A new musical by George Stiles and Anthony Drew (Betty Blue Eyes) developed with Mercury Musicals and Elliot Davis (Loserville) contributing to the book, Soho Cinders is a contemporary retelling of the classic fairytale Cinderella. This time, Cinderella is Robbie (Tom Milner) a college student trying to fund himself through education by being a male escort. He is also fighting to retain ownership of his mum's laundrette helped by Velcro (Amy Lennox), musical theatre's modern answer to the pantomime character Buttons. In his way are the ugly step-sisters; Dana (Beverly Rudd) and Clodagh (Suzie Chard).
To make matters worse, Robbie is also dealing with a highly complicated political sex-scandal situation involving a mayor (Michael Xavier), his wife (Jenna Russell), a jaded campaign manager (Gerard Carey) and a highly jealous private funder Lord Bellingham (Neil McCaul). It even features the voice of Stephen Fry as the narrator to keep the story rollicking along.
Jenna Russell is fantastic in her role as the mayor's wife, bringing truth and poignancy to the character's highly complex relationship. Milner has a unique vocal quality: smooth and strong, well-suited to the score which draws influence from contemporary pop music. Particularly touching is the duet "Wishing For the Normal", sung with Lennox; it is the perfect example of when simple is best.
Xavier is charismatic, showing his superior vocal talent, and he is no stranger to the Cinderella story; he was nominated for an Olivier award for best actor in a musical as Cinderella's Prince / The Wolf in Into the Woods. It is the pantomime dames themselves, however, who completely steal the show.
Vibrant choreography by Drew McOnie showcases dancers in a variety of genres from tango to jazz; the white brick work backdrop wall with giant Old Compton Road street sign in neon-light letters remains throughout the show (set and costume design by Morgan Large), providing a versatile and effective setting for the buzzing world of the opening number: "Old Compton Street".
After Betty Blues Eyes, which received mainly all-round good reviews and yet still closed early, Stiles and Drewe must be hoping that Soho Cinders will follow a different course of success. This time, they have been able to refine the script and music over a period of many years; they recount in their programme article the changes made after the highly successful charity concert for the Teenage Cancer Trust in 2011. It shows. The script is mostly tight, witty and clear although it is a little stilted in office scenes between Xavier and Carey and more could be made of some cringe worthy buzz word banter.
But otherwise the plot is both light hearted and poignant, delving into highly-complex relationships and issues surrounding gender politics, performed with aplomb by the highly talented cast.
Reviewer: Anna Jones