Spokesong
Stewart Parker
Finborough Theatre
–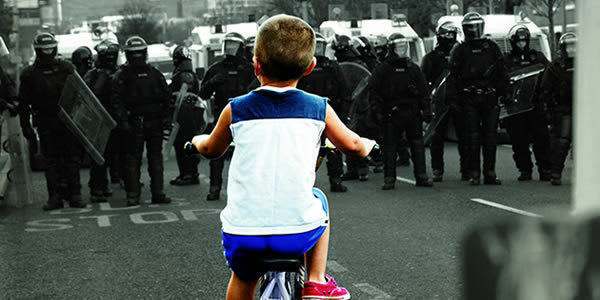 While Ireland has a great tradition of writing for the theatre, the vast majority of those that are most renowned either come from south of the border or a period before there was a border.
In that context, Stewart Parker is undoubtedly one of the very best playwrights that Northern Ireland has produced. Indeed, had he not died aged only 47 after a long battle against illness, there might be no competition.
While Parker is best known for plays like Pentecost and Northern Star (also revived at the Finborough—in 2011), his canon comprised of eight stage plays of which this inventive 2¼-hour piece was the first.
Parker's 1975 play, Spokesong, is a delight crossing time and addressing the Troubles obliquely but effectively from the perspective of a bicycle repair shop run by two generations of Francis Stocks.
In 1895, soon after its opening, this is a location for romance as Jack Power, playing the future grandfather Stock, woos Melanie McHugh's bicycling feminist Kitty.
80 years on, it is about to be symbolically bulldozed into a motorway but Stephen Cavanagh's younger Frank, also with love on the agenda, has other ideas. For him, the appropriately named Daisy Bell (after the "Give Me Your Answer Do" song) is almost as attractive as her bike.
However, Elly Condron as the schoolteacher humours him as he attempts to save the day with an idea of communal bikes for everyone in the city to use.
Now we know where Mr Johnson got his inspiration, though the Socialist principle of bikes without charge propagated by Frank was clearly a step too far for a Conservative Mayor.
A whimsical story about a pair of bicycling fantasists has turned into something darker, as the shop becomes an allegory for the benighted country.
As a result, after the interval politics, especially the Republican brand, rears its ugly head both in the Great War and the more recent struggle to unify Ireland and rid the North of its British occupiers / peacekeepers.
The Troubles make their mark in two ways. First, Daisy explains how her class of 14-year-olds are experts in the theory of bomb manufacture.
Next, Frank's odious brother Julian, Paul Mallon as a cynical journalist with a massive chip on his shoulder, appears from London after a long absence to enjoy the shop's interment.
The evening is garnished by an evocative set designed with great imagination by Bethany Wells, which will excite any cycling enthusiasts.
It also benefits from a series of songs that help the tale to flow, primarily delivered by the lilting voice of the Trick Cyclist, Ben Callon also expertly playing a series of lively minor characters.
Spokesong is the kind of debut that goes far beyond showing promise, addressing major issues in a sensitive but highly entertaining manner. It gets a deservedly loving revival under the direction of Guy Jones that is distinguished by some strong acting especially from Stephen Cavanagh and Elly Condron.
One hopes that it is a success and this ever-adventurous theatre in Earls Court continues to bring Stewart Parker's wonderful oeuvre back into the public eye.
Reviewer: Philip Fisher