Stacy
Jack Thorne
Arcola Theatre
(2007)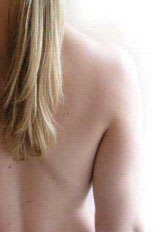 This solo performance is the second Jack Thorne play to open in a week, following Fanny and Faggot at the Finborough. If you want to find out about this hip young writer's past and current work, you'll have to read that review.
On one level, Stacy is a stream of consciousness monologue about an unassuming guy who likes talking about himself and his history. The question is whether it has another deeper but unstated Pinteresque message?
Arthur Darvill, who distinguished himself as an incarcerated murderer in Terre Haute during the Edinburgh Festival Fringe last year, does so again as Rob. He is a bearded, weedy man in his mid-20s who dresses extraordinarily badly and could easily answer to the name of geek or anorak.
For an hour and a quarter, Rob tells us about how he has spent the last 24 hours, or, just possibly, marginally glamorises an extremely dull life by fantasising about how he would like to have spent the previous day.
He is ordinary with a call centre job at Vodaphone for which he is over-qualified. It does at least offer the compensation of a room full of women, all of whom fancy him.
The main thrust (please pardon the pun) of his story is that having had sex with pretty Stacy the night before, he repeats the act in the same bed with her flatmate. This is all illustrated by an intermittent slide show which favours head and shoulders portraits of everyone mentioned but can also get extreme with its pornographic images and some photos that could almost be stills from a snuff movie.
Eventually, we reach the point where the police are at the door and it is make your mind up time. Is Rob a bore or a boor? A normal bloke or a murderer? We don't find out and might well wish that either way, the mystery had been solved or dropped about half an hour before the lights finally go down.
Jack Thorne writes fluently and helps us get into the mind of his protagonist. In this, he gets great assistance from the really talented Arthur Darvill, who creates just the right element of uncertainty about Rob.
The problem is that the pacing falls away so far that there are periods during which nothing new happens and this neutralises the potential menace before it even arrives. On the showing of the past week and also his excellent When You Cure Me, Jack Thorne has a real talent but needs a strong director such as Mike Bradwell to show himself off to best advantage.
Reviewer: Philip Fisher