Steptoe and Son
Ray Galton, Alan Simpson, Emma Rice
Kneehigh Theatre / West Yorkshire Playhouse
Sherman Cymru, Cardiff
–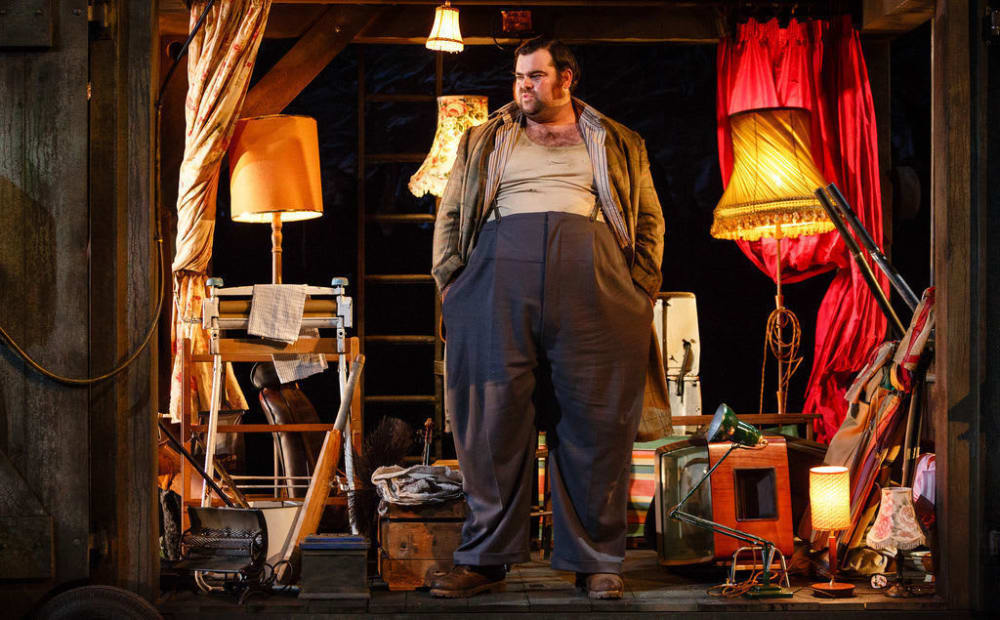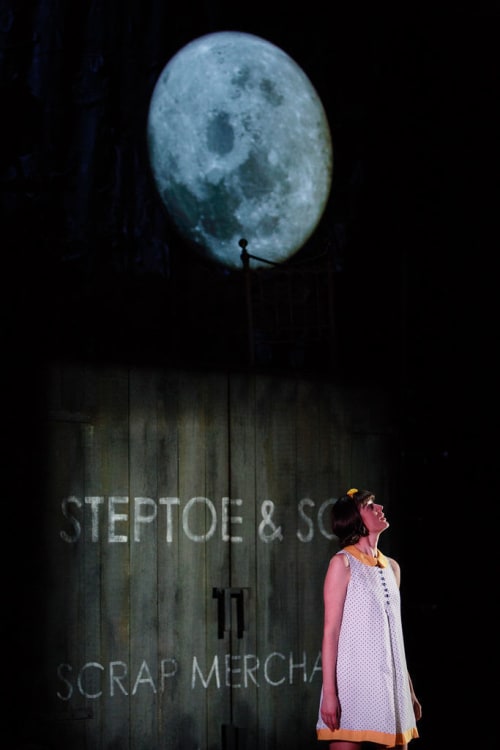 The vintage TV sit-com adaptation has long been a staple of the touring commercial theatre—only last month Cardiff's New Theatre was visited by the Birds Of A Feather. Ray Galton and Alan Simpson's rag-and-bone-man comedy, Steptoe and Son, has itself been subject to multiple re-stagings. Kneehigh Theatre's touring version, however, sets a new standard in terms of reimagining a cherished original.
Starting with the pilot, The Offer, director and adaptor Emma Rice has taken and modified four episodes, transplanting them to the West Country (Kneehigh being Cornwall-based), and remodelling them so that they span a decade, painting a vivid and more than occasionally vulgar picture of the deeply dysfunctional relationship between scrap-dealing duo Albert, played by Mike Shepherd, and his son Harold—Dean Nolan.
Action takes place on a set (designed by Mic Pool) overlooked by a huge silver moon which mutates, by means of video projection, into a summer sky, a clock, or a television screen at relevant points. The playing-space is dominated by the large, mobile cart whose roof does double duty as a bedroom; a large rocking horse (playing a real one) and various cabinets, records, and items of bric-a-brac create an impression of lived-in clutter.
Shepherd plays the older man's wheedling manipulativeness to perfection; inspiring disdain and sympathy in equal measure. Nolan is a more heavy-set Harold than Harry H Corbett's original, which somehow renders his intellectual and stylistic pretensions more comical, and his self-sabotaging insecurity more tragic.
Rice's true creative masterstroke is for the only other actor on stage, the remarkably versatile Kirsty Woodward, to play multiple characters, sometimes unseen and spectating (pop teens from the '60s and '70s), sometimes a figure from memory (Emily, Albert's beloved wife), sometimes interacting (as various love interests, and a male doctor), sometimes floating around as an unattainable object of desire (a beach babe, a Playboy bunny, a flower-child).
Each episode is heralded by having its title inventively revealed; each is concluded with a bow. There is much clowning and some light audience interaction. The numerous scene-changes are incorporated cleverly and amusingly into the action, and there are numerous playful song and dance interludes featuring both contemporaneous pop tunes (Cliff, The Stones) and music from an earlier era. The haunting melody "Daydream" (originally by the Wallace Collection, but much sampled and covered) is a recurring motif, setting up the surreal ambiance which pervades the whole evening.
If one were to be hyper-critical, a couple of the songs seemed a little over-extended, and the re-written lyrics to "You Don't Own Me" came across a tad clumsily. Some audience members might also object to the sexual objectification inherent in the presentation of some of the female personas; although this is entirely in keeping with the diminished level of emotional maturity exhibited by the main protagonists.
As the piece draws to a close, the tone subtly shifts; the recurring theme—Albert's emotional blackmailing of Harold—giving way to something more subtle. In the end, after all the laughter (and there is much laughter), we are left with a tableau depicting the despair, loneliness, and unwilling co-dependency which seems to be at the heart of all the great situation comedies.
An ingeniously realised and hugely enjoyable production.
Reviewer: Othniel Smith