Sugar
Catrina McHugh
Open Clasp Theatre Company with Meerkat Films
Released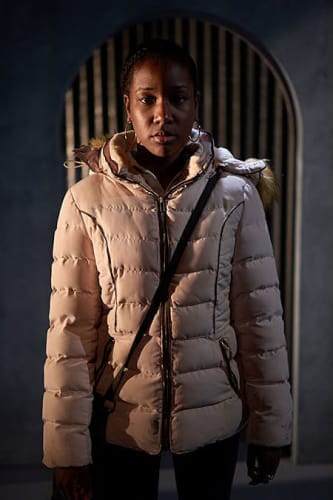 Sugar is a piece of theatre made for film. It is part of a series of major productions from Open Clasp which look at the situation of women caught up on some way in the criminal justice system. The first was Key Change (2014), which told the stories of women held in HMP Young Offenders Institution at Low Newton and was based on workshops the company ran in the prison; the second, Rattle Snake (2017), dealt with coercive control, and the third was don't forget the birds (2018), which followed the process of Cheryl and Abigail Byron learning to become mother and daughter again, after the mother, Cheryl, left prison.
Key Change and Rattle Snake were plays, performed by professional actors , and, in don't forget the birds, the real life mother and daughter talked us through their experiences as told to and scripted by Catrina McHugh. Rattle Snake was first performed for an audience of police officers from Durham Constabulary to educate them on a change in the law which made coercive control in relationships a crime.
In 2017, McHugh was awarded an MBE for services to disadvantaged women through theatre.
To create Sugar, Open Clasp worked with the Direct Access Homelessness Service in Manchester, West End Women and Girls Centre in Newcastle, HMP Low Newton and national charity Changing Lives.
In other words, Sugar is issue-led, a dangerous thing theatrically, but it is Open Clasp's "thing" and writer McHugh and director Laura Lindow are not only aware of the pitfalls but are well versed in how to avoid them.
Sugar is set, variously, in a probation office where Annie (Taja Luegaezor Christian) is unavoidably late for an appointment, knowing it will be a black mark against her, a prison cell where Julie (Paislie Reid) is currently incarcerated, and a homeless shelter where we meet Tracey (Zoe Lambert) and Rita (Christina Berriman Dawson). But even though this is a film and totally realistic settings are not only possible but expected, the actual set (by Verity Quinn) is abstract, a series of arches with vaguely seen prison bars behind them, and what furniture there is are ordinary blue plastic chairs. Nor do we hear the sounds we would expect in the background. On the contrary, Roma Yagnik's soundtrack is almost subliminal, appropriate but not realistic, evocative rather than naturalistic.
In other words, the mise-en-scène is theatrical not cinematic, an abstraction contrasting with the expectations of realism which film arouses. It works—and works well—because it is not the current situation of these women which is important but what had brought them there, their stories. We, the audience, are asked (and here I quote Open Clasp's own publicity) "to step into the shoes of women and to see the world through their eyes."
What keeps Sugar from being pure agit-prop—that is, what prevents the issues from swamping the art—is the complexity of the stories and the subtleties of the performances. All four women are totally real and convincing, thanks to McHugh's writing, Lindow's direction and the faultless performances from the actors, and the effect of seeing them on the large screen adds hugely to the impact.
I went along expecting to be comparing this film to the live broadcasts we've seen from the likes of NT Live, but the fact that it is conceived for film but performed theatrically gives it an unexpected and really quite powerful punch, bringing it up close in a way which a broadcast, shot from the auditorium, never can, for there is big a difference in effect between a close-up from a standard lens, as here, and one from the telephoto end of a zoom, which is what we often get from a filmed version of a stage play.
There will be a special preview screening of Sugar at Words Weekend at the Lowry in Salford on Sunday 29 March and the film goes on general release in June (specific date TBA).
Reviewer: Peter Lathan