Swallows & Amazons
Arthur Ransome, adapted by Helen Edmundson; music by Neil Hannon
York Theatre Royal
York Theatre Royal
–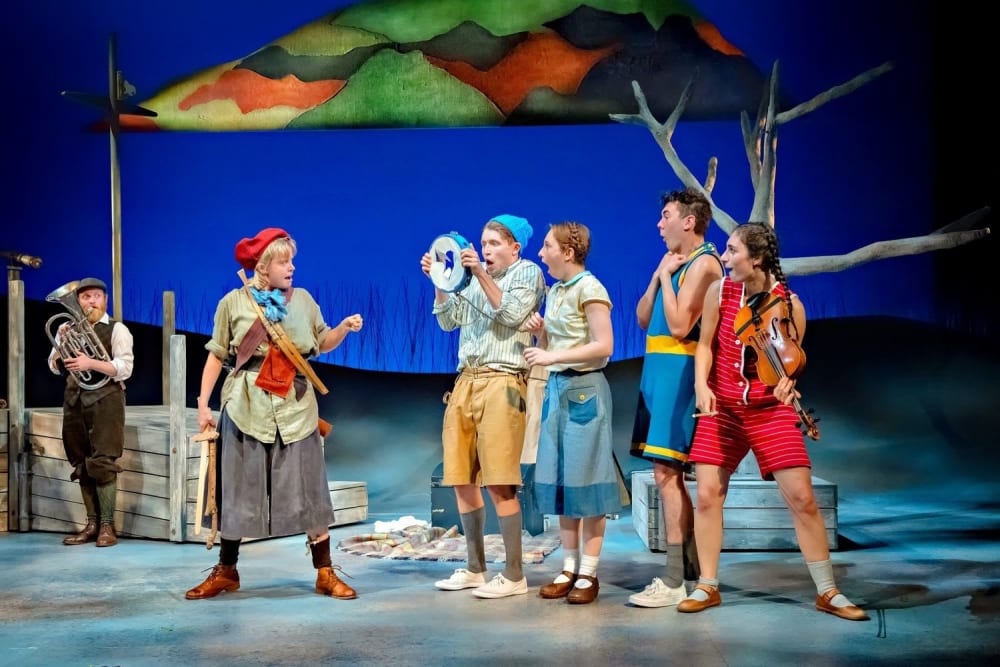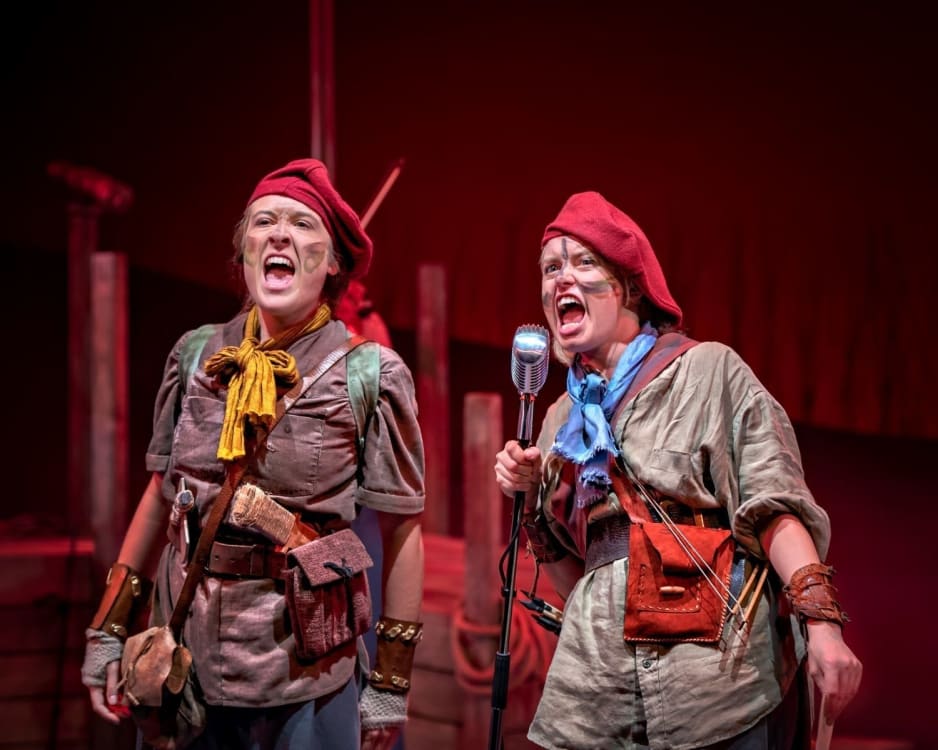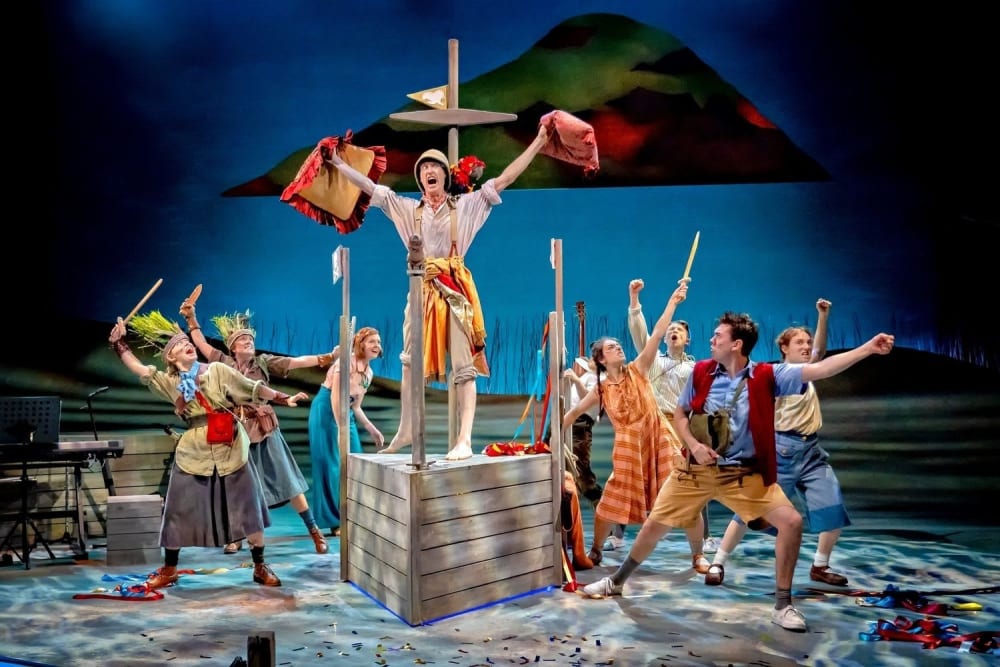 This year's summer family show at the York Theatre Royal marks the final production of Damian Cruden's artistic directorship after twenty-two years at the helm. Somewhat uncharacteristically, he and his co-director John R Wilkinson have turned to an existing adaptation—by Coram Boy adapter and Shared Experience collaborator Helen Edmundson alongside Divine Comedy singer-songwriter Neil Hannon—rather than a completely fresh take on the childhood classic.
In many other ways, though, this is like previous such summer shows, such as the superlative Railway Children: here is a children's classic of another era celebrating a carefree time of play and adventure, given a sprightly and imaginative staging which thrives on the strength of the collaborations at its heart.
Ransome's book is surely not widely read now. Its central characters are the four Walker children, aged between seven and twelve. In the absence of their father, a sailor away on a voyage, they are on summer holiday beside a lake with their mother and babe-in-arms sister. Being children of a sailor, these four are obsessed with all things nautical, and as the book (and this adaptation) begins, they receive long-awaited parental permission to sail out to a nearby island and camp there.
The crew of the Swallow, then, comprises Captain John (Alex Wingfield), First Mate Susan (Laura Soper), Able Seaman Titty (Hanna Khogali) and Ship's Boy Roger (William Pennington). On their expedition, they come across a mysterious houseboat owner, a number of what might be pirates and a pair of other children roaming wild, Nancy and Peggy Blackett, whose fearsome gang goes by the name of the Amazons.
The closest parallel that came to mind for me was with the Famous Five adventures and, while somewhat lower on incident than those smuggler-filled thrillers, the emphasis here is more on the beautiful, easy complicity of childhood imagination.
So, as the crew first sets sail, Titty proposes that "all grown-ups are barbarians from now on", and this simply becomes the accepted rule. Likewise, retrieving shells from the shallows easily becomes "diving for pearls".
This sense of play is captured well in both design and performance. Katie Sykes's dreamy set provides space and flexibility: a wooden jetty becomes a mobile houseboat, and the raked upstage area provides scope for swooping, diving runs as characters enter.
John R Wilkinson and musical director Kieran Buckeridge refer to gig theatre and concept albums in their programme notes—and they're by no means overselling this aspect of the show. Neil Hannon's compositions, in Buckeridge's fine arrangements, underpin the whole evening, performed with immense flair by the whole cast on a bewildering array of instruments.
The resulting songs are intricate and compelling, with counterpoint, harmony and syncopated rhythms constantly offering surprising and delightful twists. My one critique is that, with the whole crew at full blast, the often-witty lyrics are at times rendered indecipherable; more attention to the sound balance as the show runs might improve this.
Certainly the singers are not at fault for it: the cast members all have beautiful, versatile voices which soar through some very demanding arrangements. It's particularly pleasing to see Laura Soper have an opportunity to shake off her character's habitual matronly prudence with the lead on "Let's Make The Best Of It", exhorting her siblings to find other entertainment when the drop in the wind means they can't go out on a sailing expedition that day.
Soper gives a compelling performance in general, moving brilliantly between a convincing childishness and a more mature sense of propriety, as her character acts as a substitute mother figure for her siblings. (She herself points out in the programme that these tales always seem to contain a 'sensible Susan'.)
And all of the Swallows impress enormously. Crucially, they look like they're having a whale of a time, even when negotiating the aforementioned singing challenges and a considerable range of multi-instrumental swapping; they make it look easy. Similarly importantly, they're all able to play younger than their age, without the performances in any way appearing patronising or mawkish.
The Amazons, played by Anne-Marie Piazza and Rachel Hammond, at times threaten to steal the show entirely. As the pseudo-enemies of the piece, they certainly get the best songs: they revel in hyperbolic and bloodthirstily comic couplets such as "We'll cut out your gizzards with a blunt pair of scissors for starters / Use your skull as a cup and your lily-livered guts for garters".
Ellen Chivers plays a sympathetic Mother and forms the backbone of many of the musical numbers, while Ed Thorpe likewise multi-roles comically and plays a range of instruments. Buckeridge underpins much of the music on piano, and puts in a great turn as the houseboat man, starting restrained and serious before unleashing some lovely comic bravado.
The plot might be simultaneously a bit thin and a bit too meandering to hold the attention of the youngest audience members throughout, and the show as a whole would probably have benefited from a cut of about ten minutes from the first half. But overall there is so much to love about the performances, the staging and the gorgeous music that it is well worth a visit, for imaginative explorers young and old.
Reviewer: Mark Smith