The Railway Children
Mike Kenny, based on the novel by E Nesbit
York Theatre Royal and the National Railway Museum
National Railway Museum, York
–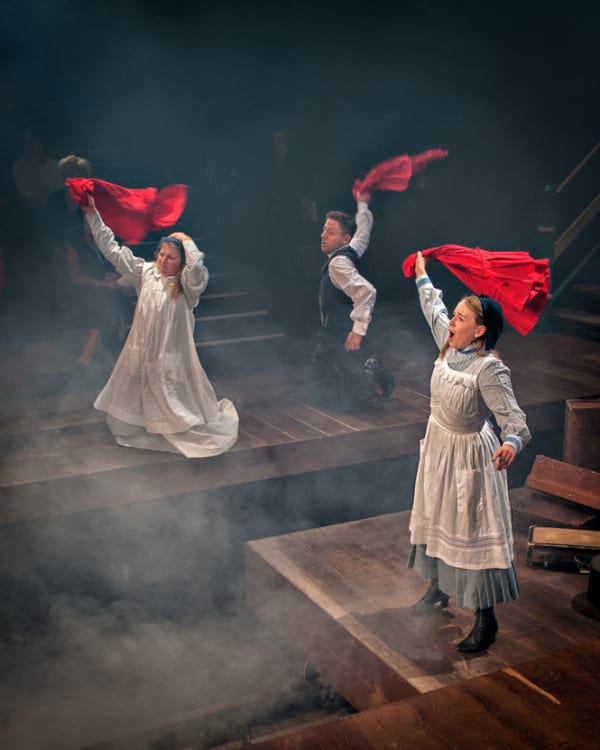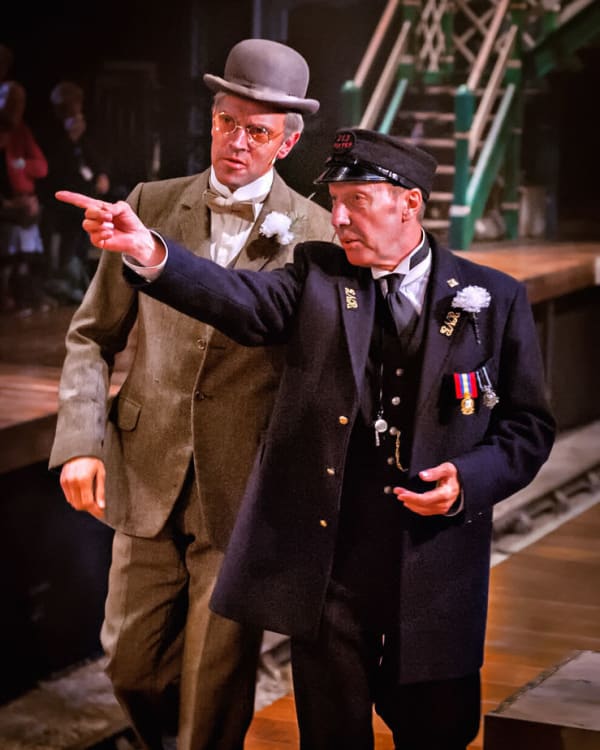 I have come to the Railway Children party extremely late, somehow having contrived to miss it in its numerous previous incarnations at the National Railway Museum and at London's Waterloo and King's Cross stations. The show has even had international success, having been staged in Toronto in 2011. It is, however, an untempered pleasure to have seen this show at last.
The story is episodic and focuses around the three eponymous children, Roberta (Rozzi Nicholson-Lailey), Peter (Izaak Cainer) and Phyllis (Beth Lilly). Forced by circumstance to strip back their moneyed lifestyle, the family is compelled to move to the countryside and begin afresh in a house not far from a railway line, whose dragon-like locomotives capture the children's imagination. There are japes and petty thievery (justly dealt with by local station-master Mr Perks), birthday parties, illnesses, and a famous near-miss when a landslide blocks a section of the track.
The tale is saccharine to some extent, it's true, but the wit of the adaptation, the fluidity and breath-taking variety of the staging, and the utter flawlessness of the performances—the sheer good-heartedness of the whole production—provide utter delight from start to finish. Mike Kenny's script opens with some emphasis of the privileged class the family represents at first, with a characteristic lightness of touch and twinkle of eye. There are plenty of fascinating, fleeting and underplayed indications of the wider world at work just beyond the ken of the children into whose lives we are drawn.
But this is at its core a show to be enjoyed by audiences of all ages for its warmth, humour and excellent storytelling. Damian Cruden's elegant staging works like the finest well-oiled engine, without ever appearing artificial or contrived. Though there are great coups of stagecraft such as the impressive arrival of the actual engine featured in the film, there is enormous strength and clarity in the smallest of details as well.
So when the Father (Robert Angell) is sent away to trial and imprisonment in London, he is ferried offstage in one direction on the set's smoothly functioning rolling-stock platforms while the children, narrating this crisis moment, are swept in the opposite direction on a similar platform. The Mother (Andrina Carroll), however, draws the eye, immobile between the two forces, left alone centre stage and looking with silent horror as her beloved husband is shunted away. The storytelling and stagecraft are similarly detailed and expressive throughout.
Carroll, as this pivotal Mother figure, evidences strength, command and simple dignity in a role that demands her to be by turns harrowed and joyful; it is a beautifully balanced performance and the best I have seen her.
This goes for the entirety of this flawless cast. Martin Barrass as Mr Perks delivers a pitch-perfect showing of authority and audience engagement. He is so familiar as a pantomime performer—and this role allows a number of moments of excellently-judged comic timing—but his ability here to play a scale appropriate for the space without seeming to mug or rely on those familiar comic beats remind you what a sensitive and engaging performer he is. Hearing Kenny's easy, witty dialogue in Barrass's masterful delivery is a constant joy.
Barrass's partner-in-pantomime, Berwick Kaler, has unfortunately been ill for the opening of the run, but he is ably replaced for now by Michael Lambourne, who similarly scales down his usual impressive physical talents to give a winning and nuanced performance as the Old Gentleman.
There is such strength in depth in the performances, with Elianne Byrne as Mrs Perks and Jacqueline Naylor as Mrs Viney both providing variety, control and humour. James Weaver, who so impressed in the title role in Jekyll and Hyde, again delivers here a fine performance in a series of excellently differentiated cameo roles. His District Superintendent was one of my favourites, but as the exiled Russian author Schepansky he is joyously enigmatic and (more or less) convincingly Slavic.
The heart of the production is in the interplay between the three children, and these are wonderfully embodied by the trio of Nicholson-Lailey, Cainer and Lilly, all three playing younger than their actual (still relatively youthful) years. All of these talented performers connect well with the audience, constantly and smoothly sliding, as the script demands, between narration and being totally immersed in the events of the play.
As the oldest sibling, Nicholson-Lailey is smiling, the most decisive, but also tinged with the secret sadness and loneliness of the growing teenaged girl. Again Kenny's script, aided by the performance, hints at hidden depths but does not lay it on thick. Cainer's middle child is po-facedly preoccupied with being proper, but also mischievous, inventive and playful at times. Beth Lilly as the youngest, Phyllis, is perfectly wide-eyed and wild-haired; she interjects frequently and firmly grasps the wrong end of several sticks. It is a glorious performance of joy and confusion – a case study in someone "still young enough to be interested in everything", in Nesbit's memorable phrase. As individuals these are committed, comedically alert and magnetic actors; as a trio, they work perfectly together.
Joanna Scotcher's designs similarly interweave impeccably with Richard G Jones's lighting design to generate atmospherically varied and thrilling settings for the tale. There are several theatrical coups, and some superb, more subtle effects throughout: the night-time shadows and beams filter evocatively through hazy engine steam. Christopher Madin's score and Craig Vear's sound design complement the story and the visual setting wonderfully. As trains (imagined, in many cases, but no less powerful for that) go thundering past, the soundscape and lighting magnificently recreate the visceral throb of these piston-powered beasts.
I am running out of superlatives. To summarise, do not follow my example of the last eight years: do not miss this show. It is family entertainment done perfectly, and a polished but nonetheless heartfelt theatrical experience of life-affirming quality and wit.
Reviewer: Mark Smith