Swan Lake / Loch na hEala
Writer, director, choreographer Michael Keegan-Dolan
Teaċ Daṁsa (House of Dance)
Sadler's Wells
–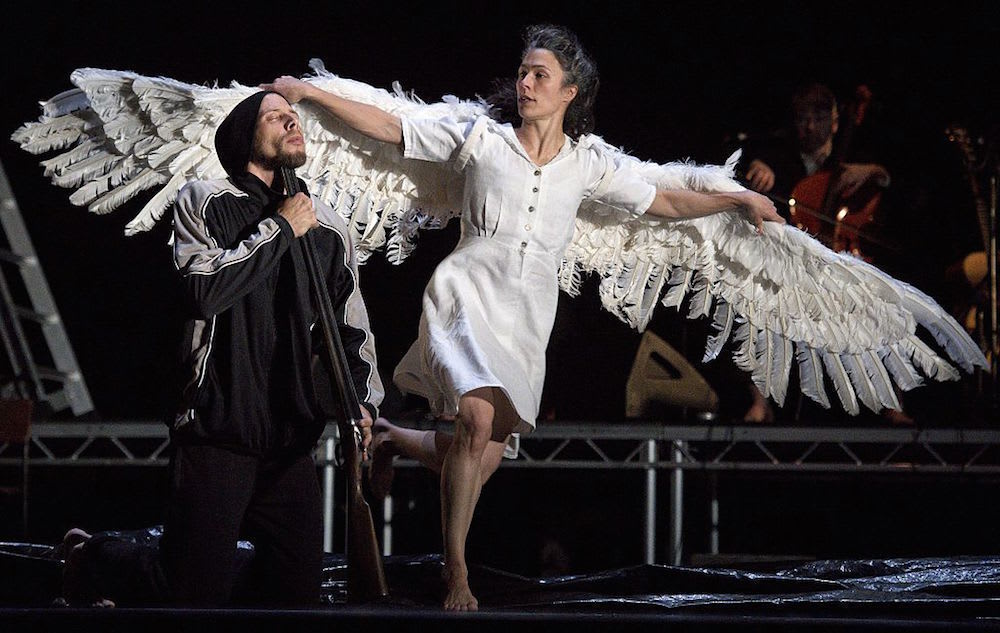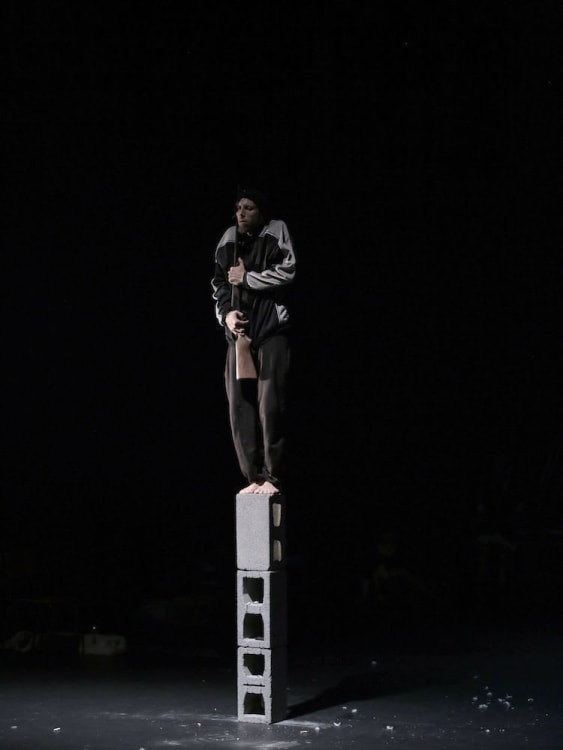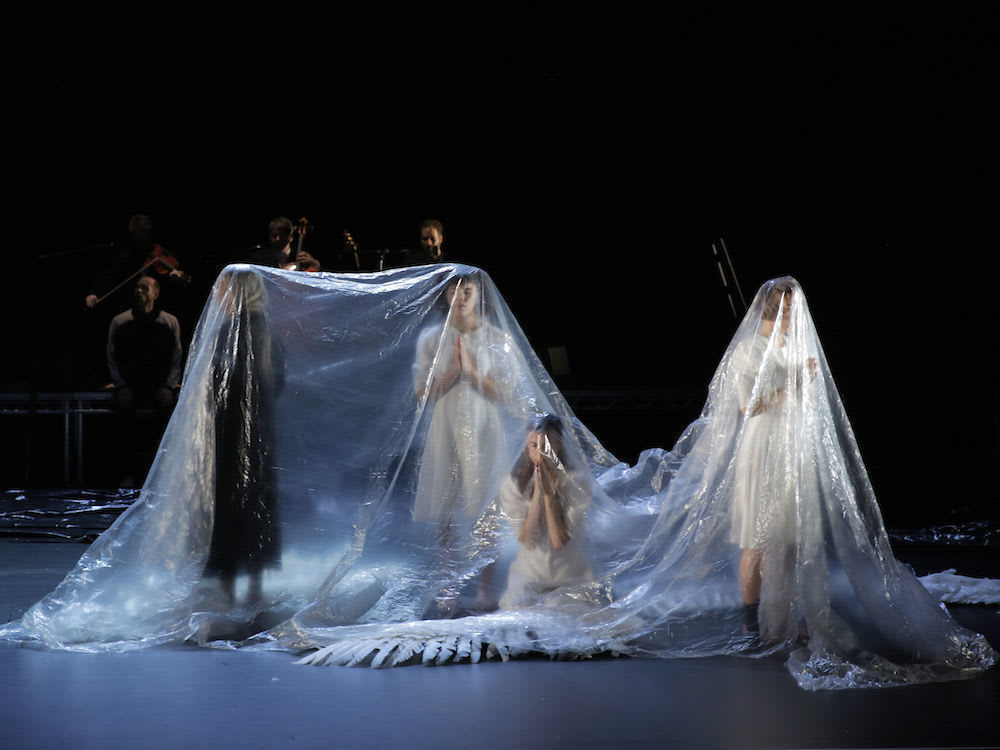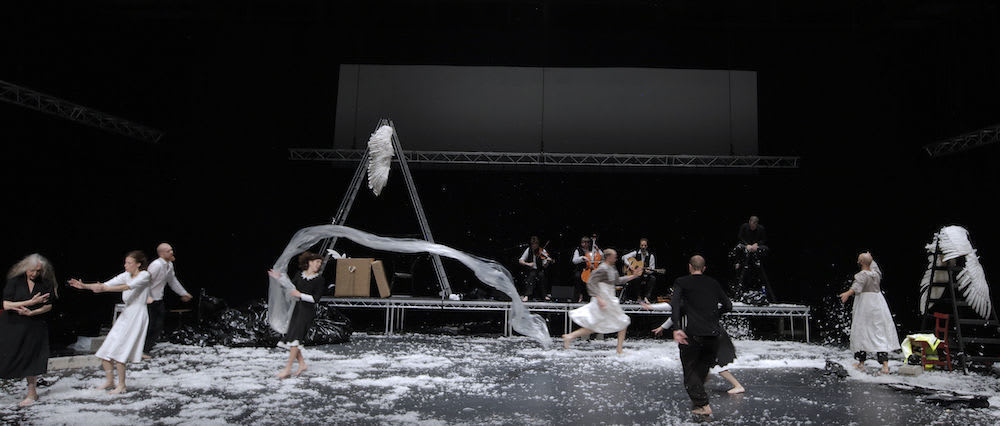 There's nothing pretty or romantic about Michael Keegan-Dolan's peatbog-bleak Irish tale of savage abuse, corruption, depression, dispossession, and superstition. Elemental and elementary in movement vocabulary his dance theatre Swan Lake / Loch na hEala is a monochrome drama sourcing both Swan Lake as we think we know it and The Children of Lir Irish Legend, a neat knitting of two swan tales.
And there's plenty of religious imagery, song and narration. Opening with a near-naked middle-aged man bleating and pawing the ground, tethered by his neck to a stone—a scapegoat, a holy sacrifice, man as beast? Released by three men in black broad-brimmed preacher / rabbi hats, he is washed, wiped with three red towels (significantly the only splash of colour), and dressed in black.
Why, it's Mikel Murfi, the narrator, abusive priest and talkative local councillor, a man of many parts, and the central figure. Singer of Bob Dylan's "A Hard Rain's A-Gonna Fall", too. The live music by Dublin-based trio Slow Moving Clouds is folk-based with wonderful dance rhythms for the ritualistic incantatory swirling and swooping and stamping from the eight dancers, four male, four female.
The story is that Jimmy O'Reilly (Alexander Leonhartsberger in track suit and beanie hat) is still depressed a year after the death of his father. On top of that his wheelchair-bound grey-haired mother (83-year-old Elizabeth Cameron Dalman) wants to demolish the old homestead, in the family for generations, and build a better, modern house. Jimmy is distraught and squats in the house like Saint Simeon Stylites on his pillar (the house is represented by three concrete breezeblocks).
She also wants to get him married off and invites all the girls from miles around. Cue men donning frocks and lipstick, party hats and cake with candles. She also gives him his father's shotgun. Would you give a suicidal man a shotgun?
Murfi's hypocritical bleating priest, a horny goat Rothbart, welcome in every home, as a young man abused local schoolgirl Finola (Rachel Poirier) and threatened if she or her three sisters ever told, they would turn into speechless animals. They vanish, never to be seen again. But Jimmy sees them by the murky lake made of encroaching black plastic sheeting.
Pure girls in white, once shielded and veiled like Virgin Marys in transparent protective sheeting, they don white wings, which turn to black as the mood changes. Finola's duets with Jimmy are tender, a moment of respite from tragedy for both. But tragedy is not far away in a sinister Irish landscape of ladders to heaven and primitive barbarism below.
Incorporating the true story of John Carthy, "a depressed Longford man who, after a siege in the home he was being made to leave, was shot by the garda in 2000", into Swan Lake, here it is the prince who is shot dead. The Swan is already at the bottom of the lake.
Last year almost to the day, Swan Lake / Loch na hEala was critically acclaimed in London, and this year won the Irish Times Theatre Award for Best Production, but I also read in David Jays's programme interview with Keegan-Dolan that there have been walkouts.
Rough magic, "rooted in the Midlands of Ireland where ancient mythology and the modern world collide", and black Irish humour can be too noir for some. Try as it might the final playful scene cannot dispel it: in an apotheosis of sorts the cast spill sacks of white feathers across the stage and into the auditorium, sweeping them with their wing harnesses into snowstorms and childish snow fights.
It receives a standing ovation on press night, and friends tell me they love it, but for me it is too long even at seventy-five minutes straight through. I'm told it is better to see it from the balconies not the stalls.
Reviewer: Vera Liber