Swan Lake - part of Sadler's Sampled
Choreography by Dada Masilo
Dada Masilo Company
Sadler's Wells
–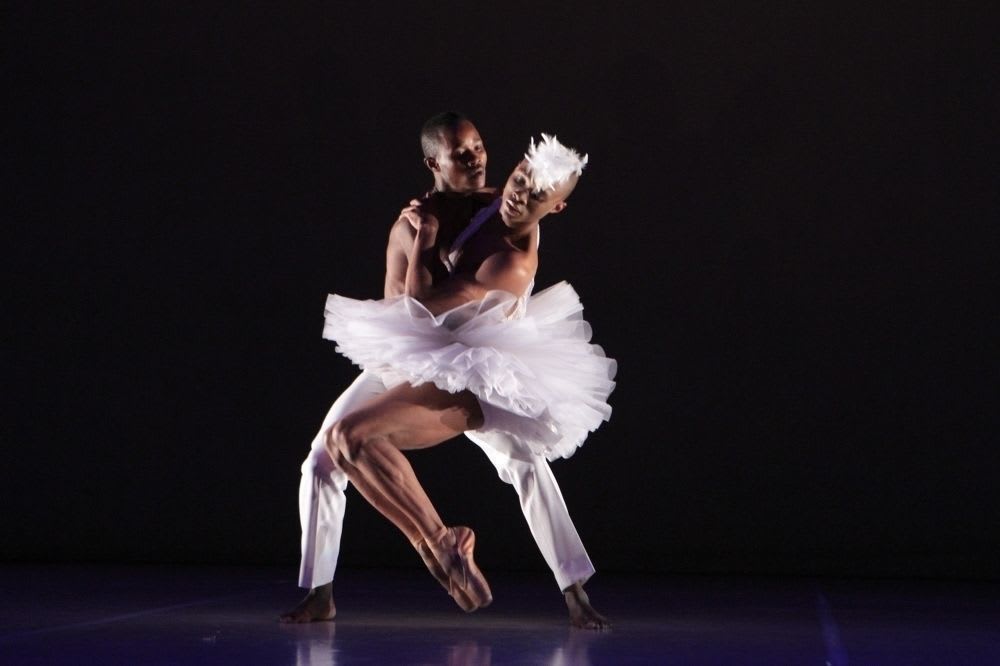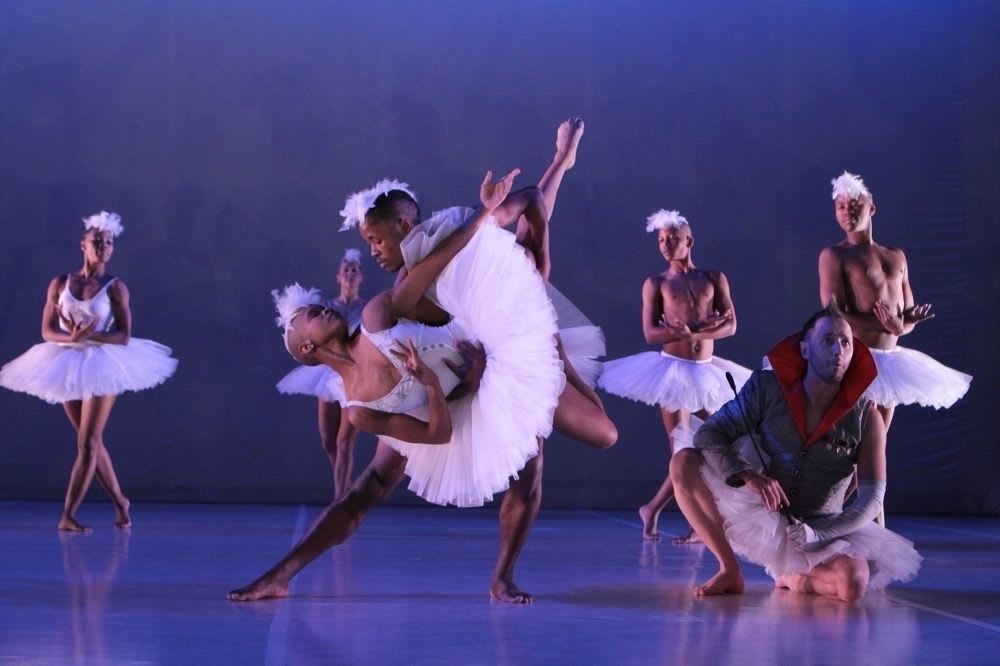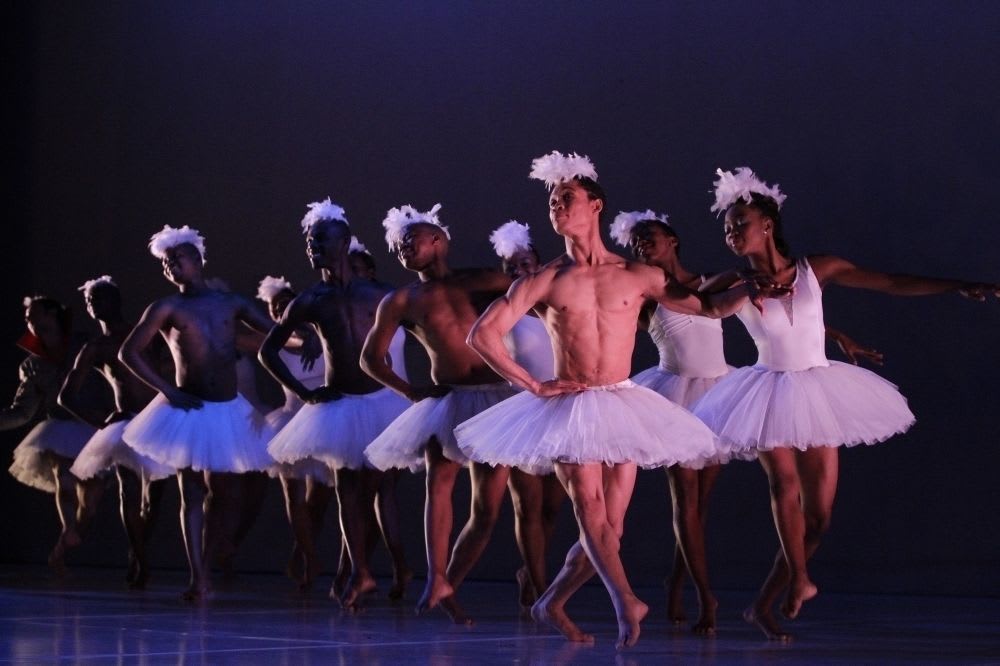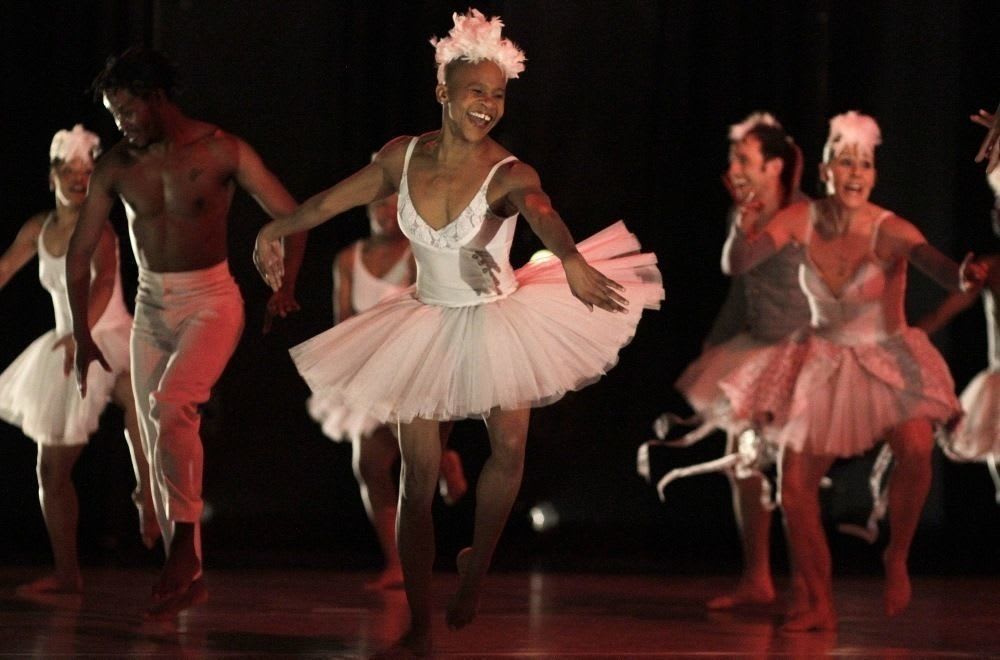 Sadler's Sampled two-week festival is back. From 17–29 June Sadler's Wells showcases dance in a taster treat of four productions, talks, films, music, workshops, installations, a cross-range of styles… go early. The front of the stalls are given over to Prom standing at £8.
Opening the festival is another rewrite of Swan Lake (don't groan, it's full of energy and great fun—I was captivated), a 2010 re-imagining relevant to her homeland, from 29-year-old South African dancer and choreographer Dada Masilo (Odette tonight).
This is ballet for novice and non-ballet fans. An MC (Nicola Haskins) explains it all in a witty introduction. Not in ballet terms, but 'this is a virile jump', now comes 'the ankle twiddle', now the 'let's get married dance'.
So we have the vague story outline, we have Tchaikovsky's music, but hang on a minute, isn't that Saint-Saens Dying Swan, and what is that? Tchaikovsky is mixed with Steve Reich, Rene Avenant, and Arvo Pärt… It works.
It works, because it reaches out to the audience in exuberant hybrid fusion dance, a mix of Trocks, Matthew Bourne, and African dance stance.
Wonky classical line—who cares—ballet is not subverted but sublimated to proper purpose. Shrieks, squeals, shouts, swan hisses, hand slaps on floor, a marvelous tantrum dying swan collapse—serious masquerading as entertainment.
Using a company of thirteen male and female African dancers, this Swan Lake, a tale of coercion and wrong choices, aims to tackle South African "issues of sex, gender and homophobia in a country confronting the impact of AIDS".
Masilo obviously knows that medicine needs a bit of sugar to help it down: sweet dancing, barefoot in white tutus and feather headdresses, lots of swan bums to the audience, arms wave above heads, hips jiggle, fingers waggle, a dozen fouettés, too.
But communal playfulness slips suddenly into family tragedy. Siegfried does not want the girl his parents have chosen for him. He wants the tall male Odile—the only one on pointes with beautiful arms—not spoilt dying swan princess Odette.
Suzette le Sueur's lighting changes from ice pink to salmon pink to lake blue and then to sombre dark tones for the finale. A pas de trois (sorry, a relationship triangle), the three protagonists in long black skirts and bare torsos, dances out the fatal tragedy.
Poignant, it touches the heart that had smiled with pleasure not so long before. The white swans, now in mourning black, fall one by one. Masilo's story arc is dramatically affective, smiles freeze on faces, but the cheers and applause, the whistles and hoots of appreciation go on and on at curtain call.
Masilo, who trained at the Dance Factory in Johannesburg, and the Performing Arts Research and Training Studios in Brussels, has reworked classical ballets before, Romeo and Juliet in 2008 and Carmen in 2009. In September this year she is restaging her Carmen in Lyon.
She is known in Europe, where her company has toured. My friends across the Channel alerted me to her. I'm so glad they did. Her Swan Lake is a great kick-start to the festival.
Shows to look forward to are Fabulous Beast Dance Theatre's Rian (20 and 21 June), Sidi Larbi Cherkaoui's 4D (23 and 24 June), and on 28 and 29 June Playlist, a weekend of extracts from Jasmin Vardimon Company, tango from German Cornejo and Gisela Galeassi, BRB's Tyrone Singleton and Celine Gittens in a Don Quixote duet, the National Youth Dance Company (NYDC) in The Rashomon Effect and Vertical Road, Alan Lucien Øyen's Sinnerman danced by Daniel Proietto, and ZooNation Dance Company performing extracts from the company's latest production.
Workshops include contemporary dance with dancers from Wayne McGregor | Random Dance; Afro House lead by Uchenna Dance; a Jamaican Dancehall class with Cindy Claes; flamenco with Lucia Caruso; hip hop with ZooNation; physical theatre with Jasmin Vardimon Company; and ballet with English National Ballet and BalletBoyz.
Front of house events include Vera Tussing's Sound Bed, a participatory sound and movement installation, and Tim Casson's The Dance WE Made with audience members creating a new dance piece together.
Move in. If only I lived closer…
Reviewer: Vera Liber