Sweat
Lynn Nottage
Donmar Warehouse
Gielgud Theatre
–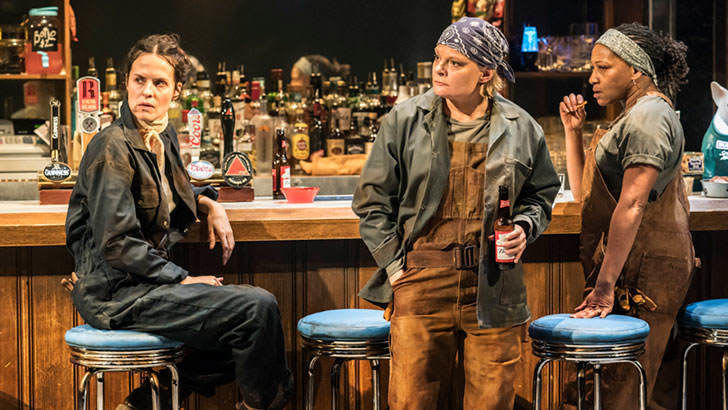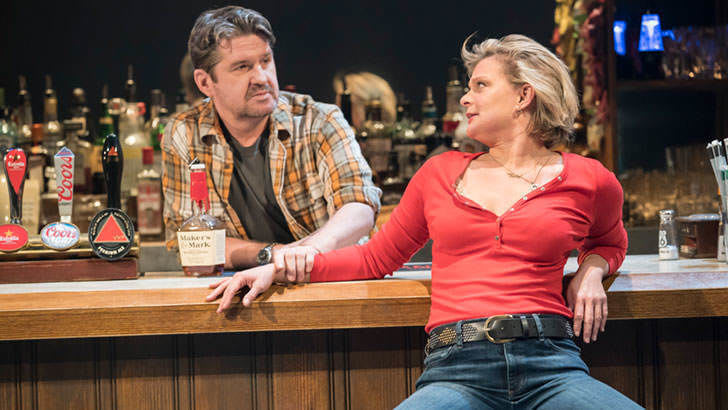 When it opened at the Donmar at the very end of 2018, many wise judges considered Sweat to be the best new play of the year or a serious contender.
Six months on, as Lynn Nottage's wonderful evocation of blue-collar America in crisis transfers to the West End with its original cast once again directed by Lynette Linton, a new group of playgoers will have the opportunity to judge for themselves.
None is likely to be disappointed by an intricately constructed, deeply moving piece that has the ability to shock and speaks clearly to Britons and Americans today, even though the events depicted took place between 2000 and 2008.
The majority of the evening plays out in Mike's Tavern, a bar frequented by shop floor workers from Olstead's plant in suburban Philadelphia.
These people are what the British might refer to as the salt of the earth, working class folk who are happy to work themselves into the ground for a good wage, passing boring mechanical jobs on from generation to generation.The straight-talking is always convincing, even if frequently uncomfortable, particularly on issues of race and gender prejudice.
However, in the days when George W Bush was seeking to succeed Bill Clinton, the global economics had stopped adding up.
Owners of American manufacturing plants began to realise that they could make far greater profits by moving their machinery south of the Mexican border, prefiguring the inexorable rise of India and more recently China.
The impact that this has on real people is perfectly demonstrated through the 2½ hours of a play that spends its first half dropping depth charges and the second allowing us to watch them explode to devastating effect.
Under the watchful but sympathetic eye of barman Stan, played by Stuart McQuarrie, himself a former worker who was invalided out after an industrial accident, events largely revolve around a trio of female workers, every one of whom has quarter of a century's experience of hard labour under their belts.
Watched by Leanne Best playing perpetually drunken Jessie, leading the way is American import Martha Plimpton as Tracey, as tough as any man and as foul-mouthed.
Her closest colleague and friend is Clare Perkins's Cynthia but rivalry begins to threaten their friendship, after both put themselves up for the corporation's first-ever promotion from the shop floor to a managerial position.
Their problems are both mirrored and subverted by sons who follow in their footsteps, Patrick Gibson's Jason is happy to make a few bucks in the hope of eventually retiring to run a Dunkin' Donuts, while, like Cynthia, her boy, Osy Ikhile in the role of Chris, has higher ambitions, hoping to make it to college and a teaching career.
When the factory owners decide to blackmail their staff into taking pay cuts or walking out, the future can be accurately predicted by observing Cynthia's drug-addicted husband, Wil Johnson playing Brucie. He is a symbol of hope turning inexorably into hopelessness but he also delivers a lesson that wisdom and resignation cannot be learned without accepting ignominious defeat.
Sweat is a gripping and incredibly powerful drama that never lets up, constantly reminding viewers that life is hard and, in what is fast becoming a post-industrial society on both sides of the Atlantic, leaves many casualties along the way.
It is hard to recommend Lynette Linton's superbly acted and unforgettable production highly enough. Anyone with an interest in the world today should not miss out on getting tickets during this strictly limited run.
Reviewer: Philip Fisher