Sweeney Todd
Music and Lyrics by Stephen Sondheim, Book by Hugh Wheeler from an adaptation by Christopher Bond
Chichester Festival Theatre
Adelphi
–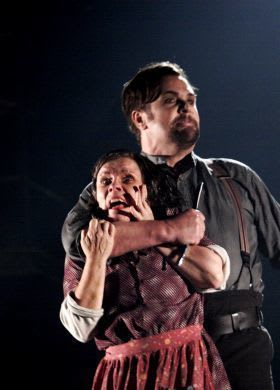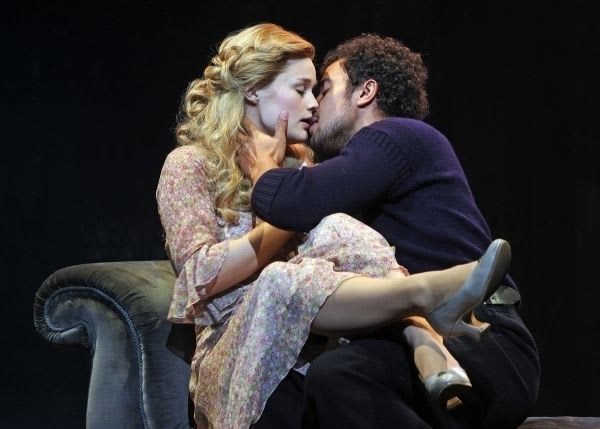 Chichester Festival Theatre seems to be on a mission to become the West End's premier producing house. While we have come to expect dramas to transfer up from Sussex, the company's commercial ambitions have stepped up.
Having successfully exported Singin' in the Rain to the 1400 seat Palace, now this dramatically flawless revival of Sweeney Todd comes to the Adelphi, with capacity of 100 more for what is likely to be a long residency.
Jonathan Kent has really pulled out all of the stops, aided by what seems to be a sizeable budget and a couple of talented leads with drawing power.
Michael Ball may be unrecognisable in the leading role as the murderous Demon Barber of Fleet Street (only a couple of hundred yards from this theatre, which makes one think) but he combines passion, wickedness and black humour well. Opposite him, Imelda Staunton gives a stand-out performance as pie maker supreme Mrs Lovett. She combines earthy naturalism with a wicked wit and should probably already be practising her thank you speeches for the awards season.
Designer Anthony Ward has created a set that is dank and oozes the tawdriness of 19th Century London. The only economy seems to be in Mark Henderson's expertly-designed lighting, where spots are used to highlight the action in front of a dark backdrop that symbolically resembles a carnival wall of death.
Stephen Sondheim has written a classic, with its tale of young love, older passion, evil, deceit and above all revenge. From the off, this feels like something special, even if some may balk at the heavily amplified (but beautifully played) music and voices. They certainly fill this large theatre though.
In Kent's eyes, it becomes a bloody, Grand Guignol evening in which the murders pile high and the stage blood flows to excess.
Throughout, the central couple ensure that the writer's sophisticated black humour is enjoyed to the full, and at times, Kent introduces laughs over and above those in the original.
The singing is graced by perfect enunciation, which is a bonus in musicals these days. That said, while Lucy May Barker and Luke Brady as the young lovers, a pre-Raphaelite Johanna and handsome Anthony, have lovely voices, the two stars are more prosaic, if equally effective, neither over-stretching their tonsils until it matters.
What they offer instead is a remarkable understanding both of their characters and the story as a moving drama.
The benign blood-letting of the main pairing is contrasted with the altogether more malevolent though less murderous bad behaviour of Judge Turpin, John Bowe playing as lustful a guardian as ever a young girl had the misfortune to suffer, and his stolid sidekick Peter Polycarpou's Beadle Bamford.
On the Sondheim musical scale, the orchestrations are very much at the lush rather than the edgy end.
In addition to the recurring strains of the theme tune, the youngsters' dual duet "Green Finch and Linnet Bird" and "Johanna", as well as Mrs Lovett lauding her delectable meat pies with the special fillings in "The Worst Pies in London" will please, as always. However, one song that does not normally leap out, Sweeney's vicious diatribe "Epiphany" is here memorably delivered with venom and power by Michael Ball.
It looks as if Chichester has another London hit on its hands, thanks to judicious show selection, casting and production values. The theatre's golden jubilee season promises further riches, though London may have to wait a little while to get its share of this year's goodies.
Reviewer: Philip Fisher