Sylvie Guillem 6000 miles away
Choreography by Jiří Kylián, William Forsythe and Mats Ek
Sylvie Guillem
Sadler's Wells
–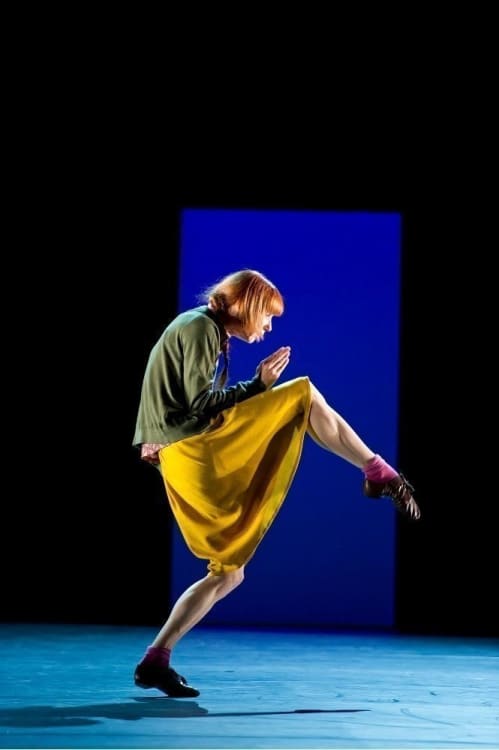 Age cannot wither… nor custom stale… the phenomenon that is Sylvie Guillem. Honed physique, beautiful arches, supple limbs—sound mind in sound body—defy and challenge the years.
Some say she can't have many years left in her. On tonight's performance I'd say there are many more to come. But, just in case, I advise you to grab any opportunity to see Guillem in action in any choreography. Watching her move is watching mercurial intelligence combined with pure spun gold.
Hard to believe she has been dancing for more than thirty years, first classical now contemporary. Choreography she has interpreted on tour worldwide since premièring it at Sadler's Wells in 2011 she remakes anew. Whose choreography has she not taken into her bones?
Conceived by Guillem, 6000 miles away is three short pieces, dense, intense, and conceptual sense, by Jiří Kylián, William Forsythe and Mats Ek, originally in sympathy for Japan's Tsunami, tonight in aid of Sea Shepherd.
The warm-up act for the star's, for Sylvie Guillem's, appearance in the subsequent two numbers, an extract from Jiří Kylián's duet 27'52", performed by NDT alumni Aurélie Cayla and Lukas Timulak, opens the evening.
On a bare stage under Kees Tjebbes's dim lighting a couple—equality is a bare torso—sound wave hitting sound wave, body against body, coiled springs winding and rewinding by increments, forwards and backwards.
Precision moves, anxious collisions, impetus and impulse, interdependent and alone, attraction and repulsion, meticulous machines, fulcrums for each other's motion, displace space till the black floor mat envelopes them.
Dirk Haubrich's electronic composition for 27'52", minimalist sound play and ambient airs, is matched by David Morrow's abrasive atonal staccato digital composition for William Forsythe's cerebral Rearray, a duet not unlike the first.
Dressed in black, lit darkly, costume and lighting design by Forsythe, the light catching the bare flesh of the arms, Guillem, hair in neat bun, in contrast to her partner La Scala principal Massimo Murru's long ponytail, displays her quicksilver moves. Finely tuned over the years, her switches of speed are mindboggling.
Complex, expressive, abstract, inflected language, chapter and verse are fed in tiny haiku doses. The variable possibilities revealed in a flick of the wrist, arm semaphore, a ripple, a deep plié, a half twist, a torsion too far, an extension—an array of sequences, fleeting incremental patterns in contrapuntal evolution.
Constructivist art—in Guillem's case Suprematist—Malevich black and Kandinsky curves blaze briefly on intersecting patches of light and then are gone. A meditation, formal precision, classicism married with contemporary form in dazzling exposition.
After the interval Mats Ek's solo, Bye, reveals Guillem in playful mode. An Alice in Wonderland, she emerges first a big eye, then a face, then small body in perspective confusion from a video within a doorframe.
Once out in the world—was this a birth—she turns into Pippi Longstocking. Her pool of light grows bigger, intersects with another. She explores from the edge. Sheds her cardigan, sheds her shoes and socks. Dances joy. Leaves a handprint on the door. Has a life.
Playful, charming, comic even, Guillem is a natural clown, doesn't care what she looks like. Cares about her moves though. And who knew Beethoven's piano sonata op. 111, Arietta, as played in a recording by Ivo Pogorelich, was so jazzy.
Makes herself respectable again, and joins the normal people, the crowd on the other side of the door. Is she from another dimension? I'll say.
Guillem's creativity, daring and stubborn intelligence have earned her the soubriquet Madame Non. She knows what she likes and isn't afraid to say so, to question, to know herself. We can take it or lump it. Demanding of herself, an exceptional dancer and stage presence, an étoile, she draws us, the lumpen and the quick, into her dazzling firmament.
Reviewer: Vera Liber