Tango Fire
Director of choreography German Cornejo
Peacock Theatre
–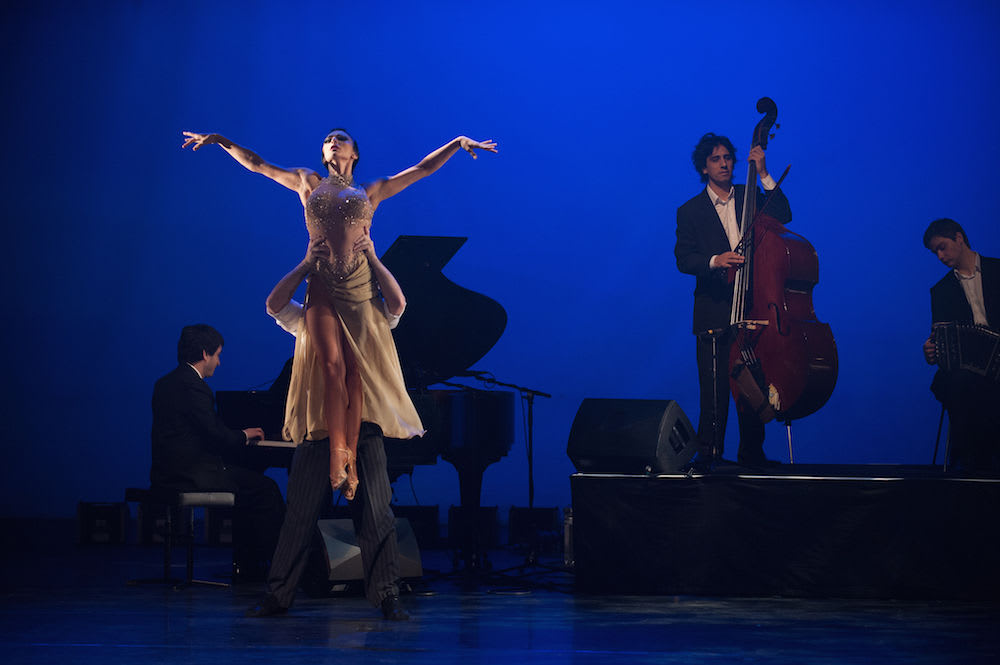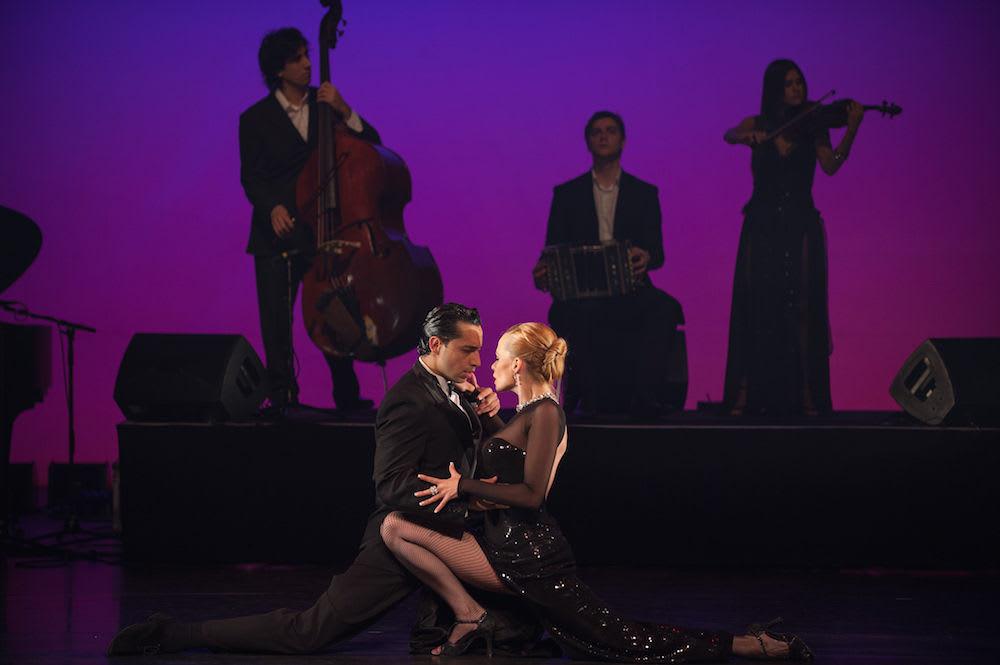 The passion for Argentinian tango never seems to dim, a Strictly audience demands it, and the beating heart needs it, so here we have the seventh season of Tango Fire at the Peacock. And it is cabaret slick, balletic, dangerously acrobatic and gymnastic, with dazzling playing from the Quarteto Fuego, all superb musicians, Matias Feigin on piano, Clemente Carrascal on bandaneón, Gemma Scalia on violin and Facundo Benavidez on contrabass. Who wouldn't want to get up and dance?
Timing is everything in tango, one must feel it in the body, counting would be too slow, and my goodness, do the sexy, honed bodies of the six couples, women in sleek sheer dresses, on display feel it. Phrasing and timing that sets the blood pulsating. Split-second timing or else. Do they all have life insurance? The footwork is impeccable.
One hand lifts, women spinning on men's backs like gyroscopes, legs cycling in the air, dramatic splits, high extensions, rolls in the air and drops to the floor that elicit gasps (Kenneth MacMillan eat your heart out) from the audience and then cheers. German Cornejo is raising the tango bar.
Faith, trust, and training: women seem to take all the high-flying risks, paraded in those Art Deco lady lamp poses and upside down like flexible dolls. But these are tough girls.
A furious tangle of whiplash kicks, pincer and poison ivy legs: one fears for delicate body parts. Don't try this at home. And machismo, plenty of raw smouldering machismo, even if it is veneered with chilled sophistication and smart tuxedos. Elegant men, hair slicked back, show off to fellow men just as in street battles.
The cool guys gather at a milonga, eye the competition, eye the girls in their best clothes: that's as close as Tango Fire gets to its barrio beginnings. From there it evolves into a range of tango styles, conveniently described in the programme notes for those infected enough to take it further.
There's classic, new, cabaret, salon, country, romantic, the usual foxtrot, exhibition tango and more. Tango Fire is very much exhibitionist. It's a show after all and all stops are pulled out, twelve numbers in each half with four dreamy instrumental (one in first half, three in the second). Two hours (with interval) of sizzling tango if with a familiar format refined down to the last degree.
The cast is the very best: 2015 world champions Ezequiel Lopez and Camila Alegre; Julio Jose Seffino and my favourite Carla Dominguez; Esteban Simon and Marilu Leopardi; Marcos Esteban Roberts and blonde Louise Junquiera Malucelli; childhood sweethearts Sebastian Alvarez and the daredevil Victoria Saudelli who have been dancing together since 2000; and the star couple, choreographer-performer German Cornejo and Gisela Galeassi, whom I saw two / three years ago at this same venue in Immortal Tango.
Much of what I said then applies now. Lighting sculpts the bodies, colour washes set the tone from hot red to cool jazz blue, the audience is vocal. A fine piece of escapism—femmes fatales and lounge lizards—to warm the cockles on a cold rainy evening in midwinter London... Eye contact—a raised eyebrow—with the audience makes those close to the stage complicit. A lucky man is plucked out of his front row seat to dance with one of the beautiful girls for an encore. There is always an encore.
Reviewer: Vera Liber