The Alchemist
Ben Jonson
Red Bull Theater
New World Stages
–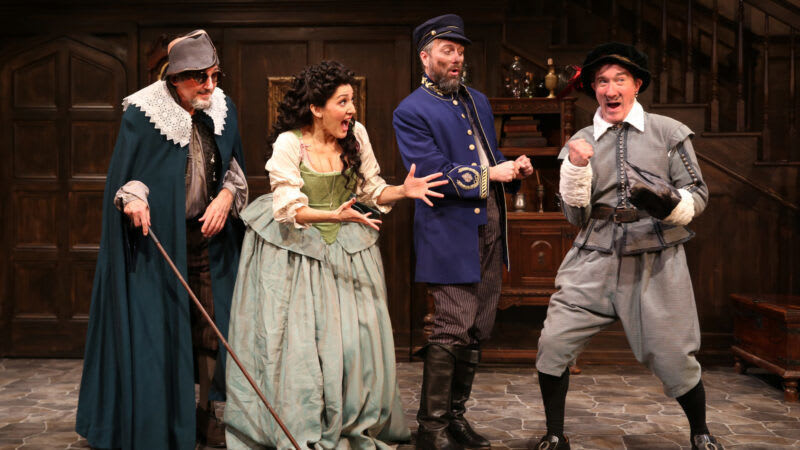 During the course of the pandemic to date, New York's Red Bull Theater has been keeping audiences entertained and creative associates both on- and off-stage in work by presenting regular Zoom readings of the company's stock in trade, classic plays, primarily from Jacobethan and Restoration times.
At long last, the company was finally able to return to an off-Broadway stage at the end of last year with a play to bring a smile to its friends' faces after such a long absence.
Set in historical plague times, with masks de rigueur, Ben Jonson's farce about Jacobean hustlers is a perfect choice for these benighted days. The plot is simple. A trio of con artists including the resident butler set up shop in a stately home, while the owner is away.
A note received in the opening moments informs them that they have two hours (conveniently a play's approximate duration) remaining in which to build up a retirement chest (literally) by robbing a regular conveyor belt of gulls, each more stupid than the last.
This presents wonderful opportunities for even the most seasoned actors to get audience members rolling in the aisles. The last production at the National Theatre featured a stellar cast led by Simon Russell Beale, Alex Jennings and Lesley Manville no less.
Their counterparts for Red Bull play off each other perfectly and create unforgettable characters, Manoel Feliciano playing Face, Reg Rogers as Subtle and Jennifer Sánchez taking the role of Dol Common.
Somehow, in what eventually descends into an uproarious farce, the trio managed to maintain sanity at the same time as running rings around greedy capitalists and even a nonconformist priest, all only too keen to get rich quick, even believing that old alchemist's saw that base metals can be turned into gold. It then takes a rich, beautiful young widow to turn the plot into comedic gold.
This adaptation by Jeffrey Hatcher puts more than a veneer of today's themes and interests over the original play, which might offend some purists but certainly ensures that the laugh count is very high. It also reminds us that many of the faults in society today, not to mention the need to survive in plague times, are merely repeating historical issues 400 years ago.
Once again, Jesse Berger and his Red Bull company are to be applauded and thanked for offering their return to the stage to fans around the world via free online service.
Viewers should be aware that the filming was not intended for public release but is still easily good enough to convey the atmosphere and spirit of the live show and ensure a good time in what the publicist has not too outlandishly promoted as "A Side-splitting, Screwball FARCE of Magical Proportions."
Given the costs involved and to ensure that we can all enjoy the company's delightful productions in future, visitors are urged to sign up for the video then, either before or after watching, make a modest donation somewhere close to the suggested sum of $25 per ticket.
Reviewer: Philip Fisher