The Border Game
Michael Patrick and Oisín Kearney
Prime Cut Productions and Lyric Theatre, Belfast
Lyric Theatre, Belfast
–

Listing details and ticket info...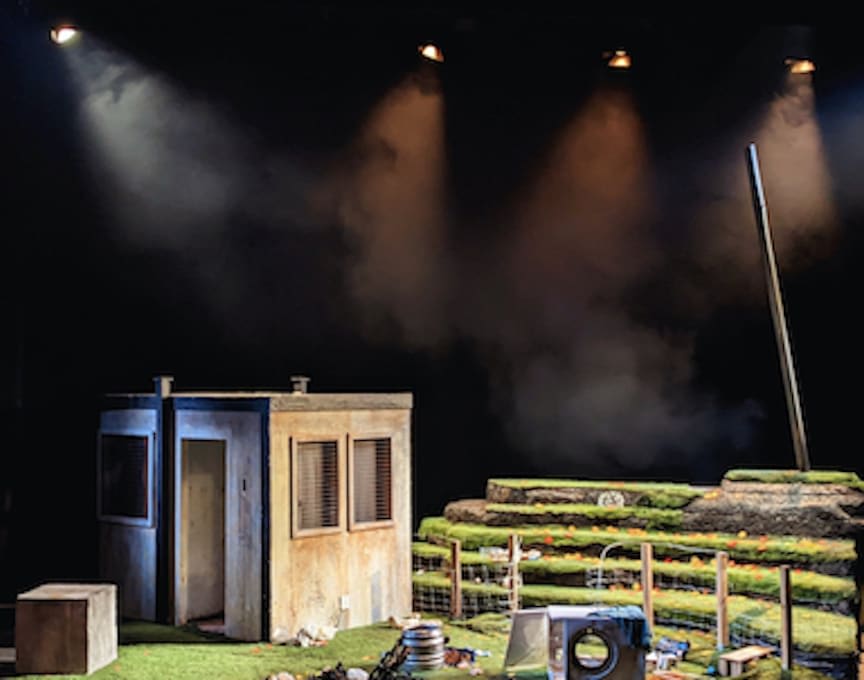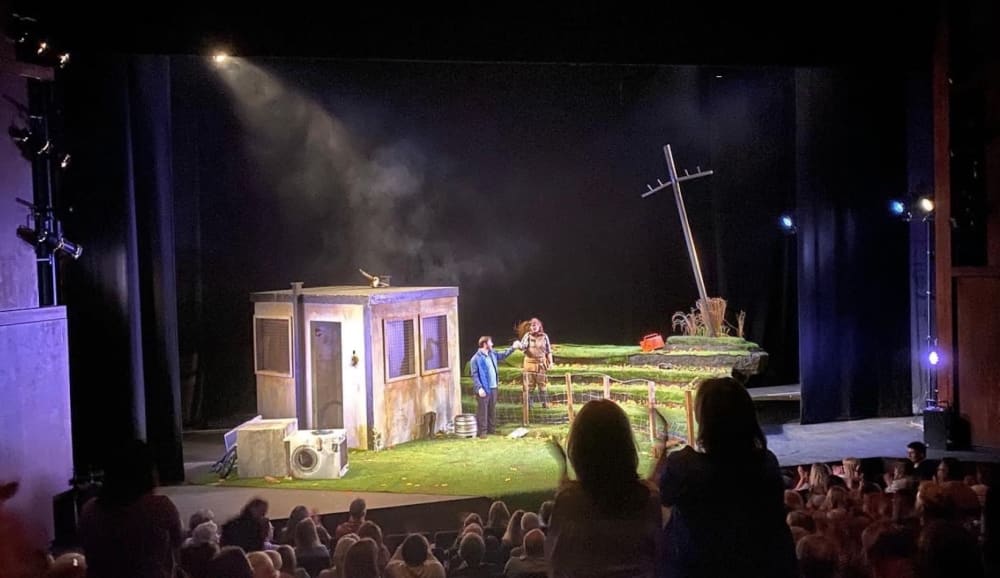 The return of Michael Patrick and Oisín Kearney's The Border Game to the Lyric Belfast ahead of an extensive tour on both sides of its titular boundary ushers in an autumn season at the venue spotlighting Northern Irish talent.
Something remarkable is happening in Northern Ireland's theatre. Following the seismic shock of the pandemic that closed venues across the region to compel a migration online, a new generation of writers and directors is emerging alongside more established talents, all with much to say and, excitingly, the means to say it.
First seen in October last year, The Border Game's return comes as the Lyric's acclaimed revival of Brian Friel's Translations, co-produced with Dublin's Abbey Theatre, is nearing the end of its runs in Ireland's twin capital cities and its ensuing tour. In the offing in the run-up to Christmas is new work by Clare McMahon, Conor Mitchell, David Ireland, Paul McVeigh, and long-standing local favourites Paul Boyd, and the Conor Grimes-Alan McKee duo.
Best known for their award-winning stage play and three-part television series My Left Nut, Patrick and Kearney's The Border Game draws on interviews with those who lived in the violent hinterland of Ireland's artificial borderline, which last year marked its blood-soaked centenary.
One year on, it remains timely and, in the light of current debates about the equally divisive, Brexit-obliged 'sea border', bitingly topical, Emma Jordan's adroit, wonderfully detailed revival feeling leaner, tighter and more pointed.
Returning to the role of Henry, a Protestant shopkeeper whose relationship with Catholic farmer's daughter Sinead doesn't survive his father's murder by the IRA, Patrick McBrearty delivers one of the finest performances of his career. Filtered through past pain and plaguing present anger and anguish, it has considerably deepened to become more subtle and searing, capable of stoking up laughs aplenty before hitting home with well-timed, gut-wrenching punches to the stomach.
Stepping in for Liz Fitzgibbon's Sinead, Cat Barter proves a conducive foil to McBrearty's former lover in a performance of tenderness, feisty wit, sinewy strength and heart-rending poignancy.
Told with typically sardonic Northern Irish humour, The Border Game is a vital commentary on a century of unnecessary division and hurt, a play in which head and heart are given equal rein to illuminate the cost of cartographers' arbitrary marks and the bloody violence that they provoked.
It's a sharp, sensitive piece of writing, as barbed as the wire fence that cuts across Ciaran Bagnall's blasted heath of a set, complete with a ghosting Godot-like telegraph pole that balefully mimics an empty crucifix. Less cluttered than before, it is all the more starkly eloquent for it.
Following its short Lyric reprise, the production will tour to 10 venues throughout Ireland between August 31 and October 1.
Reviewer: Michael Quinn