The Brothers Size
Tarell Alvin McCraney
ATC
Young Vic Theatre
–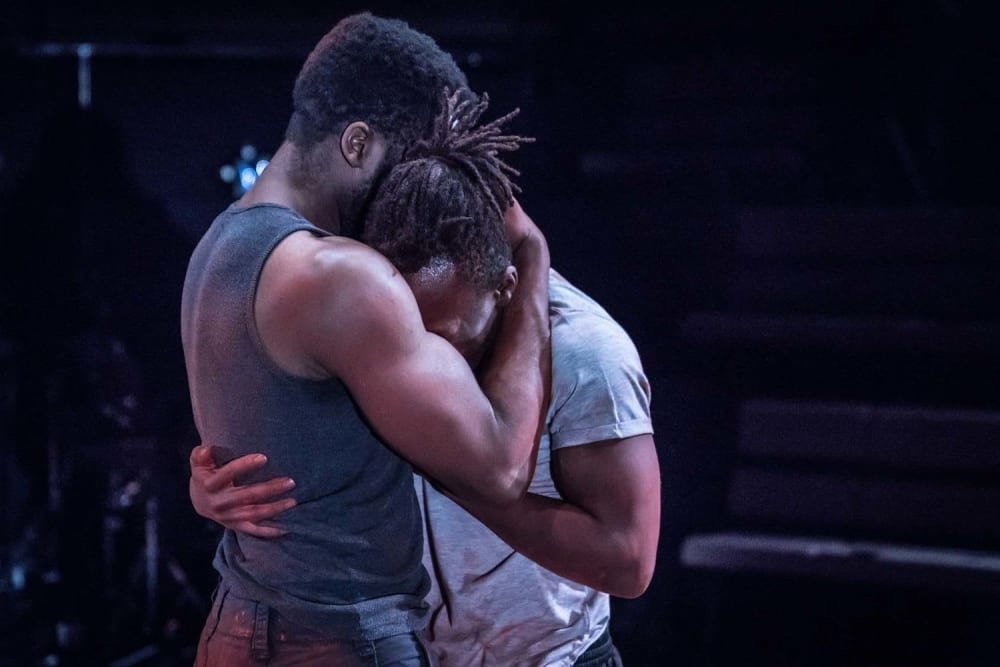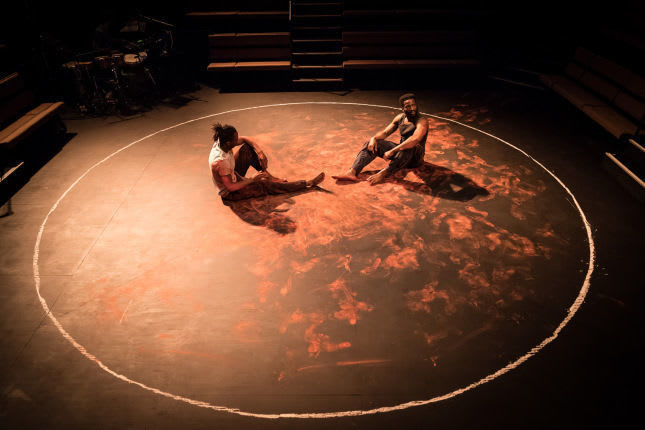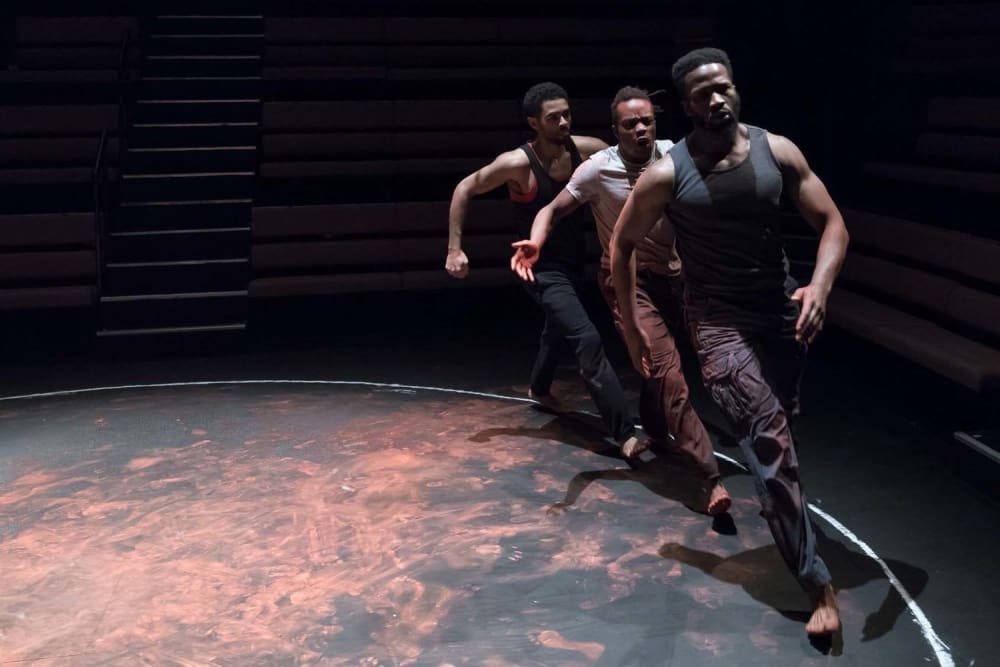 Such was the impact of Tarell Alvin McCraney on the London theatre scene first time around that it is hard to believe The Brothers Size first appeared at the Young Vic 10 years ago.
Not only did it launch the career of a fresh new voice in theatre (now best known for scripting the award-winning movie Moonlight) but this was also the breakthrough production for director Bijan Sheibani, who returns with this new version co-produced by ATC.
The staging by Patrick Burnier makes its own statement, placing the three actors and live sound designer / producer Manuel Pinheiro in a kind of towering amphitheatre that might easily bring to mind a bullring. That impression is compounded when, as an opening salvo, the actors create a playing space within a drawn circle of white chalk in which symbolic red dust is sprinkled and soon covers them.
For a little more than 80 intoxicated minutes, we witness dramas apparently drawing on Yoruba mythology and surrounding Ogun and Oshoosie Size, respectively played by Sope Dirisu and Jonathan Ajayi as well as the latter's pal Elegba, Anthony Welsh.
It can take time to tune in to the rich, poetic language of Louisiana, which probably borrows much from Creole. However, viewers will fairly quickly take on board the fact that big Ogun Size runs his own car repair business and is an upstanding responsible member of the local community. By way of contrast, younger brother Oshoosie is a lazy wastrel who was only recently been released from prison and is still on parole.
The interactions between the two are typical of any brothers with similar attributes, each frustrating the hell out of the other, while very clearly harbouring a sense of love and devotion bordering on dependency.
Oshoosie seems the kind to get straight back into trouble unless his older brother can provide support. The likelihood gets far closer to certainty when he starts hanging out with Elegba, the friend that he made while incarcerated and a bad influence if ever there was one.
Not only does shady Elegba prey on Oshoosie's lazy tendencies, he also has far too many good ideas for making a quick buck, most of which require his friend's help, car and most of all an idiotic willingness to risk his freedom.
The tale that develops seems to be heading for an inevitable conclusion, although, in the nature of the storytelling traditions from which it descends, there is a twist in the tail that adds considerable pathos and depth to the evening.
As was the case in the wake of its original staging, The Brothers Size is likely to be best remembered for some lively performances, novel staging and the language. In particular, the quick-fire interactions and breathless pacing make for a challenging but rewarding evening that is very different from anything else that has been seen on the London stage in recent years.
Reviewer: Philip Fisher