The Cane
Mark Ravenhill
Royal Court Theatre Downstairs
–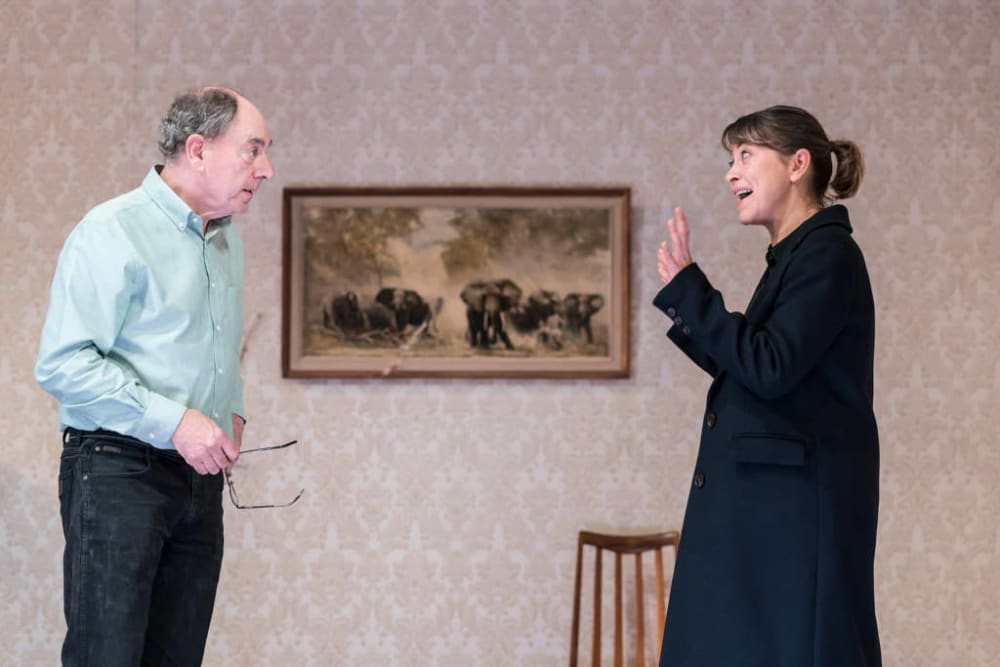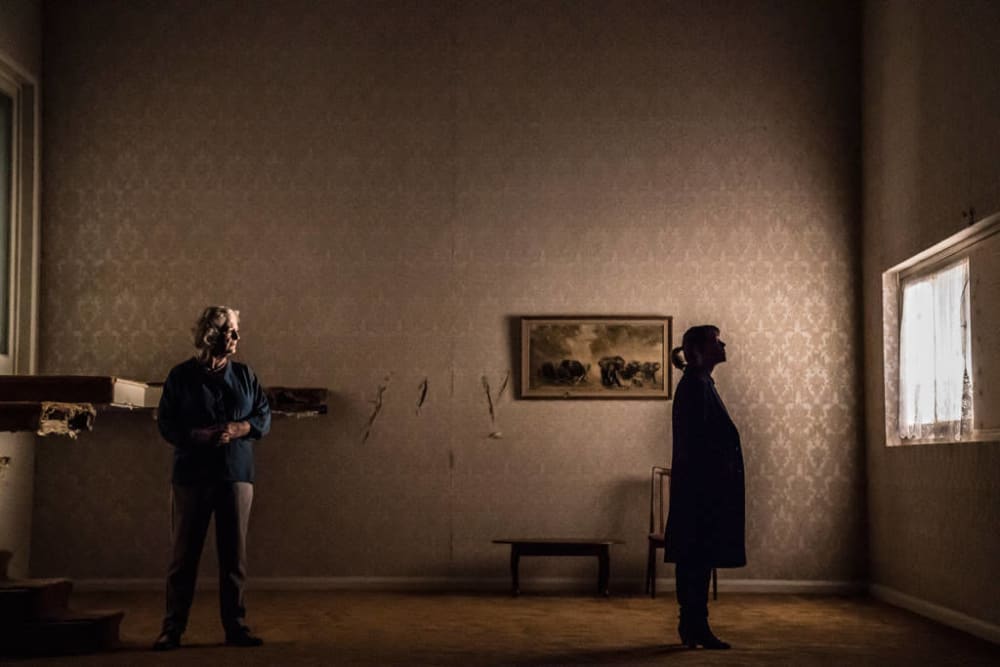 On the surface, The Cane is a simple family drama about a latter-day Mr Chips played by Alun Armstrong, who is about to retire after 45 years teaching in a failing comprehensive school.
The 1¾-hour drama, directed by the theatre's Artistic Director Vicky Featherstone, is played out in his Chloe Lamford-designed, symbolically collapsing living room, decorated with nothing other than a painting of an equally symbolic herd of rampaging elephants.
What should be a happy time as Edward and Maggie Steed as his wife Maureen, a retired teacher herself, receive plaudits from grateful pupils from across the generations and fellow teachers has somehow become a nightmare peopled by vigilantes.
When Nicola Walker in the role of their daughter Anna, yet another educationalist, makes a rare visit to the parental home, she immediately discerns that something is badly wrong.
A smashed window and a mob of unruly children besieging the house hardly seem the likely precursor to the prospective happy pageant of farewell, scheduled for the following Friday, in reality as likely to take place as a "meaningful vote" in the British Parliament this year.
Slowly and often painfully, the trio reveal and pick at layer after layer of previously hidden history, both amongst themselves and at the school.
Anna had been an unruly, literally axe-wielding child, possibly fired up by harsh treatment from her schoolteacher parents. At the same time, despite firm objections in his student days, Edward had become the school's deputy head, which came with the dubious responsibility of administering the cane to badly behaved boys—and it was always boys.
While his conduct was relatively humane and far from the atrocities of Tom Brown's Schooldays, with the benefit of hindsight, it clearly has become the kind of issue that 'snowflakes' delight in highlighting and grazing on today, however unfair their tormenting views might be.
A family power struggle also develops, primarily engendered by educational issues. While Maureen is very protective of Edward, Anna has a different agenda, which only becomes apparent towards the end of the play.
She works on behalf of the Academy School system, eager to transform any failing comprehensives such as Edward's into new-fangled Academies, which from the brief description given sound like establishments utilising the brainwashing techniques not so far from those made so famous by George Orwell in 1984.
While there are some comic elements, The Cane is a multi-layered play that looks at education and generational differences as well as the conflicts that occur in most families.
In addition, viewers may well conclude that the surface mood hides some deeper allegorical or metaphorical references to the difficulties created by and faced by our society today and more particularly the mess in which Britain seems to be determined to mire itself.
While there are a number of intriguing issues raised in this sometimes overly-contrived piece and some strong acting, it is not entirely successful with a conclusion that is far less powerful than might have been desirable. Even so, theatregoers interested in exploring the way that populism is beginning to re-shape society might well sharpen up their views following a visit to Sloane Square.
Reviewer: Philip Fisher