The Comedy About a Bank Robbery
Henry Lewis, Jonathan Sayer and Henry Shields
Mischief Theatre
Leeds Grand Theatre
–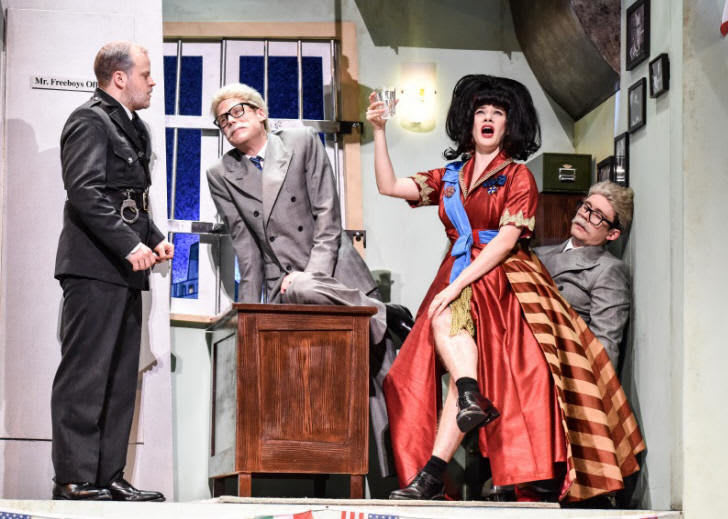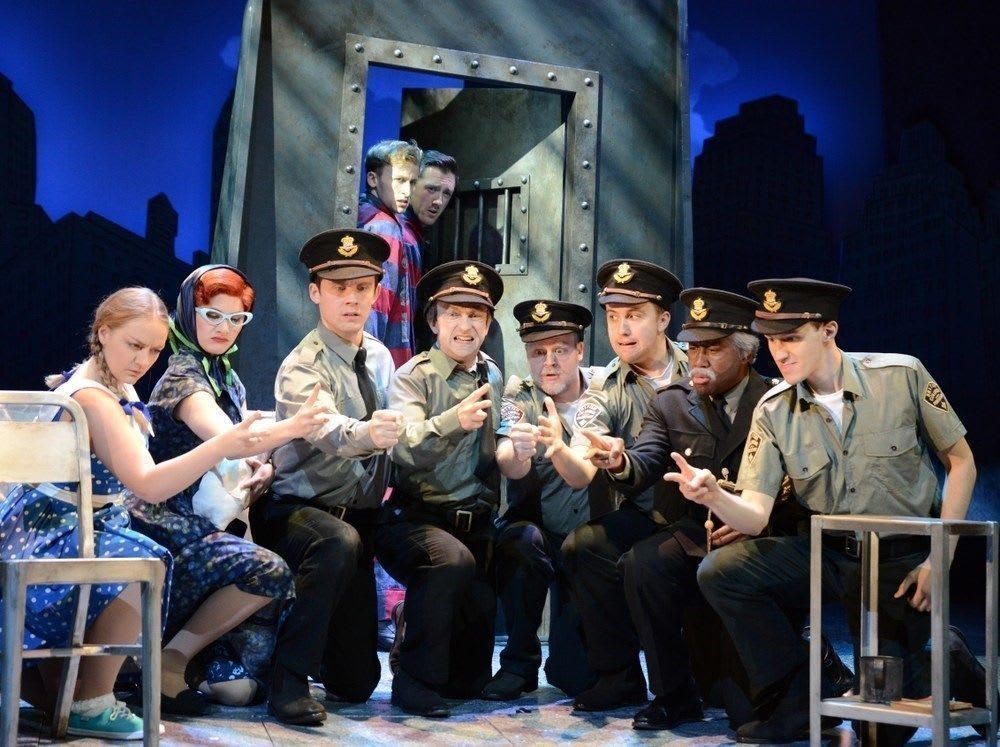 In the space of a decade, Mischief Theatre has become one of the UK's most popular and bankable theatre companies. From humble beginnings performing in pubs (and wardrobes!), the company has mounted a series of huge crowd-pleasers in the West End. Its third production, The Comedy About a Bank Robbery, was first staged at London's Criterion Theatre in 2016 and is now hitting the road on its first nationwide tour.
The Comedy About a Bank Robbery represents a pleasing change of direction for Mischief Theatre. Whereas their previous shows—The Play That Goes Wrong and Peter Pan Goes Wrong—portrayed amateur theatricals falling apart in a Noises Off style, their third show has an original narrative, albeit one cobbled together from various American B movies and pulp thrillers.
Set in Minneapolis in the late fifties, the action of the play centres on a city bank managed by Robin Freeboys (Damian Lynch), a silver-haired eccentric with a booming voice, who torments his sexagenarian lackey Warren (Jon Trenchard) on a daily basis. Imagine Basil Fawlty and Manuel, only thirty years later.
The action of the play is propelled by a delightfully convoluted diamond heist that has been concocted by Mitch (Eddy Westbury), an escaped criminal with a chip on his shoulder. He's helped by a motley crew of wrong 'uns, including a corrupt police officer with theatrical leanings, a femme fatale who exploits men for their cash and a young pickpocket with potential for better things. Needless to say, things don't go according to plan.
I watched The Play That Goes Wrong for the first time this year and I was bowled over by the production's wild comic energy and ingenuity. It was so much fun, in fact, that I doubted whether Mischief Theatre would be able to match their earlier success. How wrong I was! I'm happy to report that The Comedy About a Bank Robbery is every bit as good as their earlier Olivier Award-winning hit.
Mischief Theatre is determined to reduce their audiences to a quivering jelly and they achieve this in grand style with The Comedy About a Bank Robbery. The company is filled with tremendous farceurs who display tremendous comic timing and physical daring. My favourite sequence, a bedroom scene in which Caprice (Julia Frith) must conceal her new lover from her old one, makes brilliant use of a malfunctioning fold-up bed.
Another moment which rises to the level of genius is a gravity-defying scene where two cast members are harnessed onto a back wall that has been made to look like a bird's eye of the bank office. David Farley's set design is a wondrous mixture of Escher and Robert Lepage.
Devotees of silly comedy need not worry as much of the show's humour derives from the company's predilection for naff jokes, puns, double entendres and quick-fire costume changes.
The Comedy About a Robbery is not perfect by any means. Some of the jokes are stretched beyond endurance and the show is perhaps a little overlong. However, these quibbles are hardly worth mentioning because the show is an absolute blast.
Reviewer: James Ballands