The Comedy of Errors
William Shakespeare
The Roundhouse
–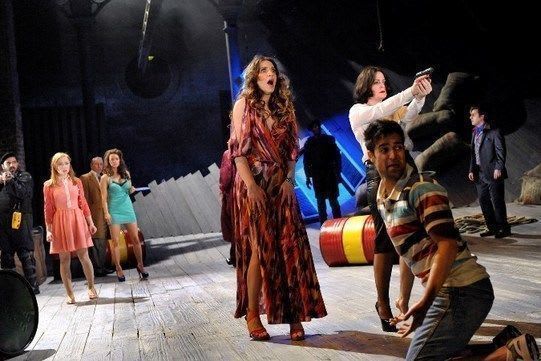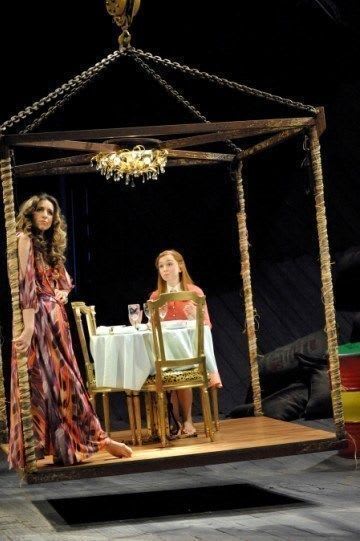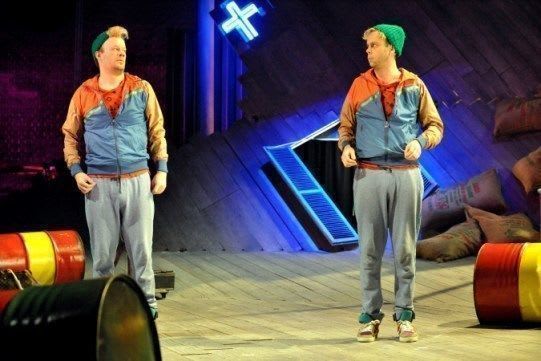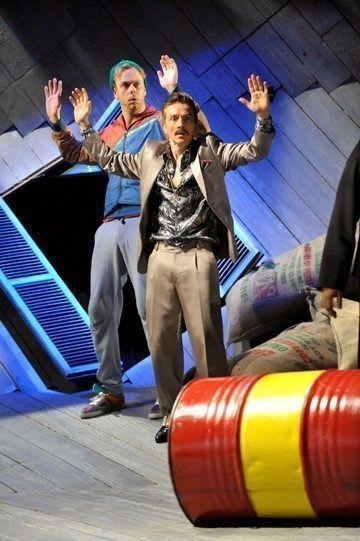 In the hands of Palestinian writer / director, Amir Nizar Zuabi, whose The Beloved has only just closed at the Bush, this is not so much a Comedy as a Carry On Farce of Errors.
This billing of the opening play in what the RSC is calling its Shipwreck Trilogy is not necessarily a criticism, more an observation on a production that avoids subtlety but is often extremely funny as clowning and slapstick come to the fore.
Zuabi has set the drama on a docked ship at the edge of some sinister contemporary Middle Eastern dictatorship. It opens with poor Nicholas Day playing Egeon suffering the first of several painful indignities as he is almost drowned before having to trot out lines with his usual sang froid.
Designer Jon Bausor does a lovely job, aided by a giant crane that brings in props and even people and ensures that the pace rarely lets up for 2¼ hours. Unusually, this is a case of the Mountain coming to Mohammed as the Ephesian Antipholus household and Emilia's nunnery are conjured from the ether along with the tortured Mr Day at the end of his tough evening.
Although the contemporary staging and political undercurrents are similar, this vision is sufficiently different from Dominic Cooke's starring Lenny Henry at the National last year to come across as a very different play.
The errors that fuel the comedy are centred on two pairs of identical twins—or not quite in this case.
The home team of Ephesus has a gibbering clown of a Dromio (henceforth D) Felix Hayes playing servant to a tall, blustering master in Stephen Hagan's Antipholus (A). They respectively look like a typical seventies medallion man and Herge's Tintin, as do their brothers.
The resemblance ends with the clothing and hair, since A of Syracuse in the person of Jonathan McGuinness is a much smaller man than A of E with a sweeter nature. In turn, Bruce Mackinnon as his D has more brains but less belligerence than his spaced-out, rapping brother.
Despite the obvious distinguishing characteristics, everyone in town gets thoroughly confused led by one of the evening's stars, Kirsty Bushell as Adriana, A of E's highly-strung, shrewish missus, and Emily Taafe playing her mousy sister.
Jewellers, tarts and servants suffer from the same delusions in an evening that becomes great fun, if a little strained for some tastes. All comes right at the end, which is really what matters in a comedy.
However, as an introduction to Shakespeare, this could be just the thing since a group of schoolchildren had a whale of a time, probably greatly relieved to discover that the dreaded Bard can be just as funny as their TV comedy heroes. One hopes that they will be back to see and enjoy Twelfth Night and The Tempest, which make up the trilogy and part of the World Shakespeare Festival.
Reviewer: Philip Fisher