The Da Vinci Code
Adapted from the Dan Brown novel by Rachel Wagstaff and Duncan Abel
Simon Friend Entertainment
The Lyric, Theatre Royal Plymouth
–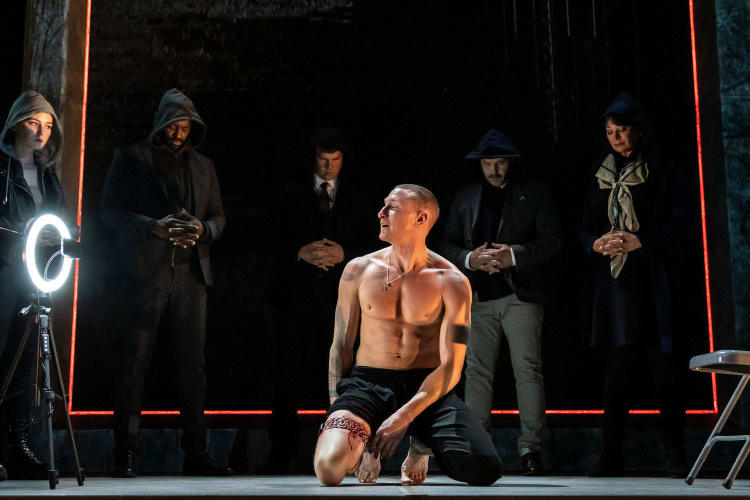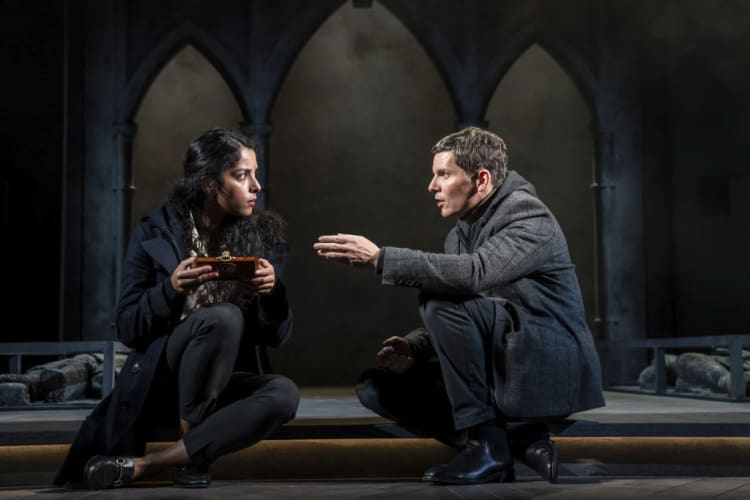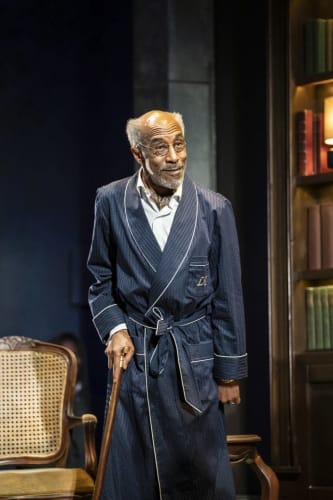 Some 600 pages crammed into two hours (inclusive of an interval) is no mean feat as Dan Brown's multi-million-copy-selling novel hits the stage. The 2003 blockbuster, already an epic Hollywood hit, has been adapted by The Girl on the Train duo Rachel Wagstaff (Birdsong) and Duncan Abel and has earned the author's seal of approval.
Luke Sheppard (The Secret Diary of Adrian Mole Aged 13 ¾: The Musical; What's New Pussycat; & Juliet) sets a cracking pace as nerdy code breakers race about Paris and GB following a not-to-be-scrutinised-too-closely set of weird and wonderful clues to a world-shattering discovery.
Close on their heels are a couple of somewhat inept gendarmes and a self-flagellating monk who will stop at nothing to impress Teacher.
EastEnders bad boy Nigel Harman is solid as the awkward Professor Robert Langdon whose symbology Louvre lecture ends in murder catapulting he and fellow cryptologist Sophie Neveu (Hannah Rose Caton making her UK theatrical debut) into a fast-paced problem-solving frenzy. Their biggest problem is the intense Silas (superbly played by Joshua Lacey) who is beating himself up at failing to find his holy grail.
Anagrams, mirror writing, iconography, religious intrigue, convoluted cryptic clues and symbols hidden in plain sight send them headlong into encounters with the dapper billionaire Sir Leigh Teabing (Danny John-Jules: Death in Paradise and the fabulous Cat from Red Dwarf), his slurky manservant Remy (Alasdair Buchan), strident bank vault staff and more played (and sung) by a talented cast who, when not in character, sit, hooded, brooding on the sidelines.
Off West End Award For Best Designer David Woodhead (Titanic; Nativity! and plenty more) has built a tremendous set. The deceptively simple square translates to art gallery, Westminster Cathedral, aeroplane and cosy manor house with a flick of video designer Andrzej Goulding's switches and Lizzie Powell's atmospheric lighting.
Not having read the book or seen the film may be a disadvantage as there seemed to be some rather massive leaps of faith here and there—and best not to think too much of the fine detail—but actually all quite enjoyable.
Reviewer: Karen Bussell