The Duke in Darkness
Patrick Hamilton
Tabard Theatre, Chiswick, London
–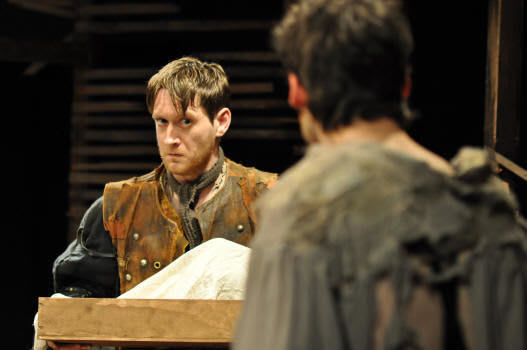 Patrick Hamilton (1904-1962), the English novelist and playwright, is probably best known to theatregoers for two psychological thrillers. Rope, based on the sensational Leopold and Loeb American murder case was a big success in 1929 and has had many revivals, the most recent being at the Almeida with Bertie Carvell in 2009. The Alfred Hitchcock 1948 film was a travesty.
Gaslight, set in Victorian times with a sadistic husband attempts to drive his wife mad, was an even bigger triumph in 1938. Hamilton was always good with the macabre and the sinister and the play was successfully filmed twice: firstly in England in 1940 with Anton Walbrook and Diana Wynyard directed by Thorold Dickinson and then in America in 1944 with Charles Boyer and Ingrid Bergman directed by George Cukor. It was seen on television in 1960 with Louis Jourdan and Margaret Leighton and most recently at the Old Vic in 2007 in a production by Peter Gill with Rosamund Pike, Anthony Woodall and Kenneth Cranham.
In 1941 Hamilton published his novel, Hangover Square, which many people consider his masterpiece. It, too, was made into a dreadful Hollywood film. Fidelis Morgan's stage adaptation was performed at the Finborough in 2008.
The Duke in Darkness, which premièred in 1942 and starred Michael Redgrave and Leslie Banks, was much admired at the time but it was not a commercial success and has not been revived in London until now. Redgrave, who also directed it, thought it was too sombre for wartime audiences looking for escapism. Six days later, John Gielgud's legendary revival of Oscar Wilde's The Importance of Being Earnest opened with Edith Evans's definitive and much imitated performance as Lady Bracknell.
Hamilton's play, a psychological thriller in medieval costume, is set in 1580 during the French Civil Wars and opens with a game of chess. The Duke, who has been imprisoned in a castle for 15 years by his enemy, has been feigning blindness as part of his long-term plan to escape. But will he not give himself away? Can the spy who offers to help him be trusted? And what is to be done with the Duke's loyal servant who has gone mad and is liable to betray them?
The Duke and his servant are bravura roles offering opportunities for old-fashioned barnstorming performances in a large theatre. Redgrave's performance as the neurotic servant was hailed his best to date. The producers in 1942 had wanted to stage it at His Majesty's Theatre.
The dialogue is somewhat prosaic. It all needs to be more vigorous and operatic in a Victor Hugo and Frederick Schiller sort of way. There is a moment when the Duke launches into a speech calling for resistance to oppression which is undiluted wartime propaganda and its Winston Churchill-like resonance would most certainly have not been missed by audiences 70 years ago.
The present revival, adapted by the actor-playwright Orlando Wells and directed by Phoebe Barran, has a programme note by the producers which suggests that the Duke and his servant were long-time lovers, but since Hamilton was living in an era when homosexuality was illegal, he could not be explicit; but, having made the point, there is, oddly, nothing homoerotic about the characters as acted by Michael Palmer (noble Duke) and Jamie Treacher (deranged servant), who are very good and very wisely realize the production does not need a homosexual subtext.
What the production does need, however, is some rethinking about the staging of the play's final moments.
Reviewer: Robert Tanitch