The Edge of Our Bodies
Adam Rapp
Gate, Notting Hill
–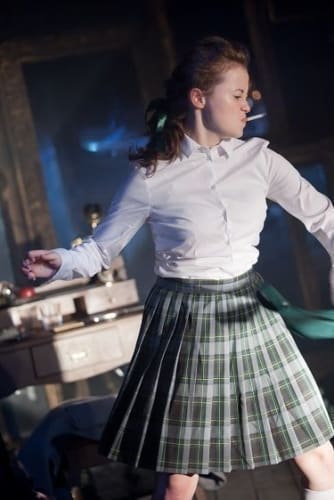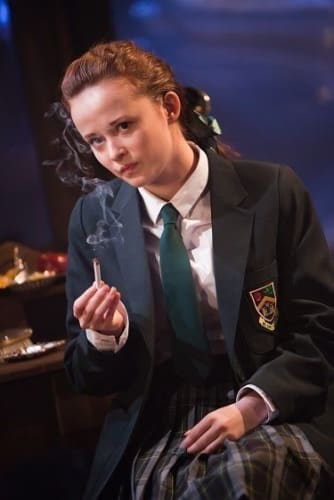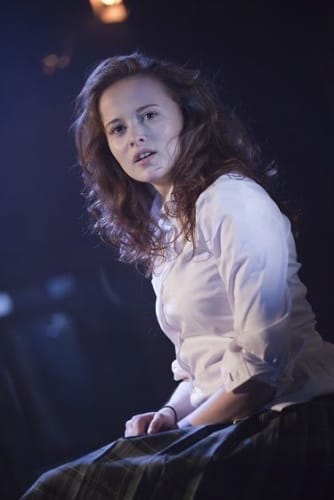 Unless you are, or have been, a bright, 16-year-old preppy girl from Connecticut, it would be impossible to be certain about how faithful the depiction in The Edge of Our Bodies really is.
To a British man, Adam Rapp's poetic 80-minute monologue rings very true, deserving comparisons with the likes of Brett Easton Ellis or Neil Labute. Strangely, it is harder to find female playwrights to benchmark against—perhaps Kathy Acker?
On an atmospheric set, recently used for a college production of Jean Genet's The Maids, backed by numerous mirrors and lined with gladioli, Shannon Tarbet plays Bernadette, reading her possibly fantastic (in the literal sense of fantasy) journal to a rapt audience.
She delivers an immaculate performance, impeccably directed by the Gate's Artistic Director Christopher Haydon.
After playing hooky from her swanky Newhaven school, the youngster takes the train to the bright lights of the big city, making pertinent and at times caustic observations about those that she comes across.
Much happens in a short time, though the writing never descends into the clichés of soap opera, even if no marriage remains intact and every schoolgirl including the protagonist enjoys (if that is the right term) a pregnancy.
After her train journey with its sleazy voyeuristic men and a failure to meet her narcissistic boyfriend, Bernie communes with Michael's dying dad Wayne, an academic. The meeting inevitably provokes thoughts of the elemental certainties of this world, life and death.
Wayne's presence is appropriate in a play that is characterised by a series of casually dropped but artistically relevant literary allusions, with The Maids the most significant, allowing Miss Tarbet a short release from one character to another.
Perhaps inevitably, the teenager is picked up by a duplicitous stranger in a Greenwich Village bar though their night in a hotel does not come to a predictable conclusion.
A destructive phase changes the tone before an ending that is also not what one might have been anticipating.
Shannon Tarbet gives an outstanding solo performance as a girl both too old and too young for her years, never letting her grip on the audience let up through an engrossing evening that shines a knowing light on America today.
Reviewer: Philip Fisher