The Father and the Assassin
Anupama Chandrasekhar
National Theatre
National Theatre
–

Listing details and ticket info...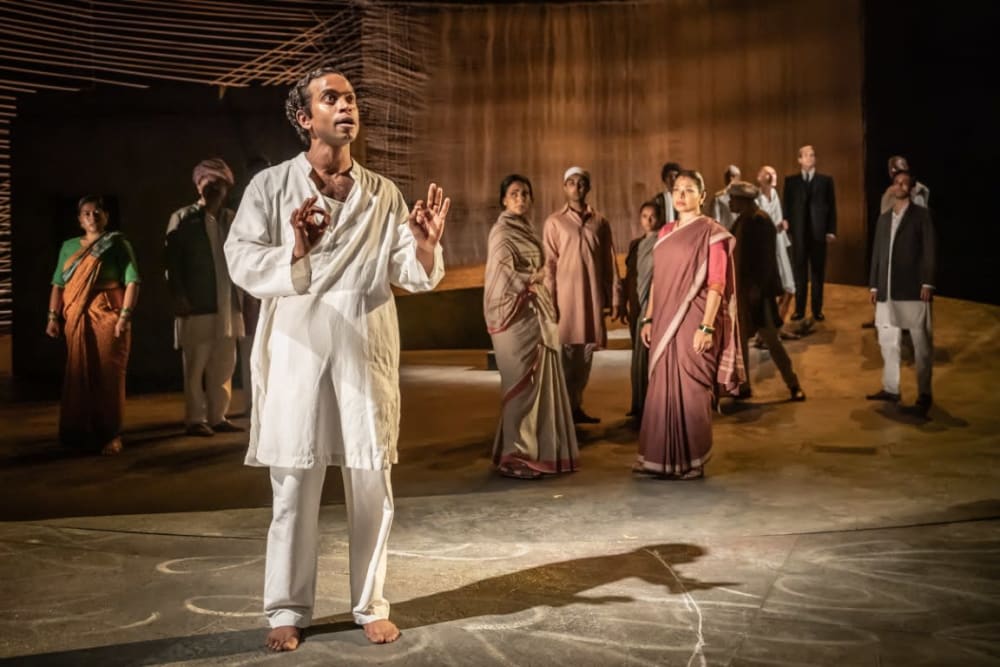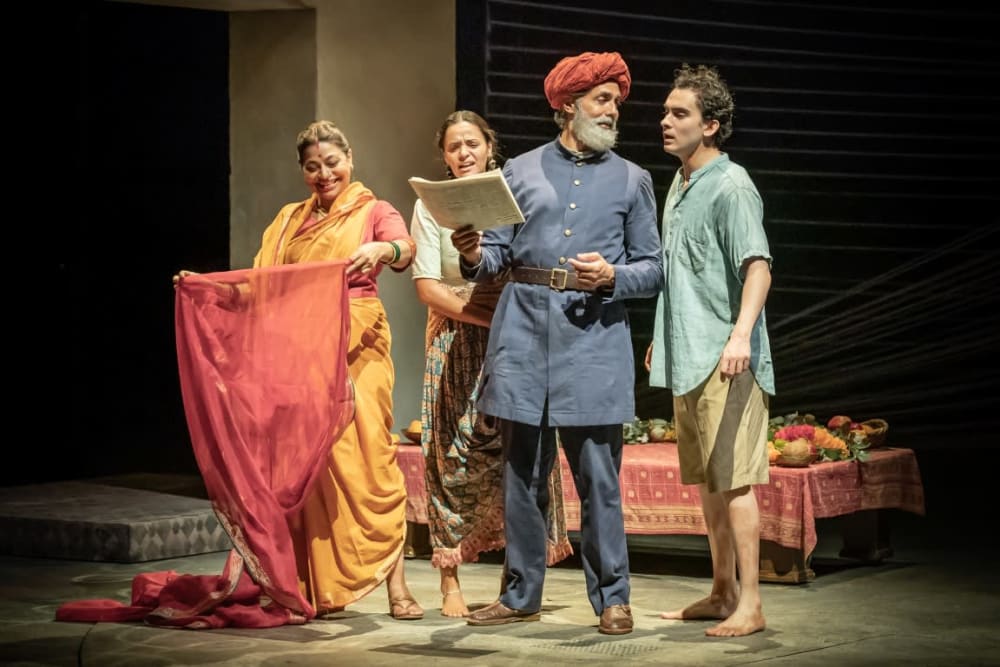 Anupama Chandrasekhar's play about the assassination of Gandhi by Nathuram Godse that was last year given a stunning production under director Indhu Rubasingham now returns to the NT.
Watching it for this first time, I could feel myself being seduced by the delightfully gambolling young Godse, Siddhartha Khosia's score and the graceful movement of Rajha Shakiry's stark set, thoughtfully embraced by fraying khadi, the local hand-spun cloth championed by Gandhi as part of the struggle against British rule.
Whilst I let myself fall for its obvious charms, and overall it is a very easy to watch entertaining play, I also found myself resisting its surface narrative.
By necessity, some liberties have had to be taken with landmark events, and Chandrasekhar's invention has had to fill in the many gaps in our knowledge of the assassin's life, one not worthy of chronicling until he pulled the trigger of a gun pointing at Mohandas Gandhi on 30 January 1948.
By contrast, his victim's every move and word was followed by millions, recorded and analysed, his influence on the world's stage assured and—no matter that his reputation in many spheres is now tarnished—continuing into today's politics.
Putting aside the largely fictional early life of Godse and focussing on the story of his radicalisation reveals something much more satisfying in Chandrasekhar's writing that speaks about human nature and the blurring of lines and which comes laced with a contemporary urgency.
In her portrayal of Godse's life—a disenfranchised young person without opportunity, living in poverty under the oppression of greedy, self-serving masters—we see a radical in waiting.
No wonder that he fell under the influence of the charismatic Gandhi, and a promise of self-government for India, nor that Godse's apostacy would be so extreme when Gandhi—committed to non-violence—denounced his countrymen's aggression in the face of British police brutality as criminal and withdrew the non-cooperation movement.
Godse, left rudderless in need of a new hero to lead India to independence after a decades-long history of unsuccessful unrest, moves with his family to Ratnagiri and an unsatisfying job as apprentice tailor.
As if by fate, there he meets Vinayak Savarkar, living under house arrest, whose appeal must have been irresistible. Chandrasekhar presents Savarkar as belligerent in nature and approach, against Gandhi's spiky good-naturedness.
Ideologically too, he is the opposite to Gandhi, his policy of religious co-existence and satyagraha, peaceful protest. Savarkar advocated armed rebellion in his promotion of independence from the British, which sat alongside Hindu supremacy over Muslims, whom he saw as an earlier occupying conqueror of his country.
His extremism gets no truck under Chandrasekhar's pen, which paints him, somewhat out of context, in Nazi colours, and makes acolyte Godse sitting at his feet absorbing his ugly rhetoric all the more uncomfortable an image.
Expectations were inevitably high for the performance of Olivier Award-winning Hiran Abeysekera, who now plays Godse, and they were both met and surpassed. Alongside him, Aysha Kala shines as Vimala, his childhood playmate, who re-enters the narrative signposting alternative allegiances and choices. Godse though, seeing things through an increasingly nationalist pro-Hindu lens, is set on his own path and unable to consider what she offers.
The Father and the Assassin is a memory play, and, like all writing of that genre, it has something of the unreliable memoire about it whilst also reflecting back something true of the present. Given the exponential growth in nationalism that surrounds us, we ignore Godse's lesson that anyone can become an assassin at our own peril.
Reviewer: Sandra Giorgetti