The Flick
Annie Baker
Playwrights Horizons
Dorfman Theatre (National)
–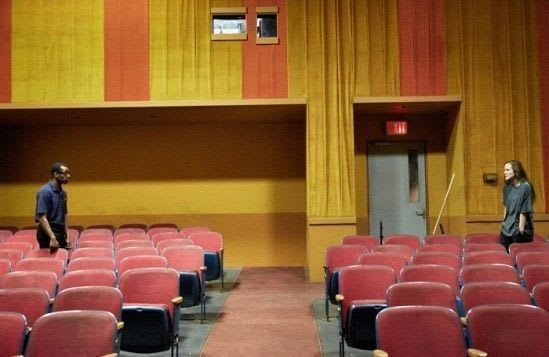 The Flick is an existential comedy in which very little happens. However, it does so beautifully with pauses that even Pinter would not risk and Beckettian nullities abounding.
At Playwrights Horizons and then Barrow Street, the piece written by an American in her early thirties built a big fan base, thanks to great reviews and a Pulitzer Prize.
After warning of the lack of action, it is necessary to observe that in exchange viewers will discover many profound insights into the lives of ordinary folks, a whole heap of movie minutiae and a considerable amount about America today.
The events take place in a failing movie house in Worcester Mass. during the summer of 2012.
For much of the time, we eavesdrop as three disappointed loners clean up the detritus of their microcosmic society and chat about their day-to-day activities during the hours when the punters have vacated the auditorium.
Experienced Sam, played by Matthew Maher knows that his life and career are both at dead ends, while his young protégé, Jaygann Ayeh's Avery is in a different place, filling in time while awaiting a return to college. He however also has a dark, damaged history and uncertain future.
Their common interest is the movies, of which Avery in particular has an encyclopaedic knowledge. Beyond that, their connections lie little deeper than working together and feeling bad about life.
In a romcom, the third main character Rose, Louisa Krause who like Maher created her role in New York, would be glamorous and fit the epithet "love interest". In Annie Baker's world she is an unsmiling redhead, with lank hair that becomes a sickly green in its lower reaches, possibly showing Goth tendencies. She does however make an impact on both men, though hardly through charm, and is a fine, antisocial creation.
On a realistic set designed by David Zinn, Miss Baker's regular director Sam Gold never feels the temptation to up the tempo from its generally pedestrian pace, though it does draw fine performances from his actors.
Initially, the pacing could unnerve audiences but as the evening develops it begins to seem entirely appropriate as a means of demonstrating the torpor and lack of activity in each of the three main characters' empty lives.
While the depiction of ordinary people going about their dull daily business might not sound gripping, more drama is injected after the interval as we witness the symbolic death of The Great American Dream, represented by the 35mm projector. This is replaced by the ubiquitous video and the suggestion that with its arrival the world itself has lost another mark of individuality.
The Flick may be a kind of antidote to the action movies that take place in the movie house itself but this thoughtful and thought-provoking work makes for compelling viewing and will leave spectators moved by the end of the performance.
Reviewer: Philip Fisher