The Flying Lovers of Vitebsk
Daniel Jamieson
Bristol Old Vic, Kneehigh & Wise Children
Bristol Old Vic
–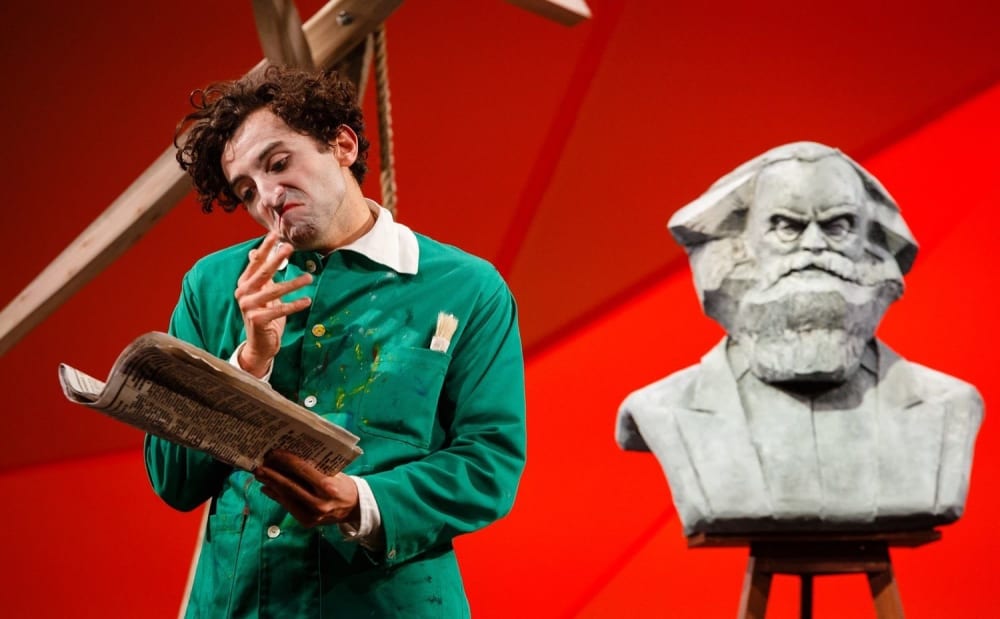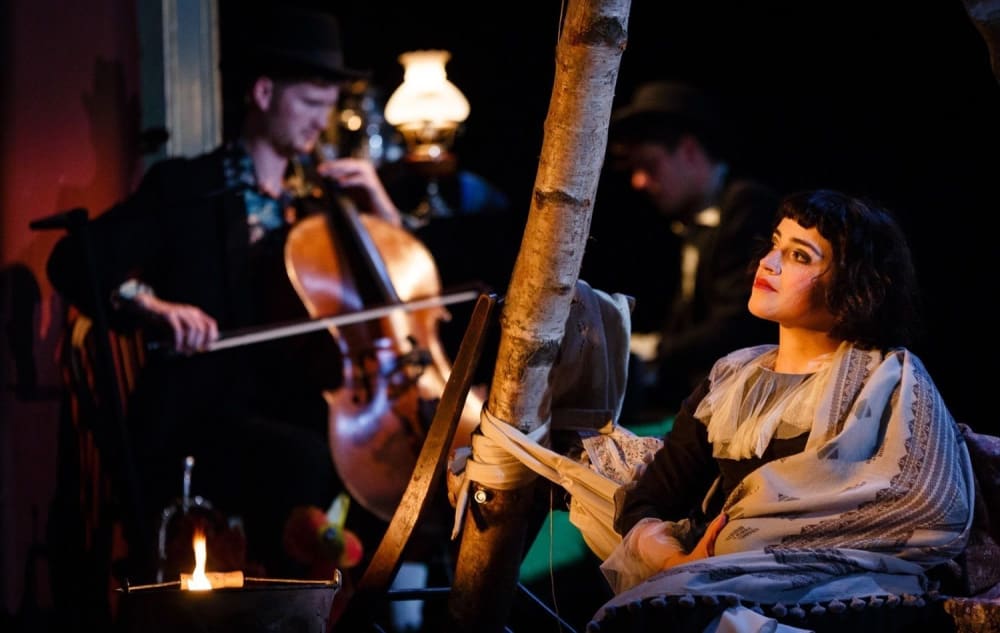 Following the successful live-stream of Romantics Anonymous in September—successful both technically and in the way the company was able to sell tickets to make it financially viable—Emma Rice is back in the auditorium of the Bristol Old Vic, populated only by technicians and their equipment, to introduce us to an online revival of the last production she directed before leaving Kneehigh.
I'm fortunate to have seen this production in person twice, in Edinburgh in 2017 and in Manchester the following year (and jumped at the chance to see it again), but it is a show that can trace its history back to the early 1990s when Rice was working as an actor with Theatre Alibi on a show then called Birthday.
It tells the story of the relationship between the painter Marc Chagall (Marc Antolin) and his wife Bella (Audrey Brisson), from the moment their eyes first met, the well-read young woman who had trained under Stanislavski and the dashing Jewish artist, to its tragic end. It looks at a relationship founded on a shared deep love of art and literature as it encounters real-life issues of marriage, children, work and staying alive.
This central love story is lived against the backdrop of a changing world, as their private world is repeatedly turned over by antisemitism in Russia, the First World War, having to leave their home town, the Russian Revolution, the rise of Fascism in Europe and the hostility of some in the art world to his work.
The show is based on Bella's writings, which documented their life and relationship up to her sudden death. While this doesn't make for a happy ending, it is turned into something moving and hopeful and not at all sentimental that leaves you with a smile, as well as a tear. It is all framed by a telephone conversation that pokes fun at the pretentious critic who describes Chagall's art in dry, academic jargon that means little to the artist.
On a set by Sophia Clist clearly influenced by Chagall's work, the story is told by just two actors, sometimes in Daniel Jamieson's poetic prose, sometimes like a ballet (choreography by Etta Murfitt and Rice) and sometimes like a musical (composer Ian Ross), but somehow Rice marries the different styles together beautifully. Musicians James Gow and Ian Ross also help out with some minor roles and set changes.
Running at just ninety minutes, this show is a thing of beauty that is perfect for home viewing. If you haven't seen it in a theatre, I can certainly recommend it; if you have, you probably want to see it again.
Reviewer: David Chadderton