The Forsythe Evening: Blake Works 1 / Playlist (EP)
Choreography William Forsythe
English National Ballet
Sadler's Wells
–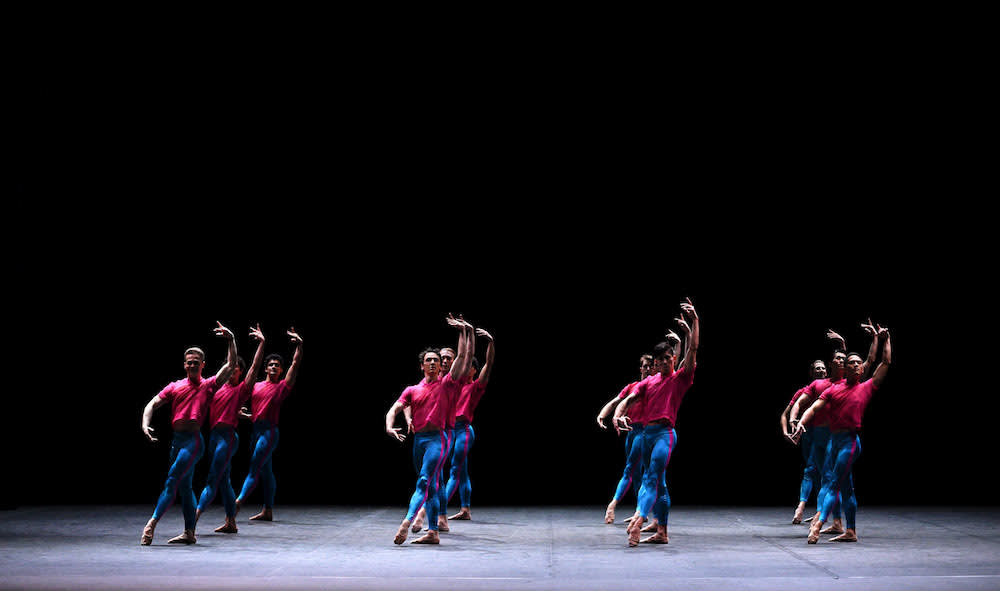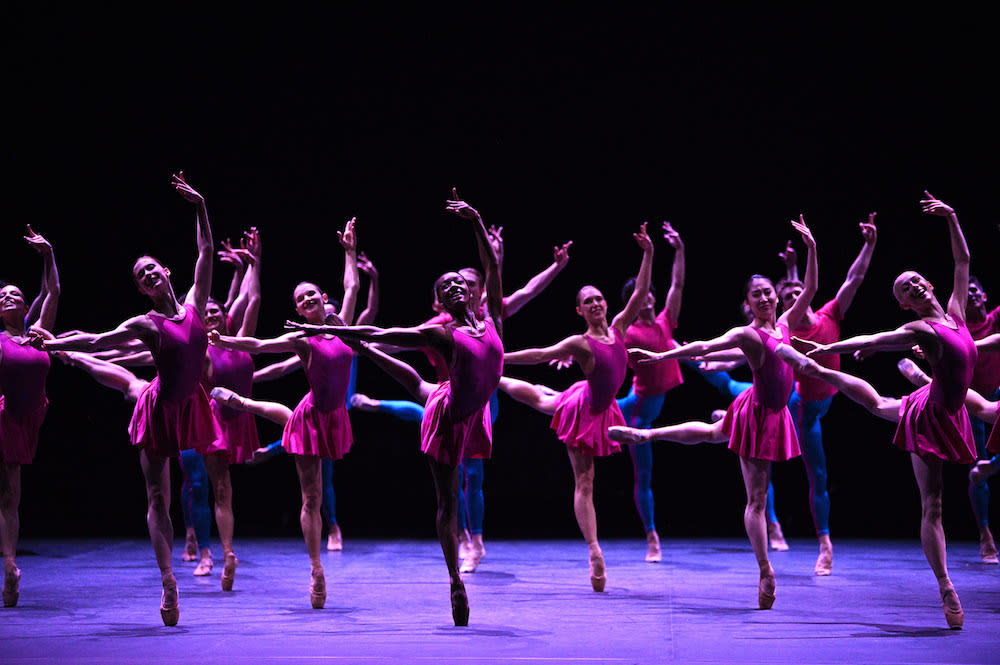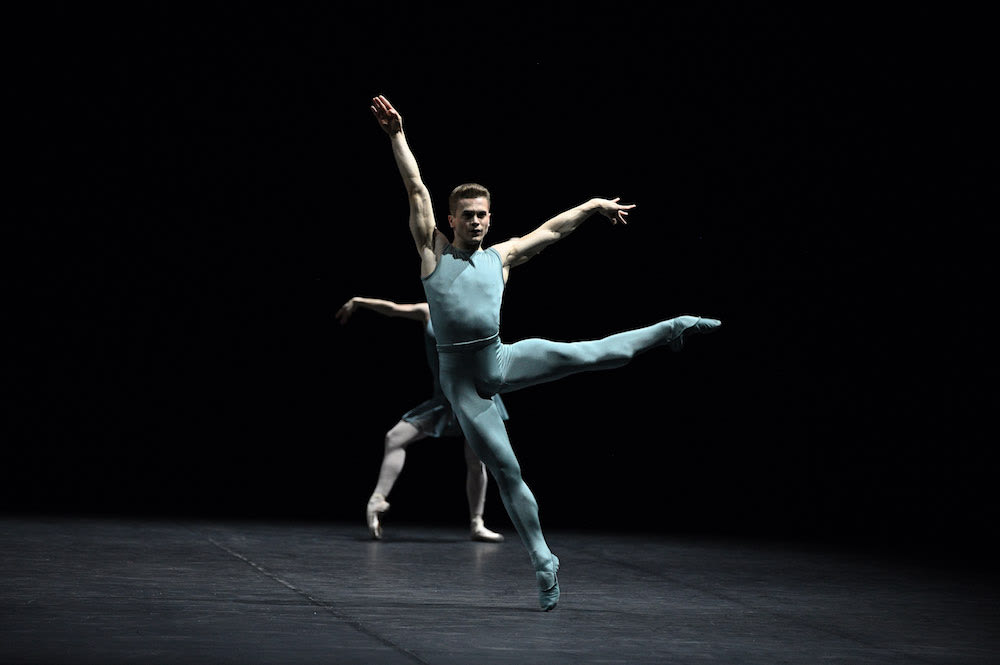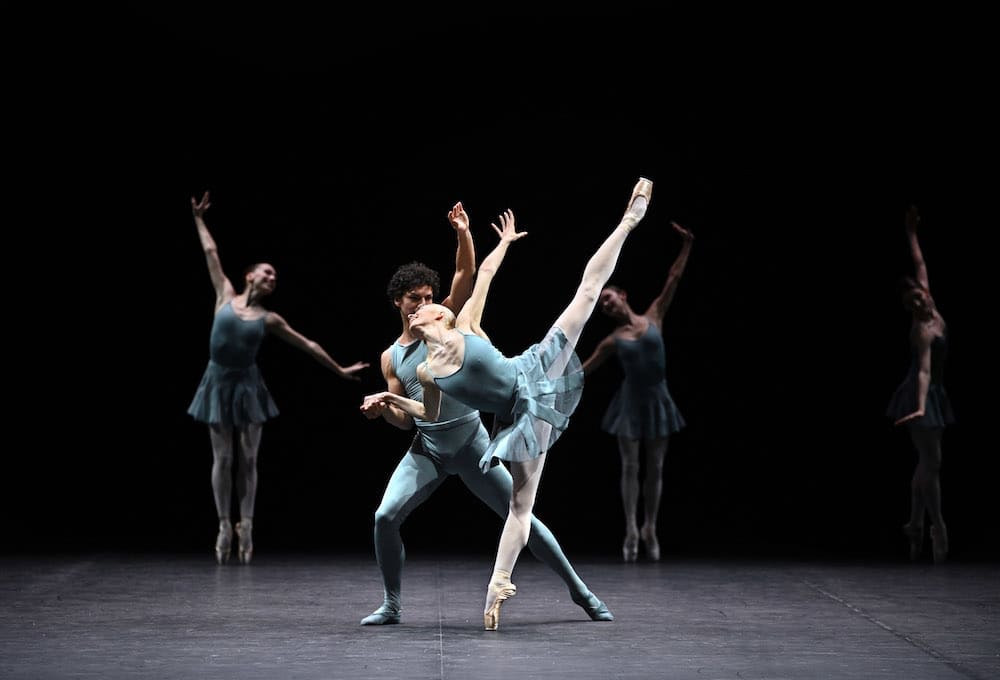 "The style was maybe ballet with a funk influence", says William Forsythe, tonight's choreographer and cheerleader who gets the packed auditorium on its feet to 'party' with the dancers as they take their encores and curtain calls. He is as persuasive as his choreography—if only one were in their league, I'd love to party with him and them. Exceptional interpretations of his choreography, each one of the thirty plus of the dancers deserve the standing ovation—of course it's press night, but I am sure the whole run will resound like this.
Classical ballet refreshed with a quirky, witty, cool, nothing to lose style, and the dancers—my Maths student companion counted thirty-four onstage at the end—seem energised by it. Superlative, athletic, dynamic, with ballon to spare, this is quite a showcase for English National Ballet, too many having a ball on stage to mention, but wow to all concerned. There's no hierarchy tonight. The duets and solos turns are wonderful (James Streeter and Precious Adams, Emily Suzuki and Isaac Hernández, Emma Hawes and Aitor Arrietta, Jeffrey Cirio, Joseph Caley), but it's the group that shines.
Forsythe says he started out dancing in clubs and musicals, studied both classical ballet and Martha Graham technique, and all come together tonight. He also likes the physics of the discipline. "You develop the skills to solve the challenges of centrifugal force and gravity and balance, plus fulfilling all these aesthetic criteria at the same time—it's very, very complicated and I liked that."
I like the geometry and maths, all those lines. The stamina required, the mental and muscle memory, the complexity of his compositions is a wonder to try and grasp, because it happens with such speed and such electrifying energy. How the dancers don't collide I don't know.
A club night for sure—the choice of music is the prime mover. Blake Works 1 set to seven songs from James Blake's album "The Colour in Anything" is moody, romantic—listen to the words—terrific showy solos, dreamy duets and rapidly changing group formations contrast with the prim pale blue traditional ballet leotards. Nothing prim about them tonight, but why is Hernández in black rehearsal tracksuit and trainers? To show crossover is possible? He's out of them pretty sharpish.
Playlist (EP) is an extension of Forsythe's Playlist (Track 1, 2), females have their own teams now in competition with the men's. As the programme notes say, "this dance party just got bigger". Six neo-soul and house music tracks ranging from Khalid and Barry White to Lion Babe and Natalie Cole's "This Will Be An Everlasting Love" have the dancers jumping, athletes all, male and female. The adrenaline is pumping, the joint is throbbing: off kilter, precariously balanced moves, hands cabaret style, loose at the wrist (Rhys Antoni Yeomans has them off to perfection).
Not only dance but Forsythe also does his own stage design, costume with Dorothee Merg, lighting with Tanja Rühl, his hand very much on the tiller. He says he wanted to make this programme a celebration, he has. Classical ballet class centre work, Balanchine, and American vernacular showstoppers, blend blissfully in his egalitarian style.
All very showy, the great leaps, twists, dazzling pointe work, feet barely touching the ground to percussive beats. Infected by a dancing mania under Forsythe wizard control, it's both a fiesta and a competitive sports arena.
The evening is short (80 minutes), only two complementary pieces—there was to have been Approximate Sonata 2016 too but COVID scotched that—but what a result. It leaves us on a high wanting more. It's an end of term party, here's the crème de la crème. Don't miss it, we all need some cheer right now.
Reviewer: Vera Liber