Voices of America: Fantastic Beings / Approximate Sonata 2016 / The Cage / Playlist (Track 1,2)
Choreography Aszure Barton, Jerome Robbins, William Forsythe
English National Ballet
Sadler's Wells
–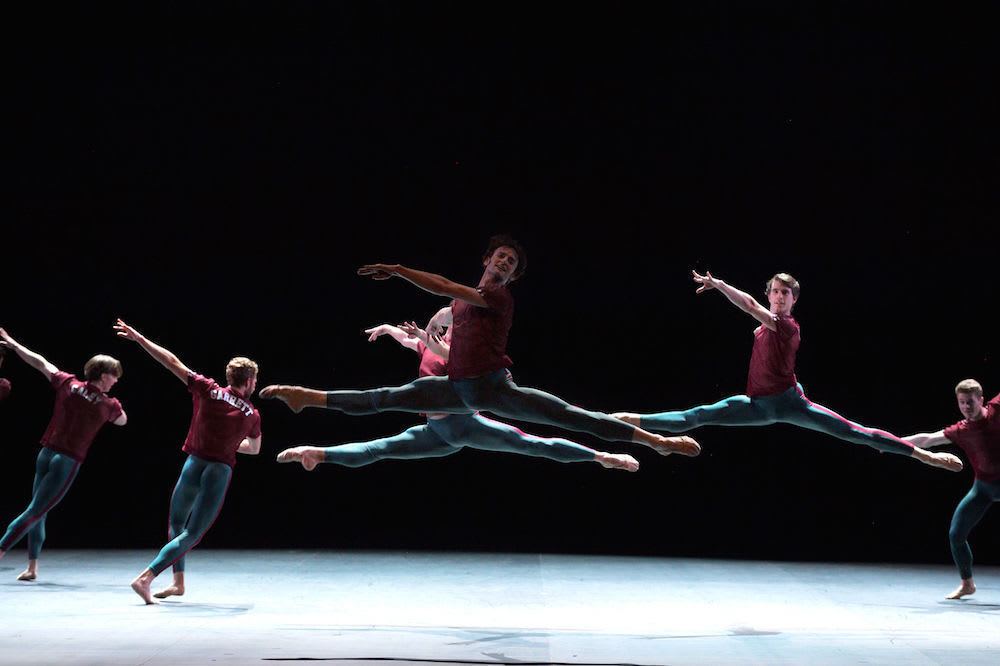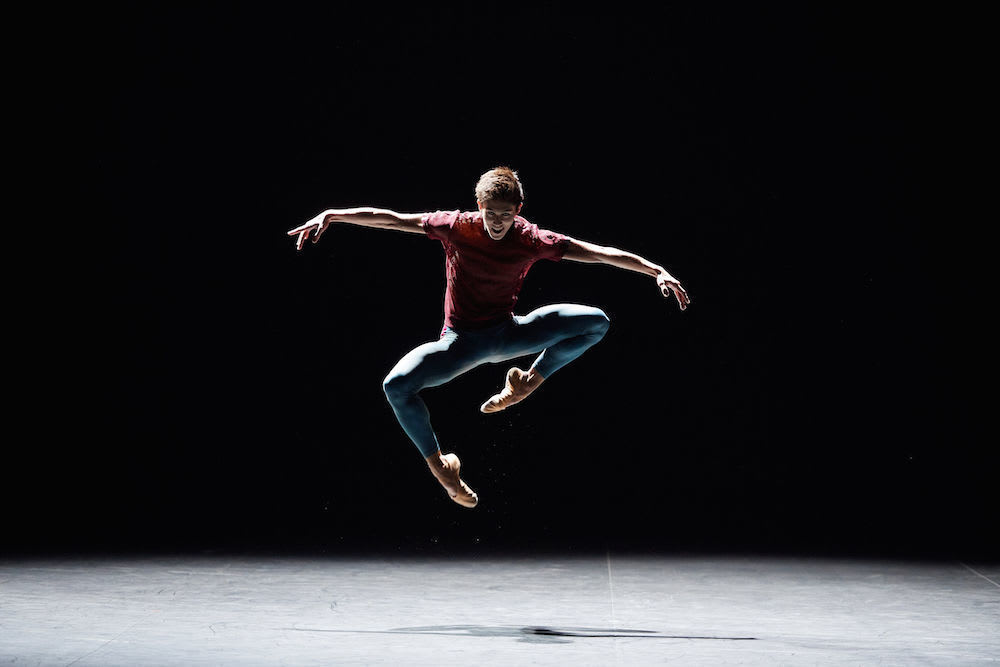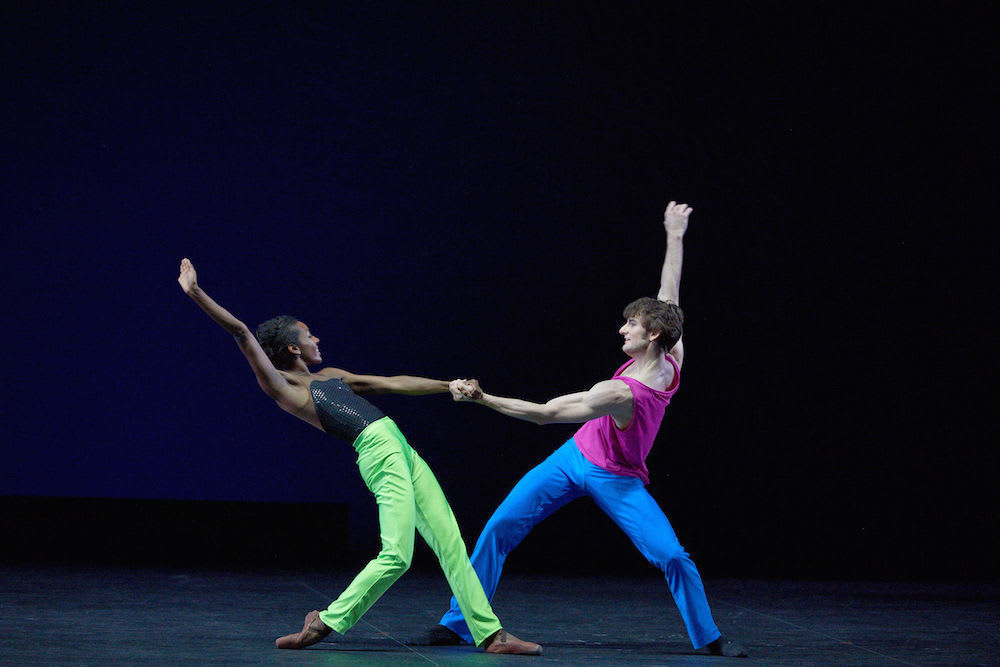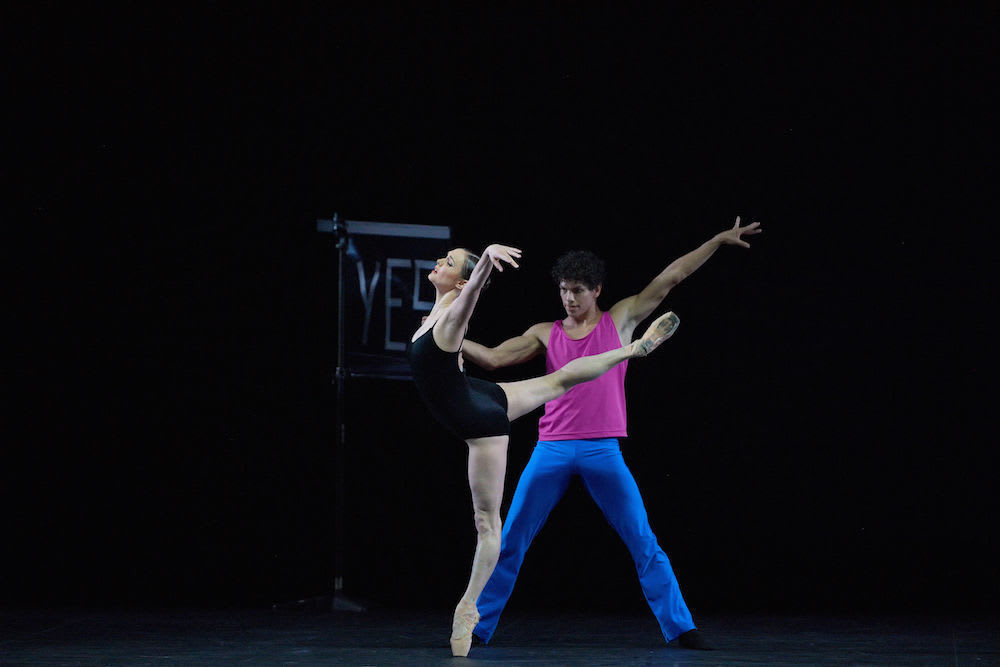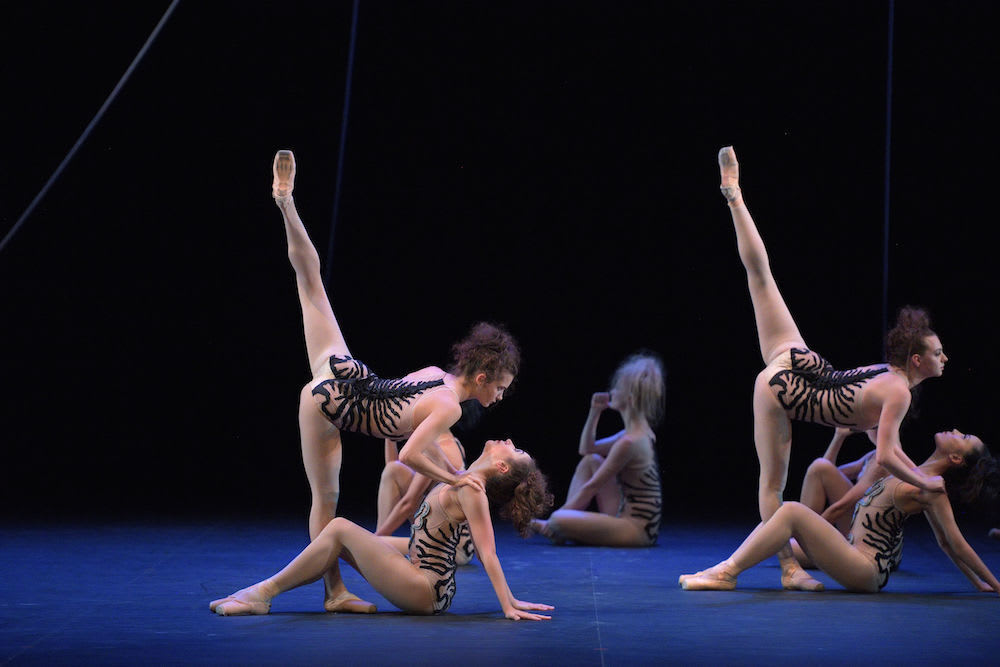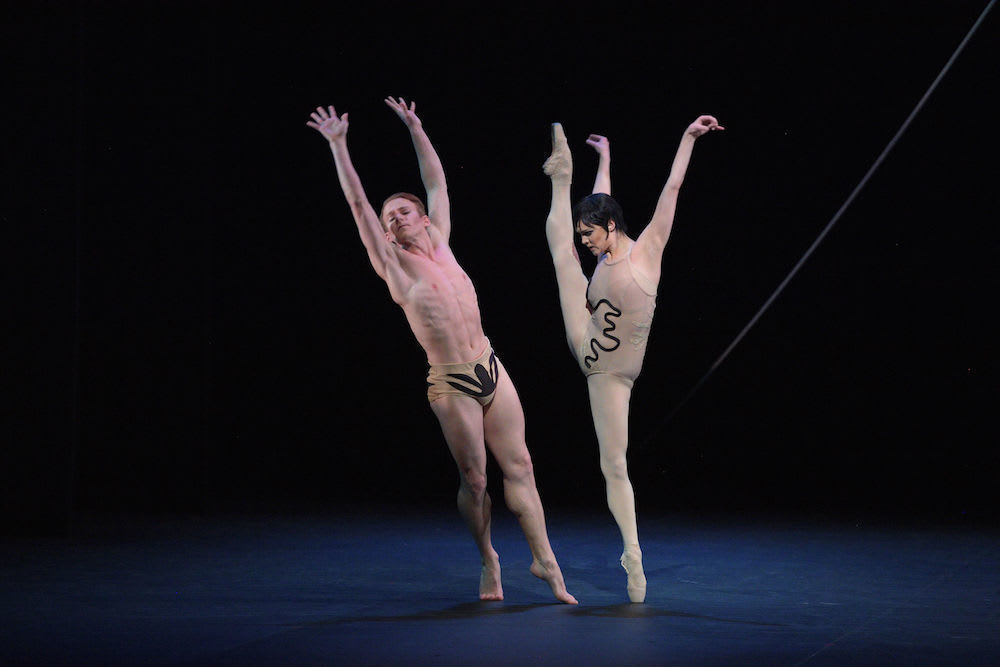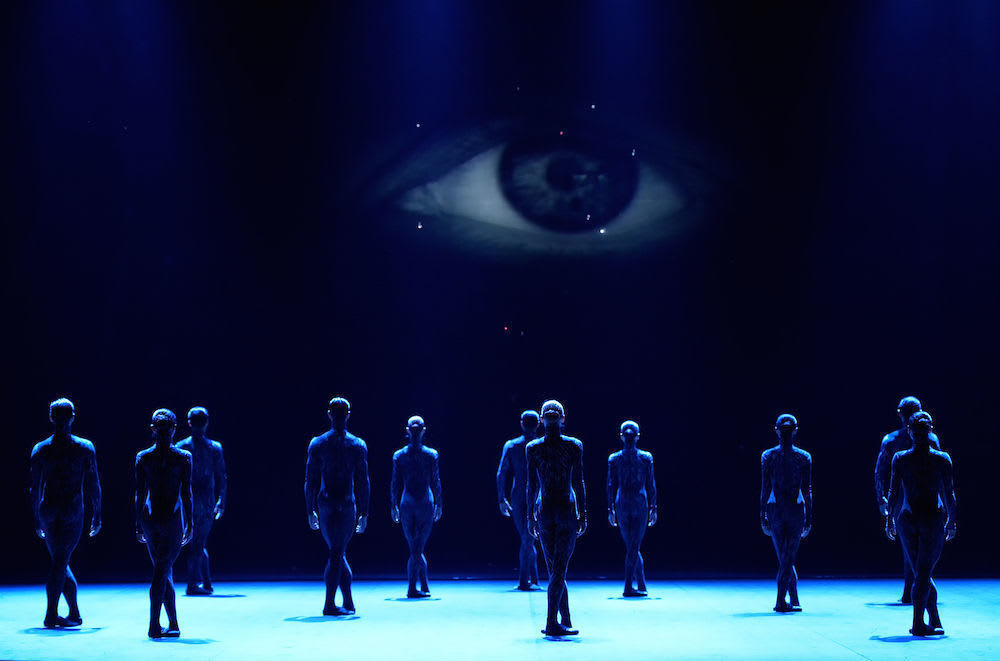 The big deal tonight is that Tamara Rojo has snared / charmed William Forsythe to create a new work, a world première, especially for English National Ballet. His first creation for a UK ballet company in over 20 years, and what a joy it is, his Playlist (Track 1,2), which closes the evening to rousing cheers. Peven Everett's (Surely Shorty) and Lion Babe's (Impossible —Jax Jones remix) funky music and rap beats power it to club Heaven.
After his intellectual, conceptual deconstructions of classical ballet (though also joyful, his Approximate Sonata 2016, the second piece in tonight's programme, an example of that), the 68-year-old lets his hair down. Or should I say his beard—he takes his bow in beany hat on the back of his head, hip beard and workaday clothes, looking a man reborn, revitalized, happy.
Twelve beefcake men, a cheerleader team with names on the backs of their burgundy t-shirts, give Playlist (Track 1,2) all they've got and some, a glorious showcase for ENB's male cohort of young dancers. In full complement and rapidly changing grouping, they tear the stage apart; in solos they flash their individual moves.
Skimming across the empty space with energy to spare, classical ballet vocabulary has never looked so fresh and new: these athletic boys could hold their own in any street dance battle—bring it on.
Approximate Sonata 2016 looks like a technical rehearsal by comparison, deliberately so: that is its USP on a bare stage with scrims going up and down. YES is occasionally visible on the backcloth… Yes, indeed—the choreography demanding, the dancers exceptional.
Originally created in 1996 and reworked in 2016 for the Paris Opéra Ballet, it is a series of showy pas de deux for four couples. Thom Willems has updated his original score of blips and hums and firecracker thunderclaps for this revival, and lighting design is by Forsythe himself. Neoclassical ballet as performance art...
How the dancers keep count to Willems's approximate sonatas, the music pulsing and pausing—it must be challenging, this tongue-in-cheek now you hear me now you don't sound—I can't imagine, as the moves, à la Merce Cunningham and John Cage, have little to do with the score. It all does look very approximate, testing the possibilities I guess.
Arms and hands very contemporary, musical theatre expressive, high extensions: bodies industrial machines pushed to the limit. Now I see the thread that runs from Balanchine through Forsythe to Wayne McGregor. Can one describe dance as atonal?
Alina Cojocaru and Joseph Caley are the first and fifth sonata, Tiffany Hedman and James Streeter the second, Jurgita Dronina and Isaac Hernández the third, and Precious Adams and Aaron Robison the fourth. They all look to be having fun pushing their skills, women in skimpy black bodies, lucky Adams gets to don a pair of lime green trousers over hers, men in bold pink and blue. Cojocaru and Caley are still dancing as the scrim comes down.
Jerome Robbins's 1951 fourteen-minute The Cage is the icy cleansing sorbet between Forsythe's disparate oeuvres. Hard to believe it was considered shocking, and that the Mayor of The Hague tried to ban NYCB doing it in the Netherlands in 1952.
To Stravinsky's 1946 Concerto in D for String Orchestra, which shifts unnervingly from D major and minor throughout, "The Cage plunges into the world of natural selection, using Stravinsky's daring score to depict the feral instinct compelling the female of an insect species to consider its male counterpart as prey."
All thrusting hips and high kicks, swayed and arched backs, febrile feet flexing and pointing, twelve female creatures in beige with birds-nest hair and open mouths, and their Queen (Begoña Cao), urge a Novice (Jurgita Dronina), just out of her chrysalis, to throttle the male of the species between her nutcracker thighs.
But the second victim (James Streeter) is not so easy, as she takes a liking to him. A bit Romeo and Juliet, their pas de deux all sharp angles, but instinct must come first, she is ordered to kill her plaything—a rite of passage. A mix of avant-garde theatre and Martha Graham, I'd say, with a bit of Jean Cocteau in Ruth Sabotka's costume and Jean Rosenthal's spidery set designs.
More creatures (to balance the Robbins?) in Canadian Aszure Barton's Fantastic Beings, reworked since its 2016 closing piece in ENB's all-female choreography She Said programme. Tonight it has the honour of opening proceedings.
It is fabulous. And again shows off the strengths of the company. Ten men and ten women blaze across the stage en masse—the power of the group—and in dazzling solos.
Under a mysterious watchful eye, amongst fireflies and bubbles, a burgeoning ecosystem, fantastic beings rise from the primordial slime up into the air. Amphibian squats, supple backs, feathered flight, and sloth-like creatures slinking on all fours across the stage in the gloom, I wonder has David Attenborough seen it yet? Ground-hugging sloths become winged condors.
I am surprised to see Voices of America is not sold out—maybe it's the title—but do go and see it, the dancers are terrific. See what it is to fly high.
Reviewer: Vera Liber