The Gap of Time
Jeanette Winterson
Hogarth Shakespeare
Released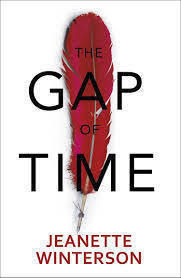 If anyone doubts that William Shakespeare has the ability to speak to contemporary audiences, they could do worse than read this gripping new novel described as a "cover version" of The Winter's Tale.
Experienced novelist Jeanette Winterson has taken the core plot of perhaps Shakespeare's finest late play and updated it to 21st-century London and America, while meticulously retaining the spirit of the original.
The central figures are Leo Kaiser, a wealthy London-based businessman and head of the Sicilia Corporation whose jealousy knows no bounds, and his daughter Perdita.
In the early scenes, Kaiser become suspicious that his pregnant wife MiMi, a popular chanteuse, might be lavishing too much attention on his childhood chum (and former lover) Xeno. The fact that the latter shows blatant homosexual tendencies makes no difference.
Against the better judgement of his super-intelligent secretary and right-hand woman Pauline, Kaiser shows signs of incipient madness consequently banishing his wife and separately their newly born baby daughter Perdita, not even believing the scientific evidence of a DNA test.
17 years later, the action moves across the Atlantic to New Bohemia, home to the now alcoholic Xeno and his estranged son, Zel. The youngster, in turn, is working as a mechanic for the dodgiest of second-hand car salesman, Autolycus.
In New Bohemia, the drama advances as teenaged Perdita and the slightly older Zel get friendly, with the approval of her adoptive father, Shep and stepbrother Clo.
By this stage, those addicted to Shakespeare's marvellous depiction of jealousy, guilt and teenage joie de vivre will be identifying and falling in love again with characters and their fateful lives.
The ensuing events closely follow those of the original to a deeply satisfying and rewarding ending.
Anyone who is unfamiliar with this lesser-known Shakespeare classic could follow one of three routes.
A brief synopsis of the original play is published at the beginning of the book and it could be argued that understanding her starting point it will help readers to maximise their enjoyment of Miss Winterson's intelligent adaptation.
If readers really are eager to compare and contrast, they could do a lot worse than read or see The Winter's Tale itself, prior to embarking on the novel.
An alternative methodology would be to plunge into The Gap of Time as a fresh, vibrant example of contemporary writing with an original, thought-provoking storyline. Only after discovering the way in which almost all of the loose ends are tied up would they delve back into either the play or the synopsis.
Whichever path readers follow, The Gap of Time is a top-quality novel that will not disappoint either Shakespearean experts or tyros.
It comes very highly recommended, having opened the Hogarth Shakespeare project, which already has eight books lined up, including Howard Jacobson's equally impressive, recently published Shylock is My Name.
Reviewer: Philip Fisher