The Gershwins' Porgy and Bess
George Gershwin, DuBose and Dorothy Heyward and Ira Gershwin, adapted by Suzan-Lori Parks and Diedre L. Murray
Richard Rodgers Theatre, New York
–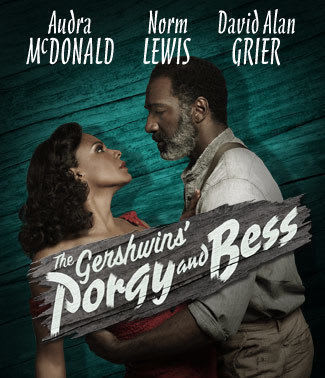 Diane Paulus has created a really enjoyable new version of the Gershwins' classic musical for the American Repertory Theater. This owes much to intelligent casting with four-time Tony winner Audra McDonald producing the kind of performance that could lead to yet more awards.
Controversially, Miss Paulus has commissioned Suzan-Lori Parks and Diedre L. Murray respectively to "adapt" the text and music for a new audience 76 years after the work was first seen.
Porgy and Bess has always been closer to opera than most musicals, both in its tragic subject matter and composition. Miss McDonald is by no means the only performer in this production with a voice that would grace an opera house. Her soprano is clear and intoxicatingly beautiful.
The new version keeps the essence of the original but adds in new text linking the songs in a way that feels more modern than the original, while some of the musical arrangements also try to jazz things up, which may not appeal to all.
Norm Lewis as Porgy may have a voice better suited to musicals than opera but he really does achieve great emotional heights throughout the 2½ hours.
Starting as a lonely, shunned cripple, his character is brought to life after a murder. The perpetrator is Philip Boykin's evil Crown, who just happens to be Bess's "husband".
After Crown flees, the scarlet lady (her dress says it all) is abandoned and the only person willing to rescue her is Porgy.
His reward is short-term happiness of a much more authentic kind than that purveyed by the sharp-suited, spat-wearing New Yorker, Sporting Life with his "happy dust".
This low-life is deliciously portrayed by David Alan Grier, best known for his TV work as star of In Living Color but nominated for a Tony in David Mamet's Race. He excels comically as one would expect but reveals an attractive singing voice as well.
The Gershwins' Porgy and Bess is a tale of ups and downs among dirt poor folk in South Carolina with tragedy never far away. The men gamble and seem as likely to lose their lives as their cash.
This leaves women constantly grieving and supporting each other, so that at different times, Clara played by Nikki Renée Daniels, a lady who uses her lovely voice to open the evening with "Summertime", Natasha Yvette Williams and Bryonha Marie Parham respectively Serena and Mariah have memorable high points.
Ultimately though, it is the two leads who are the star attractions and they ensure a poignant evening that will leave even hardened theatregoers departing the Richard Rogers Theatre with a tear in their eye.
They will also be humming one of a stream of favourite tunes such as "I Got Plenty of Nothing", "Bess, You is My Woman Now", "I Loves You Porgy", "It Ain't Necessarily So" and "A Redheaded Woman", every one of which is delivered in memorable fashion.
This revival should therefore prove popular and, one hopes, might garner some well-deserved awards come the end of the year.
Reviewer: Philip Fisher