The Glass Menagerie
Tennessee Williams
Octagon Theatre, Bolton
–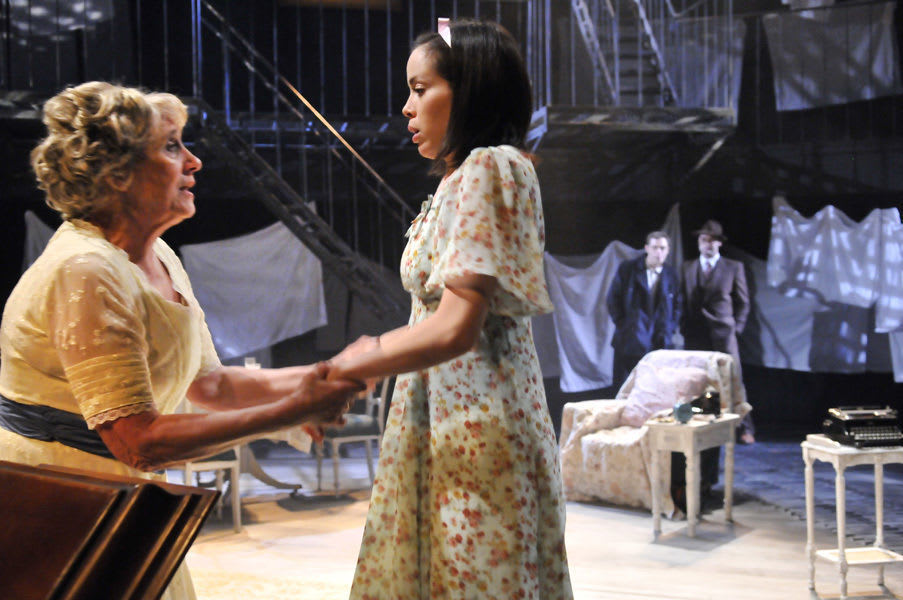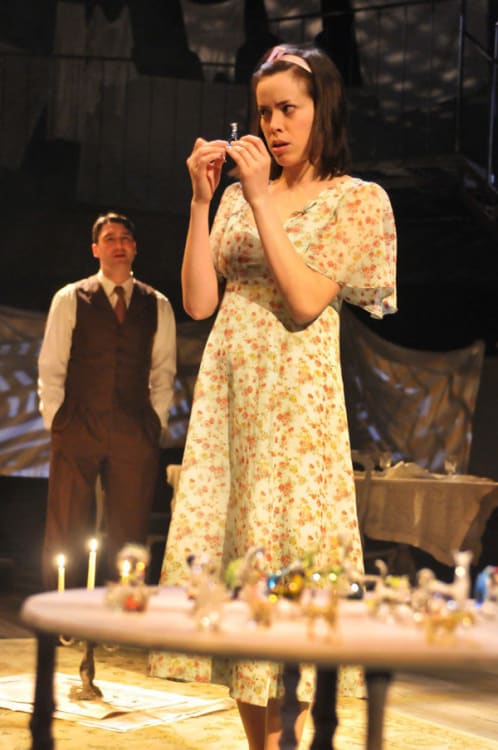 We've seen a few Glass Menageries in the region over the last few years, including at the Royal Exchange, Theatre by the Lake and Oldham Coliseum, but Octagon artistic director David Thacker, somewhat of a specialist in directing twentieth century American drama, has unfinished business with this particular play.
For those who haven't heard the story from him in person, he relates it in the programme for this new production: about how he was directing Hollywood star Gloria Grahame in the role of Amanda Wingfield at The Dukes in Lancaster thirty years ago when she fell ill with terminal cancer and never got to play the role.
This role is taken here by Thacker's wife Margot Leicester, and there is no question in this production that hers is the principal character in the play, more than other productions I have seen. It is always clear that she is working in the best interests of her children, however annoying they find her, and Leicester manages to make her character more sympathetic and less ridiculous than is often the case.
Williams's early success is closely autobiographical, narrated by a young man who works in a warehouse but dreams of being a writer with a mother like Williams's own and a sister with similar problems to Williams's sister. Like Streetcar, the most prominent female character has fallen on hard times but still frequently recalls the past when she was brought up on a plantation in a large house with lots of servants.
Amanda worries about her son Tom, who brings in the household's only income but goes out every night "to the movies" and comes back in the early hours, drunk. She worries about her daughter Laura, who has a pronounced limp, no education and is painfully shy and so her prospects for either marriage or a career seem rather slim. To that end, she persuades Tom to bring home a single work colleague Jim, a "gentleman caller", to meet his sister.
This is Tennessee Williams not romantic comedy so don't expect a happy ending, but this is probably the most hopeful production I have seen of this play and certainly the funniest. All of the humour is there in the script and is never forced, but I can't recall ever having laughed quite so much while watching it. In almost three hours of pretty slow, low-key action, not one moment of it dragged for me.
The skill of the director has to be acknowledged in steering the perfect course and pace of the whole production, but there are some very well-measured performances from all of the cast. Leicester gives a tour-de-force performance as Amanda, a performance with the stature to dominate one of our national stages, not just that of a small regional Manchester theatre.
Fiona Hampton has been seen frequently over the past year at the Octagon, and here she brings the right amount of vulnerability to Laura and gives her movements that have the appearance of mild cerebral palsy rather than the slight limp we usually see, which she carries off very convincingly and fits well with the story. Another Octagon regular Kieran Hill gives a tender and charismatic performance as the Gentleman Caller, and Nathan Wiley, while he occasionally shows his inexperience and doesn't make Tom a particularly prominent character, still makes an impressive professional debut.
Ciaran Bagnall's set design has all of the metal fire escapes necessary across the back of the thrust stage which he lights very cleverly, but there are some rather odd elements—washing hung all over the place outside and some slanted telegraph poles—that don't seem to have any significance to this play.
Thacker is on solid, familiar ground here and shows why he is renowned for directing this type of play by giving us a compelling and surprisingly entertaining production.
Reviewer: David Chadderton